Last New Year's Eve, Jason Witten did something for the first time in his brilliant 15-year career – he participated in a jersey swap.
After the final seconds ticked off the clock at Lincoln Financial Field, Witten went over the meet with fellow tight end Zach Ertz, exchanging his white No. 82 jersey for the Eagles' star's midnight green No. 86.
Witten stunned the NFL, let alone the Dallas Cowboys, when reports surfaced the weekend of the 2018 NFL Draft that he was going to turn in his shoulder pads for a mic and join the broadcast crew of ESPN's Monday Night Football. The Cowboys tried to convince him to play one more season, but on May 3 he officially announced his retirement. On Saturday, Witten was at the NovaCare Complex, a strange thought just seven months ago, to meet with coaches and players to prep for Monday's telecast between the Eagles and Washington (8:15 p.m., ESPN). He also conducted a phenomenal one-on-one interview with Ertz that will air on Monday Night Countdown (6 p.m., ESPN) as well as other ESPN platforms and shows throughout the day.
"That's the only time I've ever done the jersey swap. I gave one jersey away and that's to him," Witten said on Saturday after the interview with Ertz. "It's the respect that I have for him. It happened to be my last (game). I don't think Philly fans and NFL fans truly appreciate what he's doing right now. Not just the stats but every big play that this offense has needed has been to him. You look at the game last week. It's a struggle, Giants are scoring a little bit, and boom, he catches that pass and goes in the end zone and gets his team back in it.
"Every time I watch him, it's not just catches – it's the big ones, big plays, time and time again. It's why I wanted to do this interview. I want people to see that this guy is really special. He's only in his sixth year, so he's going to be here for a long time."
The interview spanned the timeline of Ertz's career from being a second-round pick in 2013 to his Super Bowl-winning catch in February to his off-the-charts 2018 campaign before delving into the aspects of Ertz's game that has made him one of the best in the league. Witten joked that his record for most catches in a season by an NFL tight end (110 in 2012) will be surpassed in the next two weeks. Ertz leads all NFL tight ends and is tied for third among all players with 84 receptions in 11 games. He's on track for 122 catches by the end of the year.
"Being consistent is the ultimate sign of respect in the National Football League and certainly for the tight end position. You can do a lot of things formationally to get catches or get yards. But it's hard to be a guy who can play every down. He is that and has been that for a number of years," Witten said of Ertz.
"When you look at him as a pure route runner, I don't think there's a guy in the National Football League at the tight end position that runs routes better than him. He can attack vertically. He can attack intermediate. He does the RPO game where he just gets open on third-and-short or fourth-and-short. His game is in that tier of the top tight ends. He had certain traits that show me he's going to be here for a while because his game can evolve as it goes, and it has. He's gone from one system to another. He's had multiple quarterbacks."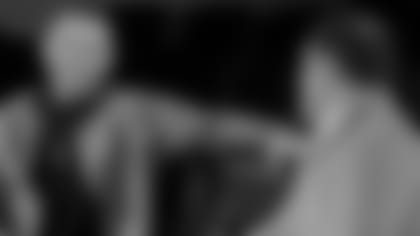 The respect is mutual. Witten was Ertz's favorite player growing up. It turns out Witten – an 11-time Pro Bowl selection, two-time first-team All-Pro, 2012 Walter Payton Man of the Year award winner, and future Pro Football Hall of Fame inductee – has kept his eye on Ertz as well.
"I've studied him and watched him over the years. 'Hey, what is he doing. I want to do some of that, what he's doing. I like how he ran that route. I want to try and do that.' It wasn't that I'm here and he's the next up-and-coming tight end. We're on the same level. I want to take things from his game and add it to mine. I want you to write that because that's the ultimate sign of respect. He's the guy I would study the last couple of years. I'm pretty particular of whom I'm studying," Witten said.
Witten earned his first Pro Bowl nomination in 2004 which started a streak of seven consecutive years of being selected. Ertz is a slam-dunk choice to make the Pro Bowl for the second straight season and he's showing no signs of slowing down anytime soon.
"He's adjusted his game as he's gone on even though he's had a lot of success which tells me he's hungry and that he has a tremendous love and passion for improving," Witten said. "You have to have the confidence to be self-critical. That's the only way you get better."