"I want to give a special shoutout to the Eagles fans – everybody who came out to FedEx Field. It definitely felt like it felt like a home game, just how loud it was in there, how much green and black was in the stadium," said quarterback Jalen Hurts. "It was very, very impressive and it was a sight to see."
Eagles fans and players alike asserted dominance in the team's 24-8 win against the Washington Commanders.
If it weren't for the red and yellow colors of the stadium's physical structure, it would have been challenging to discern which of the two was the home team for the Sunday matinee. The extensive contingent of Eagles fans decked in their Philadelphia garb peppered the Commanders' stands, loudly making their presence unmissable.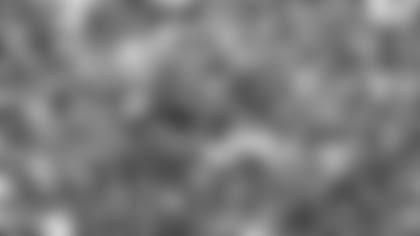 The team's "thank you" to their loyal followers, who trekked to a stadium more than 100 miles away from the home gridiron to show their support?
A third consecutive win. This time, against an NFC East rival, led by former Eagles quarterback Carson Wentz, of course.
But quarterback Jalen Hurts says it didn't matter what colors the team he lined up across from wore. He aimed to lead his team to a win with the same focused determination.
"It's very good for us to come in here, Week 3, and get another win, regardless of the opponent. It's a faceless opponent to me," he said.
The Eagles finished the game with 400 total yards – 340 of which were through the air from Hurts. He finished the game with 22-of-35 passing and three touchdowns. His first-half performance was one of the best there's been from an Eagles quarterback in the past decade. He had 279 of those 340 yards and all three scoring passes in just two quarters.
Niche record-book statistics aside, Hurts led his offense to impressive production for a third straight game and third straight win.
The outstanding touchdown play that closed the first half – a play that contributed to DeVonta Smith's single-game high of 8 catches and in arguably the best performance of his young NFL career, was the brainchild of Hurts. It wasn't in the game plan. He dialed it up himself.
It's clear that his confidence in his wide array of options just continues to grow.
"It's just the beginning," he said. "But, I have a numerous amount of trust in every guy on the field – 88 (Dallas Goedert), 11 (A.J. Brown), 6 (Smith), 16 (Quez Watkins), 3 (Zach Pascal). All the running backs. Everybody," he said, listing his teammates.
"You see (Grant Calcaterra) coming in there, making a big-time play when Dallas wasn't available. Same with Jack Stoll. So, it takes a group effort, and together, everyone achieves more."