When the Eagles take the field against the Buccaneers on Sunday, DeSean Jackson will find himself in a fairly new territory of the Tampa Bay area. It's a place that is always occupied by an opposing team's leading receiver, and it's not usually a fun place for that receiver to be. Come Sunday afternoon, Jackson will be a castaway on Revis Island.
Darrelle Revis has proven himself to be one of the best cornerbacks in the NFL. He has intercepted 20 passes in his seven year career, playing in just two games in 2012 before tearing his left ACL. His number of interceptions has decreased over the last few seasons, mainly because quarterbacks want no part of throwing in his direction. Jackson, on the other hand, is looking forward to the challenge of playing against one of the game's greats.
"He has elusiveness, he's alert, he's smart, he has intelligence – he's just one of those guys who's comfortable and confident with playing press or playing off of the ball," Jackson said after Tuesday's practice. "Being in this league a long time as a wide receiver, you're aware of (someone) who is one of the best corners and vice-versa. He's aware of who's one of the fastest receivers. The last time I played him he was like 'You're too fast, man, slow down.' I'm just going to try to put my speed on him and stress him out as much as I can. I know he had the injury last year. As far as I know, he's been playing and he's been healthy, so I need to do what I need to do to win."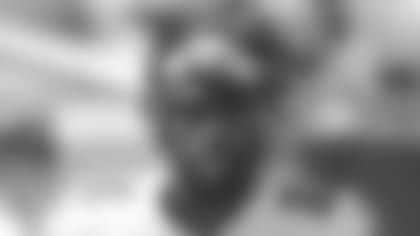 Jackson and Revis have met just once over the course of their careers. The meeting came in week 15 of the 2011 season. The Eagles defeated the Jets 45-19, but Revis limited Jackson to just two catches for 28 yards. As is always the case when playing against a high-profile cornerback, Jackson is looking forward to putting his talents on display.
"He's playing ball," Jackson said. "He's a great player and one of the best cornerbacks in the league. I love facing guys that have the ability to go out there and be a shutdown corner. Anytime that you have guys like that (playing against you) when you go into games, it gets the best out of you. It makes you want to step your game up.
"I'm definitely sure that he'll follow me. We played him when he played for the Jets, and he followed me around then too. I'm definitely sure that his coaches are confident in him, but I don't think that he can run with me. I don't think he's as fast as me, but it's going to be a challenge. He's a great player, it's nothing to take away from him, but I'm just focused on what we have to do here, which is winning a football game. We're not going to make it into a one-on-one battle, me vs. Revis – it's the Eagles vs. Tampa Bay, and at the end of that game, as long as we're winning, that's all that matters to me."
Jackson has told reporters on multiple occasions that he doesn't believe anyone in the league can stop him in one-on-one coverage. The California product is currently fourth in the NFL with 525 receiving yards and remains confident in his abilities versus any defender that comes his way.
"That definitely goes for whoever," Jackson said off his previous statements. "Whenever a guy is trying to guard me one-on-one or in man coverage, I definitely feel that my speed and my ability to be a deep threat and go downfield or whatever it is. I still feel comfortable and confident, regardless of who is guarding me. Hopefully we'll get some of those looks and be able to go down the field, but if not, if I have to do underneath (routes) or hitches or whatever it is I have to do to help my team win the game, that's what I'm here to do."