DeSean Jackson was out on the field Wednesday, getting lots of attention …in a good way. The rookie receiver/returner has been out the last two days with a hamstring strain, the same injury that kept him out for part of the OTAs in June.
Jackson said the "tweak" was not that serious, so he was able to deal with it and return to action. That's where he would rather be anyway.
"It's hard to not be on the field while the team is practicing," Jackson said. "I am feeling great and I'm happy to be back out here."
Head coach Andy Reid was straight-to-the-point when asked on Tuesday about how important it is that Jackson is out on the field practicing.
"He needs to get healthy and get back out there is what he needs to do," said Reid. "This is a challenge for wide receivers, that first year, and you have to push yourself through these things, so that's what he's working on right now."
**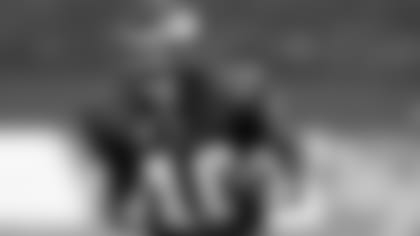 WR/PR DeSean Jackson**
Along with his other injured teammates, Jackson spent Tuesday flipping tires, pushing sleds and doing a specialized workout routine called P90X. The calisthenics were a little different than taking hits and racing against defensive backs.
"It's tough," he said. "It's almost harder than the real practice. It's good to get back out there and push myself through the hammy, but I was feeling good and just want to stay healthy and make it through everything."
Jackson never had a history of hamstring injuries prior to being drafted in the second round by the Eagles. Unfortunately, players in the NFL have to learn not only how to deal with pain, but to continue to perform at a high level in spite of of it. Andy Reid's hard-hitting training camp tests each individual's ability to cope with different ailments.
"I hear from the veterans that this is one of the toughest camps," Jackson said. "I know I am being pushed at a high level so I have to keep working and make it through this."
Even though the Cal star was unable to be on the field, he has spent time before and after practice with coaches going through plays, as well as attending every meeting. Offensive coordinator Marty Mornhinweg spoke after Wednesday's practice, telling reporters how Jackson has done up to this point.
"He's done a good job up to date," Mornhinweg said. "There is a long way to go, and a lot of hard work left for him. However, he does play the game in a natural manner. He's got gut instincts. He's very smart, so he learns very quickly, and those things aid him in being able to get onto the field. If he keeps progressing, he's got a chance to be a factor with us."
Jackson is a rookie with great potential. However, it is pleasing to see that he hasn't lost focus of the big picture and what his purpose is in camp.
"I'm out here to make a football team and whatever I need to do to get out on the field is what I am going to do," Jackson said.