It might be a completely different season right now if the Eagles converted a fourth-and-1 attempt on Nov. 9 at Lincoln Financial Field.
Down 36-31 to the Giants with just under two minutes to play and the ball around midfield, running back Brian Westbrook – and with him, a potential game-winning drive – was stuffed short of the first-down marker, giving possession to the defending Super Bowl champions, allowing them to run out the clock.
A win would have vaulted the Eagles to 6-3, boosted the team's confidence and set up a playoff run. Now, four weeks later, at 6-5-1, the Eagles travel to Giants Stadium to try to keep a run at the postseason alive.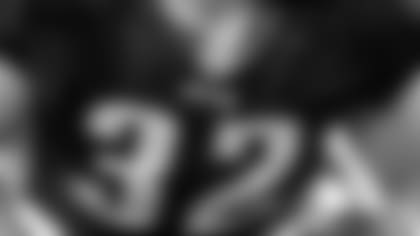 FB Kyle Eckel
But if it comes down to another one of those short-yardage nightmares, the Eagles might actually have the remedy now.
Fullback Kyle Eckel, active for the first time last Thursday against Arizona, converted two third-and-1 situations during the Thanksgiving contest. Should Eckel be active again at Giants Stadium, which seems likely as Correll Buckhalter is listed as doubtful, his role could come into play in a big way.
"Mindset (on a short-yardage play) is just: kind of go through a progression, depending on the play," Eckel said. "Just hold onto the ball, and follow the big guys up front and they'll get us there."
Eckel, who was the anchor of the unique triple-option offense at Navy, ran the ball six times for 27 yards against the Cardinals, including his short-yardage success. His first action came when he converted a 1-yard run for a first down on the Eagles' first drive, which eventually led to a touchdown.
The Lincoln Financial Field faithful, well aware of Philadelphia's struggles in tight situations, gave the Philadelphia native a half-jubilant, half-sarcastic standing ovation.
But if the Eagles are to win against the odds, Eckel won't be the only lesser-known entity that will have to step up.
Third-string guard Nick Cole has been thrust into the starting rotation on the heels of a season-ending ankle injury to Max Jean-Gilles, who was already filling in for two-time Pro Bowl selection Shawn Andrews.
Linebacker Akeem Jordan will be making his third consecutive start at weakside linebacker, where he has replaced Omar Gaither.
And expect to see more of the smaller, four-man wide receiver rotation that worked so well for the Eagles against Arizona. Kevin Curtis, DeSean Jackson, Jason Avant and Hank Baskett should all see a good amount of snaps there.
"We're excited, and we know it's a big game," Avant said. "And we just love playing our division rival. We're always going to be up for a game like this."
But, for those who like to nitpick, the Eagles' season has rested on the rough edges of their third-and-short miscues. If the game in East Rutherford is close, expect to see more of Eckel.
"I don't know (how many touches I'll get). But I know I'll be ready," Eckel said. "(I want to) show the coaches that if they need me, if they want me on the field, it's not going to be a big question mark. They can be confident that I'll do the right thing out there and play hard."