NEW ORLEANS  -- Though it will only be his sixth regular season NFL game, wide receiver Damaris Johnson should feel right at home tonight when the Eagles take on the New Orleans Saints in the Mercedes-Benz Superdome. Monday Night Football will mark Johnson's third career game in the Superdome, and the arena's been quite kind to him in the past.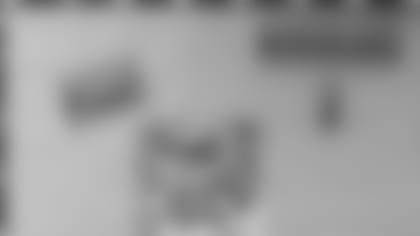 Back in 2007, Johnson helped lead Destrehan high school to the 5A state championship in a 41-21 victory over Acadiana in the Superdome. Johnson was named the game's Most Valuable Player after combining for two touchdowns on 94 yards rushing and 44 yards receiving. The championship marked the first 5A title for Destrehan, which has produced several NFL players during its storied history, including Ravens safety Ed Reed.
Damaris Johnson is fondly remembered at Destrehan HSIn fact, one of the first things you see when you walk through the doors at the high school, a 25-minute drive from the Superdome, is a collage of famous Destrehan alumni, where Johnson is slotted next to Reed. Where football means so much that the choir director can recall specific plays of Johnson's high school career, the Eagles' rookie has left a lasting impression.
But despite his high school success, Johnson, 5-8, 175, wasn't recruited by the local division-I schools like LSU and Tulane. Instead, he went to Tulsa, where he would go on to become the NCAA's all-time leader in kickoff return yards, even though he only played three collegiate seasons.
"We were aware of (Johnson) early in the scouting period last fall," said Eagles general manager Howie Roseman. "We had an initial high grade on him from the area scout and got a chance to peek at him and he had some unique skills.
"(For someone that size), you want to see some sort of explosive ability, whether it's explosive quickness or explosive speed, and he showed both of those things."
In Johnson's second appearance at the Superdome, he punished Tulane for not recruiting the backyard kid. In a 37-13 victory Tulsa victory, Johnson amassed 91 yards from scrimmage on six touches and returned a punt 66 yards for a touchdown.
Which brings us to tonight, when Johnson will resume his role as the Eagles' punt returner in front of about 30 friends and family members. After five regular season games as the Eagles' No. 1 punt returner, Johnson was inactive for the Eagles' last two games while Mardy Gilyard held those duties, in part because the return of Riley Cooper pushed Johnson further down the wide receiver depth chart. With Gilyard out this week because of a hamstring injury, Johnson gets another chance.  
On the season, Johnson has only returned eight punts for a combined 48 yards, with a long of 13. He also has one lost fumble.
"I'd like to see him manage the game properly," said special teams coordinator Bobby April, a fellow native Louisianan, "make good decisions on getting to the ball, balls that he should catch I want to see him catch, ones that he should let go, I want to see him let them go, and then most importantly, every time, every game, every player, is ball security. He's got the running skills. If we give him some space he'll make something happen running it. That's kind of the given. We just have to give him the space … Hopefully we give Damaris an opportunity."
Perhaps, then, a little home cooking will serve Johnson and the Eagles well.
"We have high expectations for Damaris," said Roseman, who called Johnson a "great kid." "We thought he had the ability to break one every time he touched the ball and as he gets acclimated to the game, he's going to have the chance to do that.  I'm looking forward to seeing what he's going to do Monday night in his hometown."