In search of some good news following the loss to the Giants last Sunday?
Looking for more fodder on where the Eagles can improve?
Here are five positives to take into the last seven games of the season, followed by five things the Eagles need to improve upon if they want to accomplish some of their postseason aspirations:
Well, the Eagles certainly can score. The offense is ranked fourth in the NFL in points per game, thanks in part to the 30-plus points they put up on St. Louis, San Francisco, New York and Dallas.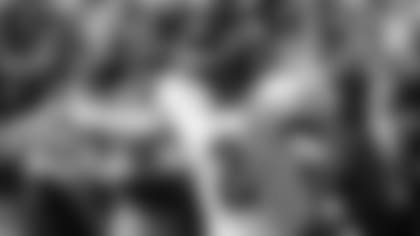 K David Akers has nailed his last 10 field goal opportunities
Unfortunately for Philadelphia, the Eagles are 2-2 in those games.
The defense has registered 28 sacks through the first nine games after getting to the quarterback just 37 times all of last season. Defensive end Darren Howard came into the season in the best shape he's been since joining the Eagles and it has resulted in a team-high six sacks. The Eagles are ranked second in the NFL in sacks per pass play.
* The defense is also creating turnovers at a much higher rate than in 2007.*
Last season, the Eagles managed 19 total turnovers, including eight fumble recoveries. Through nine games in 2008, the Eagles have notched 17 turnovers, including eight fumble recoveries. Free-agent signee Asante Samuel has paid immediate dividends, registering a team-high three picks. Philadelphia is tied for fifth in the league in the takeaway-giveaway ratio.
The accolades keep coming for the defense, which is also ranked third in the NFL in points per game differential. In other words, the team has lost its four games by a total of 19 points and that's not too shabby. It is, however, an indictment on the Eagles' inability to win close games recently.
Perhaps the most glaring positive statistic again comes from the defense, which is fourth in the NFL in yards per play surrendered on first down. Given the defense's problems getting off the field on third down in losses to New York and Washington, the defense, for the most part, takes care of business on first down.
Now the areas where the Eagles need to get better.
It's common knowledge that the Eagles have had their share of problems in the red zone, but att least they are improving after hitting six on 4-of-5 attempts Sunday against the Giants.
It's third-and-one in a critical situation late in the game. Brian Westbrook is one of the best running backs in the league. Just give it to the big guy, right? Wrong. The Eagles are perfect in passing in short-yardage situations this season.
Just some things to ponder as the second half of the season unfolds.