Philadelphia Mayor Michael A. Nutter was recently joined by Philadelphia Eagles President Joe Banner, Philadelphia Sports Congress Chairman David Montgomery and Philadelphia Union CEO and Operating Partner Nick Sakiewicz to announce that Mayor Nutter, along with Pennsylvania Gov. Edward G. Rendell, will serve as Honorary Co-Chairs for Philadelphia's World Cup Soccer bid for 2018 or 2022.
They also encouraged all citizens of this region to support the bid online at gousabid.com.
The City, Commonwealth, Philadelphia Sports Congress, a division of the Philadelphia Convention and Visitors Bureau, Philadelphia Eagles, Philadelphia Union, Eastern PA Youth Soccer Association and many other partners are all working together to engage the entire region in a civic effort to bring the FIFA World Cup™ to Philadelphia in 2018 or 2022. This cultural and sporting event would attract tens of thousands of international visitors and generate priceless worldwide exposure.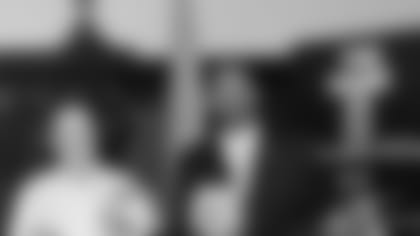 Eagles president Joe Banner and Philadelphia Mayor Michael Nutter
"Philadelphia's World Cup Soccer bid is a fantastic opportunity for the City and region to work together to showcase our world-class style," said Gov. Rendell. "And as a sports fan, I am thrilled to be involved as co-chair with Mayor Nutter. Now we need everyone in the entire Commonwealth, as well as New Jersey and Delaware, to show why the Game belongs here."
U.S. Soccer and the USA Bid Committee, which are spearheading America's effort to host the World Cup for the first time since 1994, have initiated "The Game is in US" campaign to illustrate the support that exists to bring the event back to the U.S. Soccer fans across the country are asked to "sign" the online petition at gousabid.com, and prospective host cities are competing to generate the most signatures.
"Bringing the World Cup to Philadelphia is vital because it truly benefits all of us," Banner said. "We want to continue to bring world-class events to Lincoln Financial Field. We encourage all of our fans to sign this petition for Philadelphia and bring this amazing cultural phenomenon to our City."
Philadelphia is one of 27 cities in the bid process, which will continue through December, when 18 finalist U.S. cities are expected to be announced. The USA Bid Committee will present its final bid to FIFA, soccer's international governing body, next spring, and FIFA is expected to announce the host countries for both 2018 and 2022 in December 2010. Ultimately, 12 to 15 host cities are expected to host games.
"I am very excited to be asked to serve with the Governor as co-chair of Philadelphia's bid to host the World Cup, and know that this is a perfect location for the event," said Mayor Nutter. "The World Cup is a spectacular event that will put this City further on the world stage, benefitting citizens, businesses and visitors in the Philadelphia region. Let's bring the beautiful game to the City of Brotherly Love and Sisterly Affection."
Contested every four years, the FIFA World Cup™ is considered the largest sporting event in the world. Cumulative television viewership from the 2006 event in Germany was estimated at 26 billion. Hosting it would be a huge boost for soccer in America, as well as the Philadelphia region, with an estimated economic impact of $300-$500 million per host city. USA Bid Committee Economic Impact Study can be found at http://www.gousabid.com/news.