The way Jason Davis looks at things, there are 32 teams in the NFL. That means 32 fullback jobs.
For Davis, Thursday night's performance could have been as much a cover letter for his résumé, sent out to the other 31 squads, as it was a plea for a raise with his current organization.
Davis, the de facto starter at fullback soon after the 2007 campaign ended, found himself in a precarious position against the Jets. He found himself blocking for the player that might end up taking his job. Blocking for his friend.
"From Day 1 at minicamp to now, I've improved, fullback-wise, every day," Davis said. "I went out despite me being in the doghouse or anything like that. I went out and performed every day."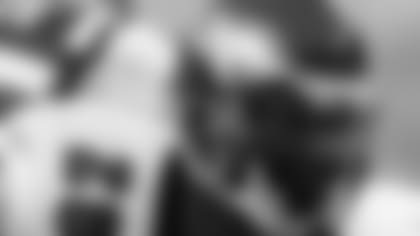 FB Tony Hunt
Since the start of Organized Team Activities (OTAs) in June, Davis might have had the biggest roller-coaster ride of any Eagle. Earlier in the offseason, Davis rose from practice squad to "the guy" when Thomas Tapeh bolted for Minnesota in free agency.
Then, the hills emerged on the horizon. First, the Eagles acquired defensive tackle Dan Klecko, and moved him to fullback. And when the Klecko experiment didn't work, the Eagles acquired the since-cut Luke Lawton from the Colts to provide motivation and competition for Davis, a typical move before training camp rigors.
But in the first preseason game, out-of-nowhere rookie free agent Jed Collins earned a start at fullback because of his performance on special teams, an area where Davis admitted he struggled. But when Collins evidently failed to make his mark, Davis, presumably, was "the guy" again.
Until tailback Tony Hunt had a big game against Carolina, offensively and on special teams, and was given his shot to make the team by converting to fullback.
Essentially, Davis had his job taken or seriously threatened by four different players.
"I understand, I understand completely. You want the best guys to play," Davis said. "In our offense, if you can get a guy who can play special teams, and be the fullback, which is mandatory, then by all means give them the opportunity to do it."
For the second straight week, Hunt got the majority of the reps at fullback. Whether that was a sign from coaches that he needed to show marked improvement or simply a way to get him ready for the regular season might never be known. But, come Saturday, if Hunt's the fullback, you can credit the special teams – the area coaches told Davis improvement needed to be made.
Hunt made a few noticeable blocks, most notably during the Eagles' first drive when his pickup of a blitzing linebacker up the middle allowed Correll Buckhalter to bounce outside for a first down.
Hunt's versatility could be a major factor, as well. With Davis at fullback in the second half, he took the majority of the reps at his natural tailback position.
"I don't think there's much more I could have done (to win the job)," Hunt said. "I got better as time went on. I guess on a two-week evaluation, we'll see what happens."
Davis knows his roller-coaster will pull into the station by Saturday night. Whether that's in Philadelphia, he said, remains to be seen.
"Sometimes you take bumps and bruises. It's not how many times you get knocked down, it's how you react when you get back up," Davis said. "It's always an audition. Anytime you step on the field, it's an audition."