The Eagles continue to support nonprofits that work to reduce barriers to opportunity and end racism. In support of Black History Month, the Eagles are proud to recognize the work of one of these nonprofits each day.
On its face, Girls on the Run Philadelphia helps girls from third to eighth grade get out of the house, get active, and help them build the life and social skills the participants will take with them long after leaving the program.
But a more in-depth look at Girls on the Run Philadelphia reveals it is also bridging the gap of inequity that exists in major cities across the country. The demographics of Girls on the Philadelphia's participants represent the demographics of the city it represents, which means a good portion of the girls come from underserved communities. Those same communities have been hit the hardest during the COVID-19 pandemic.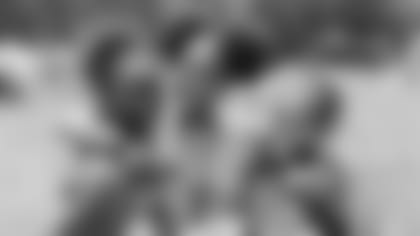 To help Girls on the Run Philadelphia in its endeavor, the Eagles granted the organization $10,000 via the Social Justice Fund. Girls on the Run Philadelphia used the funds to help close that gap of inequity.
"Our goal when we apply for and receive grants is to enable girls who typically wouldn't be able to participate in the program to do so," said Colleen Kelly Howard, executive director of Girls on the Run Philadelphia.
"I think the gap has widened between the haves and have-nots. Hopefully, by being able to bring them a program like this, it's not addressing the fact that they're not in school, but it's hopefully giving them skills that will help them adapt once they are able and help them manage the emotions and some of the challenges that they're having now during this time when they can't be in the classroom with their peers and with their teachers," she later said.
Girls on the Run Philadelphia was also affected by the pandemic. While it usually has anywhere between 40 and 50 teams of runners, the pandemic initially halted its programs altogether. Girls on the Run Philadelphia has managed to adapt and get back on track and expects 19 in-person and eight virtual teams for its upcoming spring season.
Learn more about Girls on the Run Philadelphia: