For a guy that just lost his No. 1 receiver for the rest of the season, Giants head coach Tom Coughlin doesn't seem the least bit fazed.
Perhaps he has every reason not to be.
Whether it's a petulant tight end, a griping running back or a gun-toting receiver, the Giants have somehow developed the uncanny ability to overcome almost any sort of adversity.
Between the coaching staff and the leadership in the locker room, the Giants don't expect the Plaxico Burress fiasco to affect them at all when they host the Eagles on Sunday afternoon.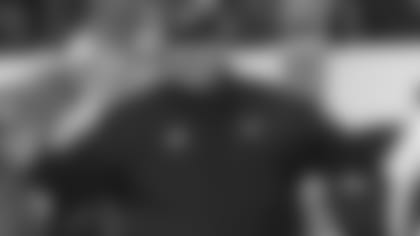 Head coach Andy Reid
"I think we try to let the players know exactly what the circumstances are, what's going on," Coughlin said. "Then we try to get back to work and we do put a lot of emphasis on the preparation, with preparation being the key to success that everyone talks about. But this group and the leadership that's involved in this group have done a very, very good job of keeping everyone, including the young guys, focused."
Before entering retirement, Tiki Barber complained about the play-calling. Following the Giants' Super Bowl run, Jeremy Shockey forced a trade from New York. Last Friday, Burress shot himself in the leg and has plead not guilty to criminal possession of a weapon. The Giants suspended Burress four games for conduct detrimental to the team and placed him on the Non-Football Injury Reserve list which officially ended his season.
"Let's just say it has not been pleasant," Coughlin said.
Yet the Giants are the defending Super Bowl Champions, are 11-1 and own a three-game lead in the NFC East. It's a testament to the Giants' ability to keep the past in the past.
"We had to move on," Coughlin said. "We have 52 other guys downstairs that have got to be able to move forward instead of the constant questions."
Coughlin said that it doesn't fall on one person to replace players like Barber, Shockey or Burress.
"Certainly everyone has to rise up and play better if you are going to overcome the loss of an outstanding player," Coughlin said. "And I think not just the guy that's in that spot but everyone around him has got to do a better job. What we've always tried to do is make sure everyone understands that we all carry the burden."
Having watched other teams handle situations like this and having gone through something similar themselves have prepared the Giants for the road ahead.
"I believe it is a mentally tough group," Coughlin said. "I think they are very much into objectives and goals and challenges. It's not as if we didn't have a little bit of this earlier in the year and dealt with it. I don't want to say that's the reason we've been able to handle this pretty well, but it certainly is part of it."
The Giants have become adept at sidestepping the pratfalls that every defending champion faces, including the dreaded post-Super Bowl hangover. Coughlin said that's one of the major reasons for the Giants' success.
"We kind of looked at that and talked about that being a challenge to not fall into that category," Coughlin said. "This team has been very good about not looking at yesterday, but rather looking ahead."