The practice dates for the Eagles' 2012 Training Camp may have been announced, but there are still a few weeks before the pads get popping at Lehigh University. With that in mind, it's a good time to take a look at the Eagles' schedule ahead for the 2012 season. After looking at the season opener in Cleveland on Monday, here's a preview of the home opener against the Baltimore Ravens.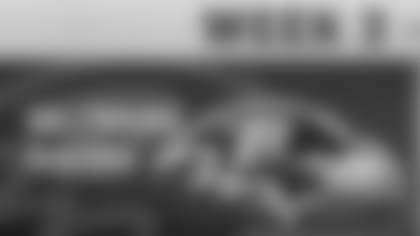 2011 Record: 12-4, First In AFC North
Overall Series Record: 1-1-1
Home Record Vs. Baltimore: 1-0
Last Meeting: Nov. 23, 2008 in Baltimore, Ravens 36-7
Game Recap: This became a monumental game in the Andy Reid era as Donovan McNabb was benched at halftime. Kevin Kolb took over in the second half and drove the Eagles into scoring range only to see safety Ed Reed return an interception 108 yards for a touchdown. It was one of five Eagles turnovers on the day. Quintin Demps returned a kickoff 100 yards for the Eagles' only points.
Key Offseason Moves
In: C Matt Birk, LB Jameel McClain, RB Ray Rice (franchise tag), LB Courtney Upshaw, G Kelechi Osemele, RB Bernard Pierce
Out: Defensive Coordinator Chuck Pagano, WR Lee Evans, G Ben Grubbs, LB Jarret Johnson, DT Cory Redding, S Tom Zbikowski
The Eagles will welcome a familiar face back to Lincoln Financial Field for the 2012 home opener in Ravens head coach John Harbaugh.
The former Eagles assistant coach has had a lot of success in his first four years with Baltimore. He's led the Ravens to 49 wins and has at least one playoff win in each of the four seasons. Harbaugh guided the Ravens to two AFC Championship Game appearances, most recently the heartbreaking loss last year to New England - a game in which wide receiver Lee Evans dropped a potential go-ahead score on the final drive before Billy Cundiff missed on a 32-yard attempt which would have sent the game to overtime.
The heart and soul of this Ravens team remains their defense which finished third in both points and yards allowed last season. Inside linebacker Ray Lewis returns for a 17th NFL season. Safety Ed Reed is supposed to begin his 11th campaign, but he recently missed the team's mandatory mini-camp and made comments that he's not "100 percent committed" to playing this season.
If/when Reed returns, the two future Hall of Fame inductees are hoping for one more Super Bowl run. The Ravens lost a few key pieces on defense with linebacker Jarrett Johnson, defensive tackle Cory Redding and safety Tom Zbikowski signing elsewhere in free agency. Baltimore's defensive coordinator from last season, Chuck Pagano, left to take the head coaching gig in Indianapolis. In addition, last year's NFL Defensive Player of the Year, Terrell Suggs, ruptured his Achilles in the offseason and will be out for this contest.
Baltimore still has Haloti Ngata, an immovable force up front, and a young-and-talented cornerback in Lardarius Webb. The Ravens used their top draft pick, a second-round selection, on outside linebacker Courtney Upshaw. The former Alabama star is expected to start opposite Paul Kruger as Suggs recovers.
Quarterback Joe Flacco is looking to make the Ravens' identity be more centered around the offense instead of the defense. Flacco had a brilliant performance in the AFC title game last year and hopes to carry that momentum into 2012. He is also entering a contract year and wants to be paid like he's one of the NFL's best.
Ray Rice is the workhorse back, but he is also in search of a new contract. Rice was given the franchise tag this offseason by Baltimore. He has yet to sign it. The receivers - Anquan Boldin and Torrey Smith - complement each other brilliantly. Boldin is the physical, possession receiver while Smith is a tall speedster capable of delivering a home run.
While head coach Andy Reid has a lot of respect for Harbaugh and the job that he's done in Baltimore, he will certainly want a much different result than the last time these two teams played in 2008.