The all-important third preseason game is on the horizon for the Eagles, as the team prepares for its first road game of the Chip Kelly era and will travel to Jacksonville for a Saturday evening tilt against the Jaguars. The summer for both teams was dominated by talk of quarterback competition, but each head coach has now decided on his starter for the season. Blaine Gabbert was named the Jaguars' starting quarterback on Monday after outperforming Chad Henne, while Michael Vick was named the Eagles' starting quarterback on Tuesday after outperforming Nick Foles. The similarities between the Eagles and Jaguars continue, as both programs have been revitalized by the import of a new head coach – Chip Kelly, of course, for the Eagles and Gus Bradley, whom Eagles chairman and CEO Jeffrey Lurie and general manager Howie Roseman said was their second choice behind Kelly, for the Jaguars. Both teams also selected an offensive tackle among the first four picks, with Luke Joeckel as the Jaguars' answer to Lane Johnson.
So as both teams prepare for the regular season tuneup that is the third preseason game, the obvious matchup to watch is Kelly's offense against Bradley's defense. Bradley was the coordinator for the dominant Seahawks defense from 2009-12, and he'll look to import that brand of football to Jacksonville. For the Eagles, though, the performance of the defense will be just as important as the team continues to transition to Billy Davis' defense. Game two served as an improvement from the preseason opener, and the Eagles hope that trend continues an upward trajectory into the regular season. But who are we kidding? The juiciest storyline still remains the quarterback. Now that Vick has been anointed the starter for the regular season, it is time to see if he can stay on a roll and continue his strong performance. Saturday's third preseason game against the Jaguars is the initial test, as Vick and the first-team offense will play at least the first half, according to Kelly.
Last Time They Met:
September 26, 2010 - Eagles 28, Jaguars 3
Perhaps there is symmetry here for Michael Vick. His last trip to Jacksonville as Eagles quarterback marked his first game as the team's official starting quarterback. A week earlier, Vick sparkled against the Detroit Lions in his first start of the season, prompting Andy Reid to name him the team's starter for good. Against the Jaguars, Vick was nearly flawless, throwing for 291 yards and three touchdowns without an interception as he returned to the forefront of the NFL landscape.
When The Eagles Have The Ball:
After compiling over 400 yards of offense in each of their first two games, the Eagles offense will get its first test on the road. How will the unit react to playing outside of the friendly confines of Lincoln Financial Field? One of the most important things to watch is how the Eagles finish their drives. While turnovers haven't necessarily been a huge issue (four in two games), it would be nice to see the Eagles capitalize off of the quick-paced, long drives that they have been able to put together against New England and Carolina. The Eagles have a turnover ratio of -4 and have also missed their only field goal attempt. As Jason Kelce said after the win over Carolina, the yardage totals mean nothing unless points are being put on the board.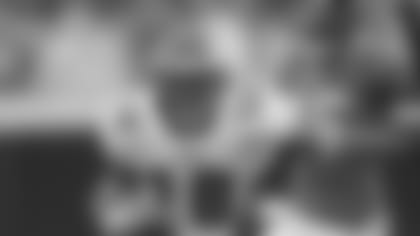 Though Chip Kelly has already named Michael Vick the starter, there are things to watch for when each of the quarterbacks is in the game. For Vick, it will be interesting to see if he can keep up the stellar accuracy that he has been displaying. Vick is 13-15 for 199 yards through two games, and one of his incompletions was a heave at the end of the first half against Carolina that ended up being intercepted. Let's see if Vick can maintain his high level of play. Nick Foles has been accurate as well, going 11-14 in his first two games. However, the second-year pro is averaging just 6.9 yards per attempt. He has yet to test his arm on any throws downfield, and has instead taken what the defense has given with shorter completions. Foles showed off his legs against the Panthers, now let's see if he can show off his arm against the Jaguars.
Something else to watch out for when the Eagles have the ball is how the offense lines up. At Oregon, Kelly was known for his creative formations, and while he has shown a few here and there in the Eagles first two preseason games, we know there are more up his sleeve. Will Kelly show his whole hand in a preseason game? Of course not, but the third preseason game is always the most like a regular season game. Expect some exotic formations from the Eagles, such as double stacks and four tight end sets. With Kelly, fans should always expect the unexpected.
On the other side, the Jaguars feature a defense that is looking to improve upon a dismal 2012 season during which they allowed 380.5 yards per game, ranking 30th out of 32 NFL teams. It is also interesting to note that they were tied with the Eagles for 29th in the NFL in points allowed per game at 27.8 per contest. Through two preseason games, the Jaguars have cut down on the number of yards allowed per game (337.5), but they've given up a combined 64 points to the Dolphins and Jets.
One of the Jaguars' biggest defensive strengths is their corps of linebackers. Middle linebacker Paul Posluszny led the team last season with 139 total tackles while also chipping in 2.0 sacks. The seventh-year pro out of Penn State seems to always be around the football, so expect to see a lot of No. 51. Strong-side linebacker Russell Allen, who was second on last year's team with 131 combined tackles, missed Jacksonville's game against the Jets due to an ankle injury. If he does suit up against the Eagles, he could play a big part in the Jaguar's run defense.
On the defensive line, the Eagles will face an old friend in Jason Babin, who had a less than amiable finish in Philadelphia when he was cut last November. Babin was once a force on the Eagles line, racking up a career-high 18 sacks in 2011. He may be playing with a bit of chip on his shoulder on Saturday night.
Eagles Projected Starting Lineup
Offense
Defense
QB Mike Vick
DE Cedric Thornton
RB LeSean McCoy
NT Isaac Sopoaga
TE James Casey
DE Fletcher Cox
WR Riley Cooper
ROLB Trent Cole
LT Jason Peters
MLB Mychal Kendricks
LG Evan Mathis
MLB DeMeco Ryans
C Jason Kelce
LOLB Connor Barwin
RG Todd Herremans
LCB Bradley Fletcher
RT Lane Johnson
RCB Cary Williams
TE Brent Celek
S Nate Allen
WR DeSean Jackson
S Patrick Chung
When The Jaguars Have The Ball:
While the entire Jacksonville Jaguars coaching staff has changed, the personnel on offense remains essentially the same. New offensive coordinator Jedd Fisch* will attempt to help turn around a unit that ranked 29th in total offense (299.3 yards per game) and 30th in points scored (15.9 per game) last season. Blaine Gabbert and Chad Henne battled for the starting quarterback job, with Henne outperforming Gabbert in the first preseason game and vice versa in the second. Early this week, Gabbert was named the Jaguars' starting quarterback, though he was also ruled out for the remainder of the preseason. Maurice Jones-Drew, who is coming off a Lisfranc injury that ended his 2012 after six games, is the starting running back and, entering his eighth NFL season, seeking to return to past form. Rookie Denard Robinson is classified as an "offensive weapon" but has seen extensive time at running back and has the most carries (20) of any Jaguar through the first two preseason games.
*Fun fact: Fisch was college roommates with Eagles general manager Howie Roseman at the University of Florida.
Speedster Cecil Shorts III missed the Jaguars' most recent preseason game with a calf strain, but he and the imposing Justin Blackmon are the top-two wide receivers, with rookie Ace Sanders manning the slot. Marcedes Lewis, who has missed only three games in his seven-year career, is entering his sixth season as the Jaguars' No. 1 tight end. The offensive line returns three of five starters from last season in left tackle Eugene Monroe, center Brad Meester and right guard Uche Nwaneri. They are joined by third-year pro Will Rackley, who missed all of 2012 due to an ankle injury, at left guard and rookie Luke Joeckel, the second overall pick in the 2013 NFL Draft, at right tackle. Joeckel did not play in the Jaguars' second preseason game because of a hip flexor, but he should return for Saturday's matchup.
The Eagles defense improved markedly from the first preseason game against the New England Patriots to the second game against the Carolina Panthers. Players settled down and were under control, disciplined, gap sound and swarmed to the football while displaying surer tackling. The defensive line was particularly disruptive, forcing quarterback Cam Newton into hurried, ill-advised throws and flushing him from the pocket. Speaking of the defensive line, expect defensive lineman Bennie Logan to continue to be a heavy part of the first-team rotation at nose tackle with Isaac Sopoaga.
Inside linebacker Mychal Kendricks offered a glimpse of what he can be in Bill Davis' 3-4 defense by terrorizing the Panthers as a gap-shooter, blitzer and all around playmaker. Safety Patrick Chung set a tone and fulfilled the role of enforcer, making a number of solid solo tackles for minimal gains and forcing wide receiver Steve Smith to short-arm a catch attempt over the middle. The other starting safety spot opposite Chung is still up for grabs, and though Nate Allen seemingly has the inside track, the Eagles are still waiting for someone to firmly seize control of the opportunity. Cornerback Cary Williams continues to work his way towards getting 100 percent healthy from a hamstring injury and back into game shape.
Jaguars Projected Starting Lineup
Offense
Defense
QB Chad Henne
DE Tyson Alualu
RB Maurice Jones-Drew
DT Roy Miller
FB Will Ta'ufo'ou
DT Sen'Derrick Marks
WR Justin Blackmon
LEO Jason Babin
LT Eugene Monroe
OLB Geno Hayes
LG Will Rackley
MLB Paul Posluszny
C Brad Meester
OLB Russell Allen
RG Uche Nwaneri
LCB Dwayne Gratz
RT Luke Joeckel
RCB Alan Ball
TE Marcedes Lewis
SS Johnathan Cyprien
WR Cecil Shorts III
FS Dwight Lowery
Jason Peters, Left Tackle, No. 71
Saturday, August 24, against the Jaguars will mark Jason Peters' first live game action since January 1, 2012 – a nearly 20-month gap. The Eagles and their fans have long awaited the return of the NFL's best left tackle, who is fully recovered from twice tearing his Achilles tendon and appears set to thrive in head coach Chip Kelly's up-tempo offense. Peters practiced on Saturday, August 17, for the first time since injuring his hamstring on July 31 and is ready to play. He will be lined up often against Jaguars defensive end, and former Eagle, Jason Babin.
Cedric Thornton, Defensive End, No. 72
Cedric Thornton, like the rest of the defense, put forth a strong effort against the Panthers on Thursday night. He used quickness, leverage and power to drive Panthers right tackle Byron Bell backwards and collapse the pocket on multiple occasions. Thornton's signature moment came when he was left unblocked, exploded into the backfield and engulfed running back DeAngelo Williams for a 5-yard loss on a delayed handoff. Look for Thornton to build on his performance and emerge as an impact player for the Eagles in 2013.
Johnathan Cyprien, Safety, No. 37
The Jaguars selected Cyprien, a safety out of Florida International University, with the first pick of the second round, 33rd overall, in April's NFL Draft. He is known for his instincts and hard-hitting style, as well as for being a tone-setter. Cyprien was plugged in as the starting strong safety from day one, and the Jaguars are relying on him to become a cornerstone piece of the defense immediately.
**
LaRoy Reynolds, Linebacker, No. 56
Incredibly athletic and explosive, the undrafted rookie linebacker from the University of Virginia is a blur on the field and has been a revelation for the Jaguars throughout Training Camp. Reynolds' workout numbers were freakish, his combination of athleticism, speed, power and violence makes him dangerous as both a run and pass defender, and his performance earned him the start at strongside linebacker against the Jets in the Jaguars' second preseason game.
Eagles cornerbacks Cary Williams and Bradley Fletcher vs. Jaguars wide receivers Cecil Shorts III and Justin Blackmon
Shorts III, who led the Jaguars with 979 receiving yards in 2012, missed their second game due to a calf strain. If he can't play, second-year pro Justin Blackmon, who had the most catches for Jacksonville last season with 64, will be the No. 1 receiver. Whether it's Shorts III or Blackmon as the primary target, it will be Cary Williams and Bradley Fletcher's job to shut them down. Williams played relatively well in his first game with the team, totaling four tackles. He kept the dangerous Steve Smith in front of him and had a pass breakup, but he did allow a few catches in front of him. Game No. 2 will be an important one for Williams, as he and the Eagles look for their first takeaway of the preseason. Fletcher has been solid in the preseason so far and sticky in coverage. Opposing receivers have made some tough catches with Fletcher draped all over them, and it feels like only a matter of time before he starts making plays.
Eagles Defensive line vs. Jaguars Offensive line
After being relatively quiet against the Patriots in the preseason opener, the Eagles defensive line made some noise against the Panthers in the second game. Two of the brightest spots for the Eagles defense have been Vinny Curry and Bennie Logan, who have both been forces in the trenches. Fletcher Cox, Cedric Thornton and Isaac Sopoaga have been steady up front as well, and when you add the emerging Damion Square into the mix, the Eagles appear to have a solid six-man rotation up front. The Jaguars offensive line allowed 50 sacks last season, which was third worst in the league. To help bolster the offensive line, the Jaguars used the second overall pick in this year's draft to grab tackle Luke Joeckel out of Texas A&M. Joeckel is listed as day-to-day with a hip flexor, but if he plays, he'll be tested by the Eagles pass rush. Also of note, starting center Brad Meester played just one quarter for the Jaguars against the Jets after missing the team's opener. If they play, keep an eye on Joeckel and Meester as they try to keep Jaguars' quarterbacks on their feet.