G.J. Kinne's career path in the NFL has been anything but ordinary.
Playing alongside Damaris Johnson at Tulsa, Kinne was a highly successful collegiate quarterback, finishing second in school history in passing yards, total offense and passing touchdowns. He signed as a rookie free agent with the New York Jets in 2012, but was released in June of that year, which landed him stints with the Omaha Nighthawks of the UFL and the San Antonio Talons of the Arena Football League. Kinne found his way back to the NFL with the Eagles during this offseason before being released on August 30 as part of the team's final roster cutdown. With Michael Vick and Nick Foles both dealing with injuries, Kinne was re-signed by the Eagles to the practice squad on Monday, and the 24-year-old is thrilled to be back in midnight green.
Being away from the NFL for almost two months, Kinne made sure to keep himself involved with the game in some capacity. In recent weeks, Kinne had been working with the University of Clemson football team, assisting offensive coordinator/quarterbacks coach Chad Morris, who was Kinne's offensive coordinator and associate head coach at Tulsa in 2010.
"I guess for the last week and a half I was back at Clemson helping Coach Morris just kind of game planning and hanging out with them," said Kinne after Tuesday's practice. "That's what I probably want to do after I get done playing is coach, so I was just kind of getting that experience and trying to enjoy not having a job as much as possible."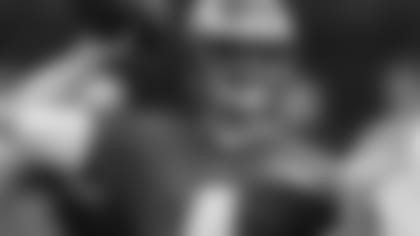 Standing at 6-foot-2, 220 pounds, Kinne saw action in the Eagles' final preseason game against the Jets, completing both of his passes for 60 yards. When he picked up his phone Monday afternoon and Eagles general manager Howie Roseman was on the line, Kinne knew that it was time to get back to work.
"I had a flight out of Clemson at like 5:50 and at about 3 o'clock Howie contacted me and we started from there," Kinne told reporters.
Just as anyone who was out of the game would be, Kinne was elated to get an offer to come back to the professional level, but the circumstances surrounding his return were also somewhat bittersweet for the second-year pro.
"I watched the game (against the Cowboys) and I saw Foles go down, so I thought that there might be a chance that they bring me in," said Kinne. "Foles is like my best friend so it was one of those things where I didn't like that he went down, but at the same time, it gave me the opportunity to come back. I'm just very thankful to everyone in the front office for bringing me back."
Before Foles left the game with a concussion suffered on the final play of the third quarter, Kinne watched as his close friend struggled with his accuracy and failed to get into any kind of rhythm. Kinne believes it was just one of those days, but he knows that Foles will be able to rebound.
"Playing quarterback in the NFL, obviously I haven't done it (in a regular season situation) at that level, but I'm sure it's not the easiest thing," Kinne said. "Everyone has their ups and downs - even the best in the game (like Tom) Brady - and Foles will have his ups and downs, but he'll bounce back."
Though the Eagles offense has certainly expanded since Kinne was released at the end of August, his level of familiarity with Chip Kelly's system undoubtedly played a role in the Eagles' decision to sign him. No matter who gets the start on Sunday against the Giants, Kinne knows that his ability to pick up where he left off and learn the offense quickly will serve the team well if his number is called.
"I definitely feel like I could go in (on Sunday)," Kinne said. "(The offense) has changed a little bit, but I pride myself in being a smart guy, so I'm going to get up there and work my tail off and get in the new stuff, but I feel like if I got in there, I could run the base offense. Mike and Matt got most of (the snaps practice), but I was sitting there learning and I got to do some scout team stuff and I'm just kind of knocking the rust off, and that feels good."