The Eagles continue to support nonprofits that work to reduce barriers to opportunity and end racism. In support of Black History Month, the Eagles are proud to recognize the work of one of these nonprofits each day.
Founded in 2001, Frontline Dads looks to improve the community by addressing social justice issues and criminal justice reform, and empowering marginalized communities impacted by poverty, crime, unemployment, addiction, and mass incarceration. It gives back to the community through mentoring people young and old on leadership development, economic development, violence prevention, political education, and more.
To date, it has helped more than 5,000 children and families in the Greater Philadelphia urban community, according to its website. The Eagles sought to help Frontline Dads in its mission by granting $20,000 via the Social Justice Fund.
Frontline Dads made the most out of the grant by purchasing masks, gloves, personal protective equipment, and food distribution, as well as further its other non-COVID-19 related endeavors.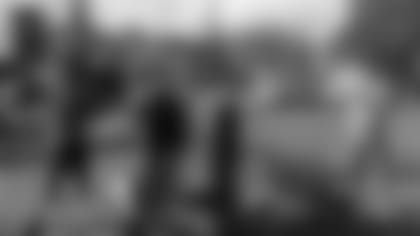 "I grew up in a poor household in North Philly, so I've seen my parents feed a family of five on pennies," Executive Director Reuben Jones said. "I've been a penny pincher my whole life, so we know how to maximize the outcome with minimal resources."
Jones described Frontline Dads as a "scrappy grassroots" organization that works hard to secure funding, so receiving money from the Eagles more than helped its efforts. But since the entire staff is made up of all volunteers, every dollar goes right back into the community.
"We know and the Eagles should know that their money is going directly to support the community," Jones said.
Learn more about Frontline Dads: