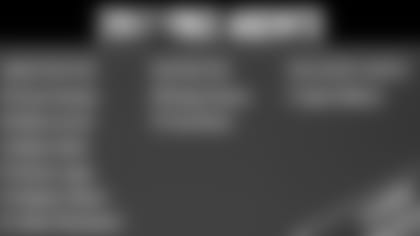 The 2016 season officially ended for the Eagles at 4:05 p.m. on Sunday when they defeated the Dallas Cowboys. Behind the scenes, work had already commenced to build upon the foundation that the Eagles put together.
There are many difficult decisions ahead for the Eagles when it comes to improving a roster that went 7-9, and some of them will involve players who are scheduled to become free agents on March 9. The Eagles have nine total free agents, six of whom are slated to be unrestricted.
"I've been around here for four years. I've got a great relationship with these guys," said defensive tackle Bennie Logan, one of the potential unrestricted free agents. "I enjoy playing next to Fletcher (Cox), Brandon Graham, Connor Barwin, just the relationship that we have. Trying to start over and doing something new is something that I'm not looking forward to because I enjoy being here, the city and everything, so that's where I see myself at."
Logan was a third-round pick of the Eagles in 2013 out of LSU. He's started 51 of the 59 career games that he's played in, including 13 in 2016. He finished with a career-high 2.5 sacks despite missing three games with a groin injury.
This will be Logan's first foray into free agency, but cornerback Nolan Carroll and offensive lineman Stefen Wisniewski have some experience with how to handle the uncertainty.
Carroll signed with the Eagles as a free agent in 2014 and returned on a one-year deal this past offseason. Last year, Carroll stayed in to Philadelphia rehab the ankle injury that sidelined him for the final five games of the season.
"I'm going to go home, just enjoy my time off because I didn't have it last year," Carroll said. "We'll see what happens."
Wisniewski is entering free agency for the third straight offseason. He finished out his rookie contract with Oakland in 2014 and spent 2015 with Jacksonville before signing with the Eagles. He started six games at left guard this season.
"It definitely kind of tests your resolve, can drive you crazy if you don't have the right mindset," Wisniewski said. "I'm a man of faith. I'll be trusting God and praying a lot. I know He's got a plan for me and I'm trying to find it.
"I liked it here and I think they like me, but as far as whether I'll be back or not it's kind of too early to tell. We'll see. I think there's definitely mutual interest, but we'll see what happens."
Tight end Trey Burton is one of three Eagles who is not an unrestricted free agent. Burton and running back Kenjon Barner are restricted free agents, which means that the Eagles can tender an offer and match any deal from another team. Safety Jaylen Watkins in an exclusive rights free agent. If the Eagles make an offer to Watkins, he will not be able to sign elsewhere.
Burton made the team as a rookie free agent in 2014 and led the Eagles with 19 special teams tackles in 2015. This past season, Burton carved out a bigger role on offense with 37 catches for 327 yards and his first receiving touchdown.
"It's definitely tough because I don't know if I'm going to be here after this year," Burton said. "I love all the guys on the team. I feel like we have a lot of chemistry, especially with the guys in my group.
"I would love to be here, for sure. But you never know."
The Eagles cleaned out their lockers on Monday to bid farewell to the 2016 season. Planning for 2017, and weighing some difficult roster decisions, is already underway.