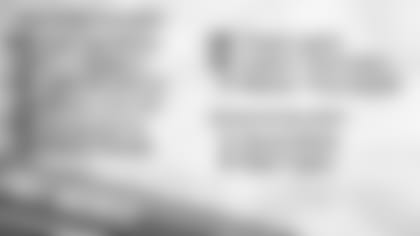 As the Eagles draw closer to the start of free agency on March 15, all eyes will be on quarterback Sam Bradford. But for Philadelphia, the veteran signal-caller isn't the only player with whom it'll have to negotiate if it intends to keep his services.
In all, nine Eagles are set to become unrestricted free agents this spring, including three starters on the defensive side of the ball. One of those players is Walter Thurmond, who signed a one-year deal with Philadelphia last year. Thurmond arrived as a cornerback, but the Eagles' lack of depth at safety prompted a move to that position before the season began.
The six-year veteran had his best season as a pro in 2015, setting career highs in tackles (76), deflected passes (7), interceptions (3) while starting all 16 games alongside Malcolm Jenkins. In an ideal world, the Eagles would gladly welcome him back next season, but with his play likely dictating a generous contract, Thurmond knows that his return is not guaranteed.
"As far as locking up key people on the team, (the Eagles) need to lock in the quarterback, address the offensive line. There are needs the team needs to address other than myself," Thurmond told reporters the day after the team's season finale against one of his former teams, the Giants. "(I want to) go into a situation that's going to be best for me as my career progresses, and we'll see where it goes from there."
Cornerback Nolan Carroll, who signed a two-year deal with Philadelphia in 2014 after spending his first four seasons in Miami, is another member of the Eagles' defensive backfield set to hit free agency. The 28-year-old started 11 games this season on the opposite side of Byron Maxwell before suffering a broken ankle in the Thanksgiving loss to the Lions. Still, he ended up tying Jenkins for the team lead in deflected passes (15) and picked off two passes in his first season as a full-time starter for the Eagles.
Given the play of rookie Eric Rowe down the stretch this season as well as the solid play of veteran E.J. Biggers, also set to become a free agent this March, it remains to be seen whether or not the Eagles will be willing to spend to retain Carroll. After he went down with his injury, Rowe stepped in and performed well, and later in the year, when Maxwell went down with a shoulder injury, Biggers was inserted into the base defense and also impressed.
Biggers was originally a seventh-round pick out of Western Michigan in 2009. Since then, he's played in 92 games and made 34 starts. In his lone season in Philadelphia, he started three games and despite playing just 46 percent of the team's defensive snaps his 11 pass deflections put him just one shy of Maxwell.
"I loved it here, I had a great time, and I'm thankful for my time," said Biggers. "I don't know what's going to happen, but I would love to be back."
Besides Thurmond and Carroll, there is another defensive starter set to hit free agency in defensive end Cedric Thornton. Undrafted out of Southern Arkansas in 2011, the 309-pound defensive end has since become an integral part of what has become one of the better defensive line groups assembled in franchise history. Thornton has started all but three games for the Eagles since the team transitioned to a 3-4 front three seasons ago, logging 186 tackles, eight tackles for loss, and three sacks during that time.
With the Eagles searching for a new head coach and perhaps a new defensive coordinator, it remains to be seen what kind of defensive scheme the team will utilize next season. Thornton has experience as both a 3-4 end and as a 4-3 tackle, and could be a fit to return to Philadelphia no matter which direction the team decides to go. The 27-year-old has never been an unrestricted free agent before, and although he's enjoyed his time with the Eagles to this point, he wants to explore his value on the open market before making a decision about his future.
"I've never been in this position before," he told reporters on locker cleanout day last week. "My value is unknown, so I want to know how much I'm worth ... I love Philadelphia and the organization, but to say I'm going to stay here or they're going to keep me, that's the unknown."
Vinny Curry, like Thornton, has been a major contributor on a defensive line that compares favorably against just about any other in the league today. The 6-3 edge rusher was a second-round pick in 2012, and although he got off to a slow start this season he finished the year strong. On the field for 35 percent of the Eagles' defensive snaps this season, the 27-year-old New Jersey native only notched 3.5 sacks and 4.5 tackles for loss, but his 21 quarterback hurries were second only to Pro Bowl defensive end Fletcher Cox, who had 32 but also played more than twice as many snaps as did Curry.
Like any team, the Eagles will have to work within the constraints of the salary cap. The fact that quarterback Bradford is a free agent only complicates things further. It may come down to the team choosing between players at certain position groups. These are the difficult decisions NFL teams are forced to make every offseason, and as the Eagles look to rebound after a 7-9 season with a new head coach and a new front office structure they hope to make the correct ones.