There's something in the way Eagles carried themselves this past week that has head coach Andy Reid feeling pretty good about his team's chances against the defending Super Bowl champions at the Meadowlands.
Perhaps it was the extra three days rest or the fact the Eagles haven't won an NFC East game since beating the Dallas Cowboys 10-6 on Dec. 16, 2007.
Either way, if the Eagles happen to lose to the Giants on Sunday, it won't be because they were unsure of what was coming.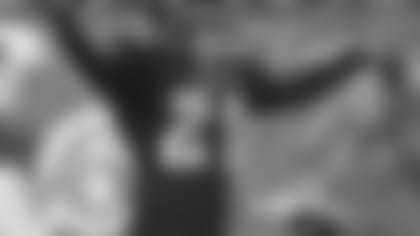 CB Joselio Hanson
"They were very matter of fact this week and just went about doing their business and trying to make sure that they have taken everything in, learned the game plan, and I think that they have done that very well this week," Reid said.
Meanwhile, the Giants have been dealing with the Plaxico Burress incident, which may or may not become a distraction. Burress was suspended for four games and placed on the reserve/non-football injury list after accidentally shooting himself in the thigh with a handgun.
Reid said that even though Burress isn't going to play, the Giants have a capable stable of receivers that are still just as dangerous as they were prior to Burress' departure. Steve Smith, Amani Toomer and Domenik Hixon have combined for 108 catches for 1,287 and six touchdowns.
"That's what I said on Wednesday," Reid said. "I know that Plaxico is not playing but those other guys are pretty good players. They've made a lot, a lot of plays and not just the routine ones. They go up and get the football, and so you better not slight those guys a bit."
Cornerback Joselio Hanson has the honor of being one of the players that the defense will rely upon to help shut down those Giants' receivers.
"They all bring something really good to the table," Hanson said. "Hixon has really got in there and played good. Steve Smith is a good player. So we're going to have to play our best against them to get a win."
Hanson said he'll most likely be matchup on Smith for most of the game since Smith plays in the slot for New York.
"He's pretty quick in the slot," Hanson said. "That's where I'm going to be at most of the time, so I'm going to have to bring my A game against him, too. He's not a really big receiver, so I match up pretty good. Hopefully I can make a couple plays on him. I'm just going to study the film and hope for the best.
"I'm real comfortable in the slot. That's where I play my best."
Reid also said the Eagles are prepared to match the Giants' intensity, if not exceed it.
"You just have to be ready to play just like they have to be ready to play," Reid said. "That's where our guys do it and it looks like that's where their guys do, so it should be a good game."
Hanson said that there was no way the Eagles were or would be intimidated by the 11-1 Giants.
"This is the NFL," Hanson said. "Anybody can win on any given Sunday. We're going to go out there with confidence and play our best."
It seemed like if Reid had his druthers, the Eagles and Giants would be playing right now.
"We look forward to the challenge of playing the Giants up at their place," Reid said. "Our guys have prepared very well this week, and I've been happy with the work that they have put in. Now, it's just a matter of going and playing the game."