The Eagles announced on Saturday morning that they have agreed to terms with defensive tackle Fletcher Cox and running back Boston Scott on one-year contracts.
In the case of Cox, there was just over a 36-hour span between being released on Thursday and agreeing to terms on a new contract, after it was initially reported that the Eagles had hoped to bring him back. The team's first-round draft pick in 2012, Cox has enjoyed a Hall of Fame-level career with Philadelphia, earning four All-Pro selections, six Pro Bowl nods, and recognition as an NFL 2010s All-Decade Team member while being a cornerstone piece of the first Super Bowl Championship in franchise history.
Cox teams up with Javon Hargrave to form one of the top tackle duos in the league, in addition to promising youngster Milton Williams who adds nice depth to the position. Having Reddick, the team's marquee free-agent addition, now coming off the edge, along with the return to health from end Brandon Graham (who missed 15 games last season after suffering a torn Achilles tendon in Week 2 against San Francisco) and another jump from a young end group led by Pro Bowl participant Josh Sweat, will only help Cox and Hargrave dominate in the trenches.
Here is a look at some of Cox's career accolades:
• A four-time All-Pro selection (2014, '15, '17, '18), including first-team accolades in 2018 after registering a career-high 10.5 sacks
• Has earned six career Pro Bowl appearances (2016, '17, '18, '19, '20, '21), which are the most ever by an Eagles DT ... Only Chuck Bednarik (eight), Brian Dawkins (seven), Jason Peters (seven), and Reggie White (seven) have more Pro Bowls with the team ... His streak of six straight Pro Bowl honors (2016-21) is tied with Pete Pihos (1951-56) for the 2nd-longest streak in Eagles history, behind White (seven, 1987-93)
• Ranks 5th on the franchise's all-time sacks list (58.0, most by a DT), trailing only Reggie White (124.0, 1985-92), Trent Cole (85.5, 2005-14), Clyde Simmons (76.0, 1986-93), and Brandon Graham (59.0)
• Has played in 156 career regular-season games ... Marks the 5th-most ever by a defensive player in franchise history (most by a DT), behind Brian Dawkins (183, 1996-2008), Chuck Bednarik (169, 1949-62), Brandon Graham (161), and Randy Logan (159, 1973-83)
• Is tied with Seth Joyner (1986-93) for the most fumble recovery TDs (3) in Eagles history ... Also tied for the 3rd-most ever by an NFL DL, behind Jason Taylor (6, 1997-2011) and Osi Umenyiora (4, 2003-14)
• Selected to the PFWA All-Rookie Team in 2012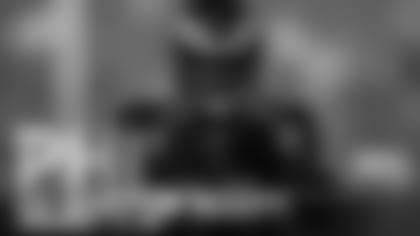 The hard-charging 5-foot-6, 203-pound Scott has been with the Eagles since he was signed off the New Orleans Saints' practice squad in the 2018 season. With Scott back in the mix, the Eagles have four running backs on the active roster – Scott, Kenneth Gainwell, Jason Huntley, and Miles Sanders.
Here are five things you need to know about Scott's return:
1. How has a 2018 sixth-round draft pick survived in the NFL? For Boston Scott, it's all about selflessness, work ethic, and professionalism.
During the 2021 season, quarterback Jalen Hurts shared how Scott wanted to work out with him in the offseason. Hurts said workouts begin at 5 a.m. Guess who was there at 5 a.m. ready to go?
"The Boston Scott I know is the guy that just got into town, and I tell him I worked out at five in the morning," Hurts said. "If you want to throw, we are going to throw at five, and he's there early and ready to go. The desire and the want to."
Scott didn't have a carry this past season until Week 7. Scott remained ready, earning a special place in Head Coach Nick Sirianni's heart.
"I think that's going to be a forever story," Sirianni said. "How you need to be a pro and how you need to come to work every day and be ready when your number is called and when you do, I mean, what a great example for young guys that are backups right now, right?"
"Boston has been a warrior all year," Hurts added. "He has remained diligent, knowing his role is changed throughout the season from years prior, and he stuck with it. He's been ultimate team player, playing his butt off on special teams and doing the things he needs to do for the team."
2. The Zachary, Louisiana, native starred at Louisiana Tech before being a sixth-round pick of the Saints in 2018. A former walk-on, Scott rushed for 1,047 yards and scored nine total touchdowns while earning first-team All-Conference USA honors as a senior.
3. In 45 career games, all with the Eagles, Scott has 992 rushing yards, 499 receiving yards, and 14 total touchdowns.
4. Even though he didn't have a single carry until nearly the middle of the season, Scott was a touchdown machine in 2021 with seven scores on the ground, the most by an Eagles running back since Ryan Mathews in 2016. Scott scored on 8.0 percent of his carries, the highest rate since quarterback Michael Vick (9.0 percent) in 2010.
5. Scott's greatest success has come against the New York Giants. In six career games, Scott has rushed for 327 yards and totaled seven touchdowns. He has another 218 receiving yards and another score through the air. He earned NFC Offensive Player of the Week honors in the NFC East-clinching victory at the end of the 2019 season when he had 138 yards from scrimmage and a franchise-record-tying three touchdowns.
BONUS: When Scott is not scoring on the field, he's putting up goals virtually as a Grand Champion in Rocket League. Scott talked about the venture in a recent episode of the Eagles Insider Podcast with Dave Spadaro.