1. Jordan Howard knew he was going to be an Eagle
Howard said he was "relieved" to learn of the trade to the Eagles last Thursday night because he was tired of being asked where he was going to play next season. He knew something was going to happen, just didn't know when. But he was well aware of the Eagles' interest. Howard said that he "pretty much knew" the Eagles would be the landing spot as the team showed interest in acquiring him.
2. Howard is going to fit in nicely in Philadelphia
When asked to describe his playing style, Howard responded, "I would describe my playing style as rugged, physical. I definitely like setting a tone. I feel like I'm a blue-collar player and feel like this is a blue-collar city."
Howard converted 74 percent of his short-yardage opportunities (defined as third- or fourth-and-2 or fewer) in 2018.
He's one of only two running backs to gain at least 900 yards in each of the past three seasons.
"I'm a consistent player. I can get it done for a duration of time," Howard said.
Howard has also not missed a game in his NFL career due to injury.
"I don't really consider it luck. I feel like God just protecting me pretty well, but I do try and take care of my body. Coming into the league, they were saying I was injury-prone because I missed a few games my last season in college but I definitely take pride in being durable," Howard said.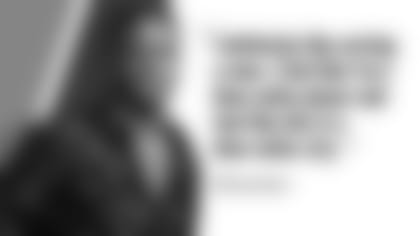 3. Howard will put team first above all else
Howard's best season came as a rookie in 2016 when he rushed for 1,313 rushing yards, good for second in the league. He averaged 5.2 yards per carry and had seven total touchdowns. But the Bears, as a team, weren't good.
"My rookie season, I had a lot of success but we only won three games," Howard said. "That wasn't fun at all."
Howard still led the Bears in rushing this past season with 935 yards, but fellow running back Tarik Cohen took away snaps with his ability to catch out of the backfield. That wasn't an issue for Howard.
"I knew I was going to have to do more with less," Howard said of his role. "I wasn't complaining about that because we were winning, so you really can't complain about that."
And while the Eagles have not discussed how he'll be utilized in Philadelphia, Howard merely wants to make the running back room better.
"I'm coming here to play whatever role they need me to help the team win games," he said. "We have so many options it's definitely going to be hard to stop us."
4. Howard is thrilled to play with Carson Wentz
Howard knows some of the current Eagles from either his college days at Indiana or his time with the Bears. He's been texting back and forth with Nate Sudfeld, who was his college quarterback. Howard said he spent time Sunday night with Alshon Jeffery, with whom he played with in Chicago. Even though Howard will be playing with Carson Wentz for the first time in 2019, he's already pretty familiar with just how special No. 11 is.
"I've seen what Carson Wentz can do," said Howard, whose NFL debut came against Wentz and the Eagles in 2016. "He's an MVP-caliber player when he's on top of his game. I know what he can do."
Howard added that he takes pride in protecting the quarterback as he'll chip in with an offensive line that features four Pro Bowl players. Howard's job moving the ball will be aided by another impact addition in DeSean Jackson, who will help keep defenses from keying in to stop the run.
"It's definitely going to open up the running game because they won't be able to load the box up with D-Jacc because he still has a lot of speed," Howard said.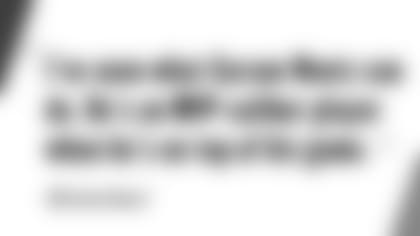 5. Howard glad to not face off against the Eagles anymore
"I'm definitely glad to not be playing the Eagles because I haven't had any success against them," Howard joked.
In three games, including the Wild Card matchup this past season, Howard had just 63 rushing yards on 20 carries. The Eagles won all three meetings.