For the first time, on national television no less, head coach Chip Kelly unveiled his offense to the NFL on Friday night. Considering that it's the preseason and that Kelly likely doesn't want to give too much of a preview of what he expects to do, there were still telling signs of the future.
The Eagles opened the game with Michael Vick at quarterback, who was sandwiched in the backfield with Chris Polk and Brent Celek on either side. DeSean Jackson and Riley Cooper were the starting wide receivers, with second-round pick Zach Ertz lined up in the slot. The offensive line, from left to right, was Allen Barbre, Evan Mathis, Jason Kelce, Todd Herremans and Lane Johnson.
Ertz would rotate with Jason Avant, who made an impressive first-down catch on the Eagles' third play from scrimmage. Two plays later, Jackson would make his mark.
For Jackson, Friday night's preseason opener was no different than the rest of Training Camp. Another day, another explosive play. Playing in front of the Lincoln Financial Field crowd for the first time this season, Jackson opened the scoring for the Eagles with a 47-yard touchdown catch on the team's first offensive possession.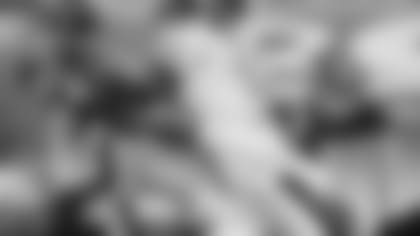 Jackson ran past Patriots cornerback Aqib Talib and hauled in the perfect pass from quarterback Michael Vick inside the 5-yard line before running into the end zone and dancing for the first time in 2013. Throughout Training Camp, the 26-year-old has been perhaps the team's most impressive player. Friday night was no different.
"I thought Mike did a great job with the read based on the coverage," head coach Chip Kelly said after the game. "Usually when you're throwing deep, not everybody's going deep. You have checkdowns, you have people running underneath and you have to reasd the coverage. I thought it was a great play by Mike and DeSean. Obviously (Jackson) is a great weapon to use at our disposal and I thought Mike did a great job reading the coverage and throwing it on time."
With Vick at the helm, the offensive bells and whistles were few and far between, though Vick did make one impressive throw while rolling right. There were actually more ostensible "read-option" plays with Nick Foles at quarterback and the tempo was much quicker. Foles showed his athleticism with a 10-yard first-down run during an impressive 66-yard touchdown drive, capped by an 8-yard touchdown run by Bryce Brown.
Foles' first possession resulted in a lost fumble when he was pressured immediately and sacked while attempting to throw the ball away.
Polk was rewarded for his impressive Training Camp by getting the start, though he only ran for seven yards on four carries. Brown, working alongside Foles, ran for 22 yards on five carries.
After Foles and Vick each had their two possessions, Matt Barkley took over at quarterback. Upon his entrance, the second-team offensive line took over (from left to right): Matt Tobin, Matt Tennant, Julian Vandervelde, Danny Watkins and Matt Kopa.