Felix Jones is no stranger to a crowded backfield. At Arkansas, Jones split time carrying the ball with Darren McFadden and Peyton Hillis, two players who would go on to become 1,000-yard rusher in the NFL. During his four seasons with the Dallas Cowboys, Jones split time in a backfield with the likes of Marion Barber and DeMarco Murray. Now, in Philadelphia, Jones is once again a member of a crowded backfield.
"They definitely do have a lot of great backs in (LeSean) McCoy and (Bryce) Brown," Jones said during his introductory press conference Tuesday. "I'm just here to compete, enjoy myself and have fun, help my team win some football games.
"I'm definitely competing for a spot to play. It's going to be fun to learn from those guys, to pick up what they've done to help them out. It's going to help me with my game as well. I always played with a couple backs anyway ever since college. It's always a thrill to have a couple good people in your position because they can push you."
Jones entered free agency for the first time as a professional in March but waited two months before signing with a new team. After working out for the Eagles a week ago, Jones signed a one-year deal that places him on the Eagles alongside McCoy, Brown, Chris Polk, Miguel Maysonet and Matthew Tucker.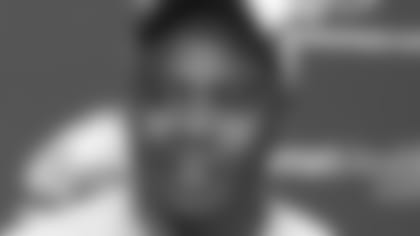 "I just felt like when I took my visit here in Philadelphia it kind of fit me. I'm excited to be an Eagle," said Jones. "I was trying to really see what's out there. When I visited the Eagles, I got to know the coaches and figured out the system and how things are going to be going. I liked it. I felt like it fit me."
Of course, few teams know Jones better than the Eagles. The two have faced off as adversaries nine times, including playoffs, during Jones' career. In fact, the 26-year-old's most prolific game as a rusher came when Jones ran for 148 yards against the Eagles during the playoffs early in 2010.
"It's a great rivalry," Jones said. "It's fun. It's all in good nature and fun. I've been loving it ever since I was a little boy. I'm just excited to be on a team that has great players, great coaches and I'm just thrilled to be here."
In addition to competing for carries in head coach Chip Kelly's offense, Jones is also suited to helping on special teams as a kick returner. Jones returned 64 kickoffs during his time in Dallas and averaged 24.0 yards per return, including one 98-yard touchdown return. Last season, the Eagles ranked 26th in the league with an average of 21.0 yards per kickoff return.
"I'm excited about kickoff returns," Jones said. "It's something I always did, something I always wanted to do. Whenever coach gives me an opportunity to go out there and do it, I'm ready to go."
For now, Jones is simply getting adjusted to a new organization, glad to be among teammates after two months as a free agent.
Practice today "was fun," Jones said. "It's been a while since I did a team activity. I definitely enjoyed running around out there with those guys and once I learn the plays I'll be more involved."