The Eagles took care of two off-season needs with one move on Friday.
Unrestricted free agent fullback Leonard Weaver has agreed to terms with the Eagles on a one-year deal. He is headed to Philadelphia where he will be introduced at a press conference at noon on Saturday. You can watch Weaver's introduction live on aspecial Eagles Live! with Dave Spadaro beginning at 11:30 AM. Even though a number of other teams expressed interest in Weaver, he thought Philadelphia was the best fit for him.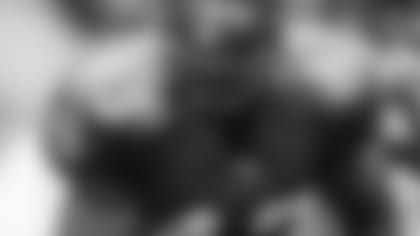 FB Leonard Weaver
"When I looked at Philly, I looked at the type of offense they run," Weaver said via conference call. "In free agency, a lot of the guys look at the money. For me, that wasn't really the case. I looked at more of the opportunity. I hope I get a chance to catch passes, but they called me to do some blocking and that's exactly what I'm expected to do. I looked at the offense and it's basically the same offense Mike Holmgren ran in Seattle. I liked the opportunities there, so I took a chance."
The 6-foot, 242-pound Weaver will assume the starting fullback role here after spending his first four seasons in the NFL with the Seattle Seahawks. Originally signed as a rookie free agent out of Carson-Newman in 2005, the 26-year-old is well-versed in the West Coast Offense. Weaver is more than just a lead blocker; he's also an effective weapon out of the backfield.
In 46 career regular season games, Weaver has 80 carries for 356 yards (4.4 yards per carry) for one touchdown. Also add in another 60 receptions for 547 yards and two touchdowns, both of which came in a single game against the 49ers this past season. In that game, he caught four passes for 116 yards and the two touchdowns. One of those scores was a 62-yard catch-and-run where he outraced the entire 49ers defense.
"One of the things I pride myself on is being versatile," Weaver said. "Not just being able to block, but also to be able to catch (the ball) out of the backfield and being able to run. It's just a matter of getting me behind the right coach to help me develop those skills. I had the right coach in (Seattle in) Stump Mitchell. From that point on, it kind of solidified who I was in terms of a pass catcher out of the backfield and it solidified to defensive coordinators that this guy could run and catch the ball as a fullback, so we have to account for him as well.
Weaver is the second big free-agent addition to the offense this off-season along with tackle Stacy Andrews. With this move, last year's starting fullback, Dan Klecko, will move back to defensive tackle. Klecko began last season as a defensive tackle and recorded two sacks before he made the switch. Weaver's athleticism also gives the Eagles another option at running back after the departure of Correll Buckhalter. The Eagles also have Kyle Eckel at fullback, who was signed in the middle of last season and chipped in on short-yardage situations.
Named a Division II All-America in his senior season at Carson-Newman as a tight end, Weaver finished with 27 catches for 571 yards and eight touchdowns. He started his college career as a linebacker, but was moved to tight end in his sophomore season. The Melbourne, Fla., native was a running back and quarterback at Satellite High School. Another reason Weaver signed with the Eagles is because he wanted to return to the East Coast.
Leonard Weaver's Rushing Stats
         </td>
     </tr>
     <tr>
         <td> 2005</td>
         <td> 16</td>
         <td> 17</td>
         <td> 80</td>
         <td> 4.7</td>
         <td> 24</td>
         <td> 0</td>
     </tr>
     <tr>
         <td> 2006</td>
         <td colspan="6"> *IR - High ankle sprain*</td>
     </tr>
     <tr>
         <td> 2007</td>
         <td> 16</td>
         <td> 33</td>
         <td> 146</td>
         <td> 4.4</td>
         <td> 37</td>
         <td> 1</td>
     </tr>
     <tr>
         <td> 2008</td>
         <td> 14</td>
         <td> 30</td>
         <td> 130</td>
         <td> 4.3</td>
         <td> 15</td>
         <td> 0</td>
     </tr>
     <tr>
         <td> **Career**</td>
         <td>**46**</td>
         <td>**80**</td>
         <td>**356**</td>
         <td>**4.5**</td>
         <td>**37**</td>
         <td>**1**</td>
     </tr>
 </tbody>

Leonard Weaver's Receiving Stats
         </td>
     </tr>
     <tr>
         <td> 2005</td>
         <td> 16</td>
         <td> 1</td>
         <td> 12</td>
         <td> 12.0</td>
         <td> 12</td>
         <td> 0</td>
     </tr>
     <tr>
         <td> 2006</td>
         <td colspan="6"> *IR - High ankle sprain*</td>
     </tr>
     <tr>
         <td> 2007</td>
         <td> 16</td>
         <td> 39</td>
         <td> 313</td>
         <td> 8.0</td>
         <td> 46</td>
         <td> 0</td>
     </tr>
     <tr>
         <td> 2008</td>
         <td> 14</td>
         <td> 20</td>
         <td> 222</td>
         <td> 11.1</td>
         <td> 62</td>
         <td> 2</td>
     </tr>
     <tr>
         <td> **Career**</td>
         <td>**46**</td>
         <td>**60**</td>
         <td>**547**</td>
         <td>**9.1**</td>
         <td>**62**</td>
         <td>**2**</td>
     </tr>
 </tbody>