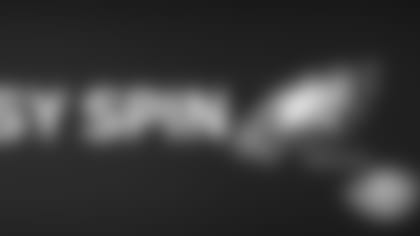 Joe Dolan is the managing editor of FantasyGuru.com and a host for SiriusXM Radio. A former writer for PhiladelphiaEagles.com, Joe still contributes to the site with on-camera segments and written columns. He can be heard hosting "SiriusXM Fantasy Football Gameday" every NFL Sunday from 1-7 PM on Sirius 210, XM 87.
Confidence Tiers For Eagles-Panthers
I realized at this point that I've written about just about every topic possible for the Eagles. The fact of the matter is that even as they get their offense on track, they've been generally frustrating for fantasy. Why is that? Well, I am absolutely certain that Chip Kelly has passions outside of coaching football that we don't know about. But one thing I am absolutely certain Kelly does not give a crap about is your fantasy team. Chip wants to win football games by any means necessary, and in general Chip runs a scheme-based offense that exploits different things about each defense the Eagles face.
All in all, that has limited the consistency of the fantasy options for the Eagles. Some weeks, the Eagles will go up against defenses with slow linebackers – it could be Darren Sproles and Zach Ertz time. Say an opponent's nickel corner is injured – Jordan Matthews, be ready to go. Do teams have problems at safety, like the Giants last week? Riley Cooper could be queued up to run a few deep posts and go routes. And let's use the Panthers as an example for this week – Chip himself has called Luke Kuechly and Thomas Davis the best pair of linebackers the Eagles will face. Could that limit the inside zone that the Eagles got going with DeMarco Murray last week? They may try to mix things up and get to the perimeter with Ryan Mathews.
Everyone on the Eagles' offense – Kelly, Murray, Sam Bradford, Jason Kelce – has expressed the need to be better and more consistent. The offense isn't totally there yet, but we've seen real signs of life in recent weeks. But until the offense starts clicking at full-go (and even when it does), the Eagles' scheme will prove frustrating for fantasy because it's difficult to predict exactly what Chip wants to do every week.
So here is my view of the Eagles' offense as we stand now, in "confidence tiers" for fantasy:
No-Doubt Weekly Starters: DeMarco Murray
In Your Lineup More Often Than Not: Jordan Matthews
Weekly Decision Required Based on Matchup: Sam Bradford, Zach Ertz, Ryan Mathews
Useful in a Pinch: Darren Sproles, Josh Huff, Riley Cooper
I Am Decimated by Injuries and/or Byes: Brent Celek, Miles Austin
The Panthers are similar to the Eagles in that outside of a couple "staple" players, their production seems entirely week-to-week. That will happen when the Panthers' best player is clearly the quarterback, Cam Newton, who is playing the best football of his life. He's behind an offensive line that struggles to protect him on the edge, and he doesn't have any real reliable options on the perimeter. He also hasn't had a great run game ... at least until Jonathan Stewart went nuts in Seattle last week (go figure).
In the passing game, the Panthers have one wide receiver in the top 80 in FPG in PPR leagues. That's Ted Ginn, Jr., who had three useful weeks in a row from Weeks 2 through 4, but ultimately he's a guy who needs to hit on a big play to come through for fantasy because he simply isn't going to command targets on a consistent basis (his season high is nine in Week 2). Meanwhile, rookie receiver Devin Funchess is having a really difficult time. He has just five catches on 17 targets, a horrendous catch rate for anyone, rookie or not.
I'd like to see more consistency out of tight end Greg Olsen, who has two games of 26 or more fantasy points in a PPR, but has 19.9 FP in his other three games - combined. Still, if you have Olsen, it's highly unlikely you have someone better at tight end and are rolling with him every week.
Here's how I'd categorize the Panthers:
No-Doubt Weekly Starters: Greg Olsen
In Your Lineup More Often Than Not: Cam Newton (He's close to "weekly starter," but it's always hard for me to put a quarterback in that category.)
Weekly Decision Required Based on Matchup: Jonathan Stewart
Useful in a Pinch: Ted Ginn, Jr.
I Am Decimated by Injuries and/or Byes: Devin Funchess, Corey Brown, Jerricho Cotchery
All in all, I wouldn't expect a fantasy bonanza, given two of the best defenses in the league are playing in this game.
Eli Manning, Giants – He's coming off a poor game on national TV, but things might be looking up for Eli. Odell Beckham Jr. made it through the game (presumably) without any issues, and early this week there were reports that Victor Cruz is now without pain in his troublesome calf. Cruz is still tough to count on, but if he's back and even 80 percent of what he can be, this offense will be very tough to stop because Eli is generally performing at a very high level and is getting rid of the ball quickly.
Blake Bortles, Jaguars – This is partially an anecdotal justification, but I can't believe how many trade questions I've gotten involving Bortles. While he's actually thrown for more yards than Aaron Rodgers while out-producing myriad luminaries at the position, he's playing behind a bad line with no real run game. If you can actually get value for Bortles, do it now.
Dion Lewis, Patriots – My call is that Lewis' reduced role on Sunday night (seven touches) was a result of the matchup with the Colts and the fact that he came in with an abdominal injury. Still the most efficient fantasy RB on a per-touch basis (1.36 FP per touch), Lewis is by far a better fit for the Patriots' "base" offense than LeGarrette Blount, who is effective as a closer and grinder, but who limits what the Patriots can do when he's in the game.
LeGarrette Blount, Patriots – I always try to pull one of these moves when Blount is coming off a "Blount game." I don't know if there's a more matchup-dependent back in the league.
A.J. Green, Bengals – He's had a few weak games in a row and is in a bye week. It's an excellent week to swing a deal for Green, who will soon again be putting up huge numbers in a deadly Bengals offense.
James Starks, Packers – People are really down on Eddie Lacy right now, and in fantasy football, the most popular man in the room is the backup running back. You may have heard a similar phrase about Philadelphia and backup quarterbacks. Starks had a nice game against the Chargers last week, but the Packers' bye week is a perfect time for Lacy to get healthier.
(Note: These options are my rankings for the non-obvious starters at each position. Rankings are based on PPR scoring.)
FantasyGuru.com's Week 7 Mid-Level Flex Rankings
Running Back
Wide Receiver
Tight End
13. Lamar Miller, Dolphins
25.Willie Snead, Saints
7. Charles Clay, Bills
14. Doug Martin, Buccaneers
26.Stefon Diggs, Vikings
8.Julius Thomas, Jaguars
15.Justin Forsett, Ravens
27.Jordan Matthews, Eagles
9. Gary Barnidge, Browns
16. Danny Woodhead, Chargers
28.Mike Wallace, Vikings
10.Jason Witten, Cowboys
17. Jonathan Stewart, Panthers
29.Brandin Cooks, Saints
11.Zach Ertz, Eagles
18. Dion Lewis, Patriots
30.Michael Crabtree, Raiders
12.Coby Fleener, Colts
19.Rashad Jennings, Giants
31.Jamison Crowder, Redskins
13. Jordan Cameron, Dolphins
20.Duke Johnson, Browns
32.Rishard Matthews, Dolphins
14.Ben Watson, Saints
21.Charles Sims, Buccaneers
33.Kamar Aiken, Ravens
15.Kyle Rudolph, Vikings
22. Chris Johnson, Cardinals
34.Kendall Wright, Titans
16.Eric Ebron, Lions
23.Matt Jones, Redskins
35.Robert Woods, Bills
17.Ladarius Green, Chargers
24.Shane Vereen, Giants
36.Rueben Randle, Giants
18.Jacob Tamme, Falcons
QB: Ryan Fitzpatrick, Jets – Hurting for a QB this week with Aaron Rodgers and Andy Dalton on bye? Consider Fitz, who may hurt you with turnovers, but teams are averaging over 40 pass attempts per game against New England, so there should be volume.
RB: Doug Martin, Buccaneers – Washington has been gashed in back-to-back games on the ground, and Martin entered the bye playing his best football since his rookie year.
WR: Golden Tate, Lions – Slowly but surely has become active and productive in the last two games, and should see less attention than Calvin Johnson against the Vikings.
TE: Delanie Walker, Titans – It is Zach Mettenberger here, but these two clicked last year and Walker has been the only reliable option in the passing game.
QB: Josh McCown, Browns – He played about as well as could be expected against Denver last week, but I think he'll struggle on the fast turf against the Rams.
RB: LeGarrette Blount, Patriots – In Blount's career against the Jets, he has 10 carries for 15 yards in three games.
WR: Stevie Johnson, Chargers – Though he may be back this week, I'm giving him a week off with Antonio Gates in the mix and Ladarius Green still producing.
TE: Larry Donnell, Giants – Donnell seems to make a boneheaded mistake every week, and he's just not someone you want to trust in your lineup.