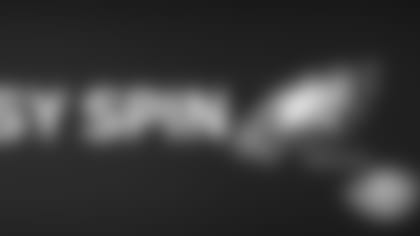 Joe Dolan is the managing editor of FantasyGuru.com and a host for SiriusXM Radio. A former writer for PhiladelphiaEagles.com, Joe still contributes to the site with on-camera segments and written columns. He can be heard hosting "SiriusXM Fantasy Football Gameday" every NFL Sunday from 1-7 PM on Sirius 210, XM 87. The Eagles' run game got going last week against the Jets. The passing game needs to be next. Will Sam Bradford turn it around for my fantasy team?
As I always say, Chip Kelly is smarter than me, and I'm certain he anticipated the Eagles' offense would have some struggles at it transitions to drastically new personnel in 2015. However, I'm not sure he thought it would struggle this much – I'm sure if you asked Sam Bradford, he'd say himself that he needs to throw it better for the Eagles to reach their potential. However, it's also very fair to point out that the Eagles have a very young receiving corps that has dealt with some very good secondaries thus far, especially the Desmond Trufant-led Falcons and the Darrelle Revis-led Jets. That won't be the case this week against Washington.
Consider Nelson Agholor, who has had a really tough time getting going thus far. Agholor has had to deal with some of the best man-cover corners in the league through his first three games. Meanwhile, Washington has dealt with injuries in the secondary to Chris Culliver (knee) and DeAngelo Hall (toe), while Bashaud Breeland is having a really hard time right now. I've been more than willing to give Bradford rope, and my guess is he'll start to look better as things settle down and he gets more comfortable in the offense. It'd help matters if Josh Huff can return to provide some semblance of a deep threat, as well. The fact of the matter is the Eagles' offense hasn't been operating at full strength yet this year. Until I see that Bradford is flat-out not pulling the trigger on open throws down the field consistently, I believe he can turn it around. Given the matchup against the Washington secondary and front seven, this would probably be a game Kelly views as a good matchup for the passing game.
The Redskins' backfield has been a serious committee so far. Who is the guy to have back there?
Alfred Morris was typically going around the fourth round in fantasy drafts, a price I was totally unwilling to pay. The reasoning behind that decision has come to fruition this year. Last week against the Giants, rookie Matt Jones not only had more snaps than Morris, but Chris Thompson did as well. In all, Morris played 12 snaps against the Giants, and since running for 121 yards in Week 1, he now has just 78 total yards on 24 carries the last two weeks. Jones' fumbling issues may concern Washington moving forward, but the fact of the matter is Morris is a total zero in the passing game, and now isn't even a good bet to be the lead back in early-down situations (Jones simply has more ability). Against one of the NFL's best run defenses in the Eagles, Morris is a completely low-end fantasy option.
If Jones doesn't fumble going into the end zone last week against the Giants, the conversation is entirely about how he more than doubled up Morris' snaps (26 to 12). But Jones did fumble, his second of the season, and Washington was in a hole from the start of the game thanks to Kirk Cousins. That led to a significant snap share for scatback Thompson. My contention is Jones is still the long-term back to own here because he's the most talented, but for now, it appears Morris will continue to "start" (whatever that means), and Thompson will mix in on passing downs. In a tough matchup with the Eagles, Jones has some flex value, but it's still an ugly rotation here on a bad team. Washington needs to run the ball to protect Cousins. If I had to play one guy back there, it would be Jones.
How do I handle the Marshawn Lynch situation?
If Marshawn Lynch doesn't play in Week 4, it'd likely be rookie Thomas Rawls and not Fred Jackson taking the lead for the Seattle backfield. Rawls has natural power, quickness and size, and while there's no way I could say that he's all of a sudden primed to flat-out replace Lynch, he's certainly the type of back who can have success within the context of what the Seahawks do if he needs to fill in for some time. Heck, he did that last week, when he had the Seahawks' first 100-yard rushing game by a guy not named Marshawn since 2012.
Here's the issue: Lynch is looking like a game-time decision, and you simply can't wait until Monday night for an update if you don't have Rawls or someone else to plug in. On the flip side, if you don't have Lynch, it's hard to trust Rawls with a spot in your lineup unless you someone else to plug in on Monday night. But if Lynch doesn't go, Rawls is a solid play.
What about the Andrew Luck fiasco?
Andrew Luck is questionable with a throwing shoulder injury. He was limited in practice all week preparing for Sunday's matchup with Jacksonville. Frankly, the Colts are a bad football team, and while Luck has made his share of mistakes, he's also propping up a roster that currently has no business competing. I think we'll see that in action if Matt Hasselbeck has to play on Sunday. Hasselbeck's a vet, and should be able to perform respectably, but the Colts will lean on Frank Gore even more than they did last week should he be the starter. If Hasselbeck goes, I actually like Coby Fleener to be a top target for him, but I'd have no choice but to downgrade T.Y. Hilton and Donte Moncrief. As for Andre Johnson, his film does not look good.
(Note: These options are my rankings for the non-obvious starters at each position. Rankings are based on PPR scoring.)
FantasyGuru.com's Week 4 Mid-Level Flex Rankings
Running Back
Wide Receiver
Tight End
13. Carlos Hyde, 49ers
25. Jeremy Maclin, Chiefs
7. Charles Clay, Bills
14. Melvin Gordon, Chargers
26. Stevie Johnson, Chargers
8. Coby Fleener, Colts
15. Jeremy Hill, Bengals
27. Donte Moncrief, Colts
9. Martellus Bennett, Bears
16. Jonathan Stewart, Panthers
28. Anquan Boldin, 49ers
10. Jordan Cameron, Dolphins
17. Ameer Abdullah, Lions
29. Rueben Randle, Giants
11. Owen Daniels, Broncos
18. Giovani Bernard, Bengals
30. Terrance Williams, Cowboys
12. Eric Ebron, Lions
19. Shane Vereen, Giants
31. Rishard Matthews, Dolphins
13. Kyle Rudolph, Vikings
20. Lance Dunbar, Cowboys
32. Golden Tate, Lions
14. Zach Ertz, Eagles
21. T.J. Yeldon, Jaguars
33. Doug Baldwin, Seahawks
15. Larry Donnell, Giants
22. DeMarco Murray, Eagles
34. Marvin Jones, Bengals
16. Ladarius Green, Chargers
23. Charles Sims, Buccaneers
35. John Brown, Cardinals
 
24. C.J. Anderson, Broncos
36. Percy Harvin, Bills
 
QB: Derek Carr, Raiders – Carr has thrown for 300 yards in back-to-back weeks, and now he gets arguably the worst team in football, the Bears.
RB: Karlos Williams, Bills – With LeSean McCoy not expected to play, I have the rookie Williams in my top 10 this week against the Giants.
WR: Marvin Jones, Bengals – The Bengals' pass game has been legit, and it can be argued that Jones has actually been the most important player to their attack as it gives Andy Dalton a legitimate weapon opposite A.J. Green. It's not a great matchup with the Chiefs, but the Bengals are rolling.
TE: Charles Clay, Bills – The Giants are getting shredded by tight ends thus far, and Clay has made some nice plays. They need him with Sammy Watkins out.
QB: Teddy Bridgewater, Vikings – I don't think many would be starting Teddy against the Broncos, but this is more of a general comment. The Vikings' game plan is entirely Adrian Peterson at this point.
RB: Doug Martin, Buccaneers – Martin has been a low-upside volume back on a bad team, meaning he doesn't get as much volume as he needs, nor does he score. Additionally, he's banged up. Against Carolina, Charles Sims feels like a better play.
WR: Torrey Smith, 49ers – Sit him? I think he's droppable. The Niners' pass game is a total disaster.
TE: Jared Cook, Rams – Here's another passing game I'm out on. Cook is one of the biggest teases in the history of the position.