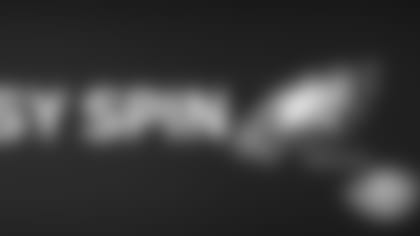 Joe Dolan is the managing editor of FantasyGuru.com and a host for SiriusXM Radio. A former writer for PhiladelphiaEagles.com, Joe still contributes to the site with on-camera segments and written columns. He can be heard hosting "SiriusXM Fantasy Football Gameday" every NFL Sunday from 1-7 PM on Sirius 210, XM 87.
What's your evaluation of the Eagles and Dolphins in this game as a whole for fantasy, especially at quarterback?
After Mark Sanchez entered last week for the injured Sam Bradford, he moved the offense, but we saw the exact same problem that hurt Sanchez last year – a turnover. The interception in the end zone helped cost the Eagles the game. Last year with the Eagles, Sanchez ranked No. 12 among quarterbacks over his nine appearances at 21.3 fantasy points per game. If you count just his eight starts, he was No. 10 at 21.6 FPG over the second half of the year, falling below 20 FP just once in eight starts. It should be noted that this is in a scoring system that doesn't punish for turnovers.
Sanchez was the starting quarterback for quite a few fantasy title teams, even if his play slipped when the Eagles needed wins. If you need a streamer this week, Sanchez is more than viable and the Eagles could mix in designed runs as well. Hopefully, it gives Jordan Matthews a boost, as it did last year. The matchup against Tampa Bay certainly isn't restrictive. We'll see if Sanchez gives the Eagles' offense a spark, as he did last week, but he can't offset his tempo with interceptions.
Back to Matthews, whose performance took off as a rookie last season when Sanchez took over at quarterback (at the expense of Jeremy Maclin, as many Maclin owners from last year will remember). In Sanchez's eight starts, Matthews posted 35 catches for 559 yards and five touchdowns on 50 targets (16.0 yards per catch) and averaged 15.1 FPG, No. 19 among all wide receivers while Maclin was No 32. By comparison, Matthews was the No. 52 PPR wide receiver in Nick Foles' starts, with Maclin at No. 3. Matthews posted efficiency numbers of a 60.4 percent catch rate/5.69 yards per target in the first half of the year, but his numbers skyrocketed in the second half, with 70.4 percent/11.09 YPT. This year, Matthews is the No. 32 PPR WR at 13.1 FPG. Will we see a similar second-half surge from him?
Additionally, Darren Sproles could have some intriguing flex value this week with Ryan Mathews out, but just note that he hasn't had a useful fantasy game since Week 3. The Buccaneers have excellent speed at linebacker to help neutralize him in Lavonte David and Kwon Alexander. I expect a ton of work for DeMarco Murray this week.
No-Doubt Weekly Starters: DeMarco Murray
In Your Lineup More Often Than Not: Jordan Matthews
Weekly Decision Required Based on Matchup: Sam Bradford/Mark Sanchez, Zach Ertz, Ryan Mathews (obviously injured this week)
Useful in a Pinch: Darren Sproles
I Am Decimated by Injuries and/or Byes: Brent Celek, Josh Huff, Nelson Agholor, Riley Cooper, Miles Austin
The Eagles take on the Bucs this week, one of the most improved teams in the NFL. They're 4-5, but have been competitive in just about every game. A lot of that has to do with rookie quarterback Jameis Winston.
Jameis hasn't thrown a touchdown pass since Week 8, but he's actually managed to stay afloat for fantasy by rushing for a touchdown in three consecutive games. He's mobile, but that was not his calling card in college. In general, he's played well. His completion percentage has been below 60 percent in each of the last three games. He's also been plagued by Mike Evans' drops and the absence of Vincent Jackson (knee). He's been a viable fantasy option even without Jackson. He's certainly defensible as a streaming option this week against the Eagles, especially if tight end Austin Seferian-Jenkins returns from his shoulder injury (which is not a guarantee).
Winston should get a high volume of plays just by the nature of the Eagles' offense. It's hard to count on rushing touchdowns for Jameis, but at least he's gotten those opportunities. You could do worse this week, for sure, but keep in mind the Eagles will certainly bring the blitz at Jameis. He's struggled with the rush, the area in which he needs the most improvement.
With Jackson not expected to play this week yet again, expect Evans to get a ton of targets. He has 86 on the year in only eight games. That ranks him No. 12 among all wide receivers, and only Keenan Allen (89) has more than Evans in eight or fewer games played. Evans hasn't had fewer than nine targets since Week 5, and he's topped 12 targets in four of his eight games this year. Now, he's hauled in just 40 of his 86 targets, an awful 46.5 percent catch rate, and a lot of that has to do with some atrocious drop troubles, especially the last couple weeks. But Evans is such a spectacular talent that I firmly believe he'll get over the drop problems, and the fact that he's been a productive fantasy receiver without them is a testament to how little the Bucs have at receiver.
Unfortunately, Evans has also been the victim of some hardcore touchdown regression. Last year, he scored 12 touchdowns on 118 targets (10.2 percent), a ridiculously high percentage. This year, he has just one on 84 (1.2 percent), a ridiculously low percentage. Hopefully, the Eagles aren't on the receiving end of Evans charging back to the mean. This is also something to remember for next year come draft time. Assuming Winston continues to improve, Evans should be a big candidate for more touchdowns next season, and there's a chance he'll be available as a draft-day discount.
All in all, the Buccaneers are a really simple fantasy team. Outside of their "stars," there's really no one worth considering for fantasy.
Buccaneers Confidence Tiers
No-Doubt Weekly Starters: Mike Evans
In Your Lineup More Often Than Not: Doug Martin, Vincent Jackson (when healthy)
Weekly Decision Required Based on Matchup: Jameis Winston, Austin Seferian-Jenkins (when healthy)
Useful in a Pinch: Charles Sims
I Am Decimated by Injuries and/or Byes: Brandon Myers
There is a ton of turnover at the quarterback position the last few weeks, and I'm in desperate need of an option this week. How would you rank the "backup" quarterbacks playing this week?
Allow me to preface these rankings by saying I love using "backup" QBs in good matchups on DFS sites. It really allows you to load up at other positions. And in season-long leagues, many of these guys are totally viable, in perhaps the best year for QB streaming I can remember.
1. Mark Sanchez, Eagles - We've already talked about Sanchez, and his success in this offense last year make him one of my favorite QB pickups this week.
2. Matt Hasselbeck, Colts – Hasselbeck has made two starts this year already, averaging a solid 18.3 FPG in those games. He's got good weapons and a matchup in Atlanta that's not terribly restrictive.
3. Case Keenum, Rams – Nick Foles was the worst fantasy QB in the NFL this year, but Keenum is much more of a "gunslinger" type. The matchup with the Ravens is a positive one.
4. Brock Osweiler, Broncos – It's hard to get a read on Fran Duffy favorite Osweiler, but at least he has the best group of weapons at his disposal of all these guys. The matchup with the Bears isn't atrocious.
5. T.J. Yates, Texans – It's a tough matchup with the Jets and DeAndre Hopkins is banged up.
6. Blaine Gabbert, 49ers – Gabbert isn't technically the "backup" anymore, but he's still not worth considering on the road in Seattle.
(Note: These options are my rankings for the non-obvious starters at each position. Rankings are based on PPR scoring.)
FantasyGuru.com's Week 11 Mid-Level Flex Rankings
Running Back
Wide Receiver
Tight End
13. LeGarrette Blount, Patriots
25.Stefon Diggs, Vikings
7.Jason Witten, Cowboys
14. Chris Ivory, Jets
26.Rishard Matthews, Dolphins
8. Eric Ebron, Lions
15.Jeremy Langford, Bears
27. Sammy Watkins, Bills
9.Jimmy Graham, Seahawks
16. Justin Forsett, Ravens
28.Golden Tate, Lions
10. Jacob Tamme, Falcons
17. James Starks, Packers
29.Jordan Matthews, Eagles
11.Martellus Bennett, Bears
18. Doug Martin, Buccaneers
30. Kamar Aiken, Ravens
12. Zach Ertz, Eagles
19.Danny Woodhead, Chargers
31.Marvin Jones, Bengals
13.Antonio Gates, Chargers
20. Giovani Bernard, Bengals
32.Donte Moncrief, Colts
14. Coby Fleener, Colts
21.Matt Jones, Redskins
33.Pierre Garcon, Redskins
15.Richard Rodgers, Packers
22. Jeremy Hill, Bears
34.Michael Floyd, Cardinals
16.Crockett Gillmore, Ravens
23.Chris Johnson, Cardinals
35.Ted Ginn, Panthers
 
24. Karlos Williams, Bills
36.Chris Givens, Ravens
 
QB: Mark Sanchez, Eagles – The top streamer of the week. Opposing QBs are completing 75 percent of their passes against the Buccaneers the last month.
RB: Frank Gore, Colts – Gore had 53 touches in his two games prior to the bye. He had 22 touches in each of Matt Hasselbeck's first two starts this year.
WR: Stevie Johnson, Chargers – Philip Rivers leads the NFL with 391 pass attempts. Someone's got to get those targets with Keenan Allen and Malcom Floyd hurt.
TE: Eric Ebron, Lions – The Lions' offense stinks, but the Raiders have given up a touchdown to the tight end position in all but one game so far this year.
QB: Kirk Cousins, Redskins – Cousins has as many TD passes on the road this year (four) as he had last week against the hapless Saints.
RB: Ronnie Hillman, Broncos – I hate this backfield and I'm done trying to figure it out, even though Hillman is technically the "starter."
WR: DeSean Jackson, Redskins – Josh Norman. 'Nuff said.
TE: Charles Clay, Bills – He's been hard to trust to begin with, but he's also always had problems with Belichick defenses, averaging under 8.0 FPG over his last five games against the Pats.