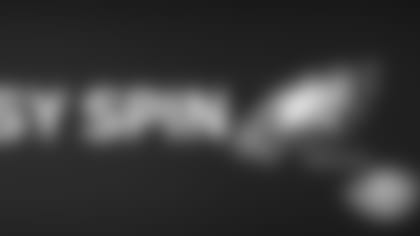 Joe Dolan is the managing editor of FantasyGuru.com and a host for SiriusXM Radio. A former writer for PhiladelphiaEagles.com, Joe still contributes to the site with on-camera segments and written columns. He can be heard hosting "SiriusXM Fantasy Football Gameday" every NFL Sunday from 1-7 PM on Sirius 210, XM 87.
What's your evaluation of the Eagles and Cowboys in this game as a whole for fantasy?
Part of it is a function of matchups the last two weeks (Giants and Seahawks), but the solid Cowboys defense has been pretty damn stingy against opposing quarterbacks of late, owing to an improved pass rush and finally some decent play out of corner Morris Claiborne. Against the Seahawks last week, the Cowboys had their first interception since picking off Sam Bradford in Week 2, so the question is how Bradford looks coming out of the bye. No doubt, as Bradford himself would tell you, his play hasn't been enough by itself to lift an uneven Eagles team to wins in winnable games. But the irony may be that in Week 7 before the bye, he played his most controlled game of the season, and was let down by constant drops from his receivers. The bye was definitely the best thing that could happen to the Eagles' passing offense, since I felt Bradford played his best game within the pocket against Carolina in Week 7 only to be let down by his receivers.
I may be burying the lead here – this game will be DeMarco Murray's return to Dallas, and he's clearly going to want to perform better than his 2-yard rushing performance back in Week 2. This will be a challenge if Jason Peters can't play, but if Ryan Mathews can't go either, Murray has an outside shot at 30 touches here. This week, offensive coordinator Pat Shurmur commented that Murray is the healthiest he's been all year, and that may be the biggest blessing of all for the Eagles heading into this matchup with Dallas.
I'd also like to see Nelson Agholor make an impact. The Eagles need playmakers on the outside to help out Bradford, and a big second half from Agholor can really help the Eagles' playoff push, and fantasy players could really use another receiver to emerge here, as well.
So here is my view of the Eagles' offense as we stand now, in "confidence tiers" for fantasy:
No-Doubt Weekly Starters: DeMarco Murray
In Your Lineup More Often Than Not: Jordan Matthews
Weekly Decision Required Based on Matchup: Sam Bradford, Zach Ertz, Ryan Mathews
Useful in a Pinch: Darren Sproles, Nelson Agholor, Riley Cooper
I Am Decimated by Injuries and/or Byes: Brent Celek, Josh Huff, Miles Austin
The Cowboys, meanwhile, are really hurt by the Tony Romo injury. Matt Cassel was atrocious last week, perhaps to be expected against the excellent Seattle defense. While the matchup must be accounted for, it's worth noting that on the year, Cassel has now been worse on a per snap (0.22 to 0.19 FP/snap) and on a per-throw (0.49 to 0.48 FP/PA) basis than Brandon Weeden was in his time as the Cowboys' quarterback. The one thing Cassel has on Weeden in mobility, and that might give him the edge as the overall fantasy option, but to suggest he's been good would be a drastic overstatement. Fortunately for Cassel, he has a healthier Dez Bryant this week, though the matchup against the Eagles is still a difficult one.
The fantasy star here? It's Darren McFadden! Dallas released Joseph Randle, and there is no indication that Christine Michael will be any more involved than as a change-of-pace option. While McFadden's health can never be assumed, his level of play has been strong the past two weeks, putting up over 100 yards from scrimmage in each while playing over 80 percent of the Cowboys' offensive snaps, a gigantic leap forward for them at the position. This week, McFadden gets the very good Eagles run defense which had a bye to get healthier – linebacker Kiko Alonso is expected to play. The Eagles got shredded by Jonathan Stewart two weeks ago, but in general they've been a tough nut to crack on the ground. The key, as McFadden showed last week, is he can produce as a checkdown option. He may not be a stud, but he's running really hard, and he's clearly the Cowboys' guy for now. While he's healthy, feel good about him as an RB1.
Without further ado, the confidence tiers for the Cowboys:
No-Doubt Weekly Starters: Darren McFadden, Dez Bryant
In Your Lineup More Often Than Not: Jason Witten
Weekly Decision Required Based on Matchup: Terrance Williams
I Am Decimated by Injuries and/or Byes: Matt Cassel, Christine Michael, Cole Beasley
I just wanted to throw at a general hint here – I am almost never trading a player who is in my lineup every week for a quarterback in a one-QB league. You can see this year with emergence of guys like Derek Carr, Blake Bortles and Tyrod Taylor as legitimate fantasy options that you don't need to go out to get Andrew Luck to boost your playoff run. If you can get an upgrade for a bench piece, by all means do so, but generally you can field a championship team by using waiver-wire quarterbacks, or non "big-name" signal-callers you can buy on the cheap in a trade.
Tyrod Taylor, Bills – He's hardly been perfect, but with fantasy owners having short memories, many have already forgotten that Taylor has completed 70 percent of his passes this year and has averaged a very healthy 24.4 points a game. That's more than Aaron Rodgers. He's back in the saddle this week, as is wide receiver Sammy Watkins.
Ronnie Hillman, Broncos – I'm not giving up on C.J. Anderson yet. Anderson now looks healthy, and while Hillman is expected to continue to start, a split here could be more annoying than anything else. I also don't fully trust the Broncos' offense yet.
DeSean Jackson, Redskins – He's back this week. He had 100-plus yards in three of Kirk Cousins' six appearances last season.
Jacob Tamme, Falcons – He's coming off a huge game, but Tamme this year has been more of a function of the matchup than most tight ends. He may be a guy to add to a package to try to get a better return.
(Note: These options are my rankings for the non-obvious starters at each position. Rankings are based on PPR scoring.)
FantasyGuru.com's Week 9 Mid-Level Flex Rankings
Running Back
Wide Receiver
Tight End
13.Dion Lewis, Patriots
25.Allen Robinson, Jaguars
7.Heath Miller, Steelers
14.Jonathan Stewart, Panthers
26.Jordan Matthews, Eagles
8.Martellus Bennett, Bears

15.Jeremy Langford, Bears

27. DeSean Jackson, Redskins
9.Jason Witten, Cowboys
16.T.J. Yeldon, Jaguars
28.Malcom Floyd, Chargers
10. Julius Thomas, Jaguars
17.Latavius Murray, Raiders
29.Brandon LaFell, Patriots
11.Charles Clay, Bills
18. Ronnie Hillman, Broncos
30.Pierre Garcon, Redskins
12.Zach Ertz, Eagles
19.Danny Woodhead, Chargers
31.Harry Douglas, Titans
13. Austin Seferian-Jenkins, Bucs
20. Frank Gore, Colts
32. Ted Ginn, Panthers
14. Coby Fleener, Colts
21.C.J. Anderson, Broncos
33.Tavon Austin, Rams
15.Jacob Tamme, Falcons
22. LeGarrette Blount, Patriots
34. Rueben Randle, Giants
16.Richard Rodgers, Packers
23.Eddie Lacy, Packers
35.James Jones, Packers
 
24.Antonio Andrews, Titans
36.Donte Moncrief, Colts
 
QB: Ben Roethlisberger, Steelers – I've gotten a ton of questions on Ben this week, but I think he bounces back this week against the Raiders at home.
RB: Jeremy Langford, Bears – Langford will be the Bears' bell cow this week with Matt Forte out. He's a good enough receiver to put together a really nice PPR game.
WR: Stevie Johnson, Chargers – Stevie stands to benefit the most from the Keenan Allen injury, and the matchup with the Bears is a great one.
TE: Zach Ertz, Eagles – I think it's basically a fluke that Ertz hasn't scored yet this year. It could be coming this week with Barry Church banged up for the Cowboys.
QB: Teddy Bridgewater, Vikings – It's hard to pick out legitimate "sits" in a week with six teams on bye, but Teddy isn't playing well and the matchup with St. Louis is brutal.
RB: Melvin Gordon, Chargers – He got a ton of carries last week, but went nowhere with them. He is firmly in the "need-to-see-it-to-believe-it" stage for fantasy.
WR: James Jones, Packers – As we saw last week, Jones simply can't get open against good corners. He gets perhaps the best in Josh Norman this week.
TE: Vernon Davis, Broncos – It's impossible to come up with a "sit" tight end every week, given how volatile the position is, but I'll put Vernon here because I don't think he plays more than a handful of snaps in his Broncos debut. I'm also not sure he's all that good anymore. The caveat is he may be involved in red zone packages, giving him a chance to score.