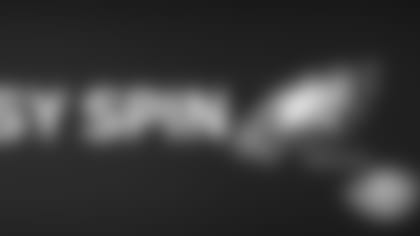 Joe Dolan is the managing editor of FantasyGuru.com and a host for SiriusXM Radio. A former writer for PhiladelphiaEagles.com, Joe still contributes to the site with on-camera segments and written columns. He can be heard hosting "SiriusXM Fantasy Football Gameday" every NFL Sunday from 1-7 PM on Sirius 210, XM 87.
What's your evaluation of the Bills-Eagles matchup from a fantasy perspective?
Obviously, the big story is going to be the Eagles' backfield and the usage breakdown. We don't need to reiterate the DeMarco Murray situation, given a ton of words on this site and others have dedicated a significant number of words to it already. My focus is on the bottom line and what we can expect for fantasy.
That means the most intriguing aspect of this game, to me, is the return of Ryan Mathews. Mathews has missed a month with a concussion, which obviously is extremely scary. As such, it's completely fair to expect he'll need some time to acclimate himself back into the offense, though as soon as he looks ready to be unleashed, I suspect the Eagles will let him loose. Mathews is one of my favorite Waiver Wire adds for the fantasy playoffs, but it's hard to project him as more than a flex for this week knowing he's missed a month of action, and Murray/Darren Sproles should continue to be involved.
Sproles was the Eagles' best back against the Patriots last week, with 100 yards from scrimmage and a punt-return TD. Sproles' 19 touches were the most he's had in a single game since Week 3 of the 2009 season, when he was still with the Chargers (that's a long time ago). Sproles' touches should go down this week with Mathews back, and my assumption is the Eagles will try to get Murray going again, as well. Just keep in mind that while Sproles is a damn good football player, and he clearly has a role here, the rotation in this backfield is likely to be decided on gameday based on effectiveness. That makes him a risk-reward flex option for the fantasy playoffs.
The Bills have given up 20 or more FP to opposing RBs in eight of their last nine games, so there's plenty of production to go around here, but it could take some time for this situation to shake out.
As for the passing game, not a whole lot has changed for fantasy. With the Eagles' defense and special teams stealing the show, all quarterback Sam Bradford had to do was go 14/24 for 120 yards and two TDs to upset Tom Brady and company last week. We didn't see much of Bradford given the Eagles had three return scores (punt return, pick-six, blocked punt), but he made several big-time throws. Both of his touchdowns (to Zach Ertz and Jordan Matthews) were on the money, and he climbed the pocket to deliver an absolute dart to Riley Cooper to convert a critical third-and-long late. It was the type of performance Chip Kelly is clearly looking for from his signal-caller, and the Eagles have simply been a better team of late with Bradford under center.
That said, he hasn't been great for fantasy, and though Buffalo has given up multiple touchdown passes in all but three games this year, the Eagles haven't put up the big numbers we all expected in the passing game. Bradford's a more appealing streamer if cornerback Stephon Gilmore doesn't play, for sure, but he's more of a real-life stabilizing force for Philly than he is a legitimate fantasy option. He's more a mid-range QB2.
Without further ado, my Eagles' confidence tiers. With the shakeup in the backfield, the Eagles are one of the toughest teams to handicap for fantasy every week:
Weekly Decision Required Based on Matchup: DeMarco Murray, Darren Sproles, Ryan Mathews (Mathews has a shot to become a weekly starter), Jordan Matthews, Zach Ertz
Useful in a Pinch: Sam Bradford
I Am Decimated by Injuries: Brent Celek, Josh Huff, Nelson Agholor, Riley Cooper
As for the Bills, if you think the "REVENGE GAME!!!" factor has any sort of predictive value, my guess is you'll want LeSean McCoy in your lineup this week. McCoy expressed his surprise and disappointment when the Eagles shipped him out last off-season, and has been playing exceptionally well leading into this matchup with his former team, ranking as the #3 PPR RB at 18.9 FPG over the last month.
And even if you take the "revenge" out of it, the Eagles have been surrendering plenty points to the RB position over that same span, allowing at least 36.7 FP to RBs in three consecutive games, including a receiving TD in four straight and five of their last six. Knowing that, keep in mind McCoy has been a critical part of the Bills' passing game, with 21 targets over the last month. Even if McCoy said he planned to go to a nice dinner with Chip Kelly this weekend to catch up, or if he had no association with the Eagles whatsoever prior to this game, he'd be an automatic start based on the numbers, and the fact that Karlos Williams (shoulder) will miss another game.
In the passing game, Tyrod Taylor is a fascinating streamer this week. He and McCoy feed off each other in the run game, and Taylor has also been throwing one of the best deep balls in the entire league. Taylor has thrown just four interceptions all year, three of them coming in Week 3 alone. He's accounted for six touchdown passes the last two weeks, giving him two monster fantasy outings in a row after a stretch of mediocrity. The Eagles have been generous to opposing QBs of late, as well, allowing 18 TD passes over their last five games, and three consecutive games of 30 FP to the position.
Taylor's excellent deep ball has made Sammy Watkins into one of the NFL's most efficient receivers. Among wide receivers with 50 or more targets, Watkins is tied with Seattle's Doug Baldwin at 2.6 fantasy points per target in PPR, enough to lead the league (league average is 1.7). Watkins has hauled in 34 of his 51 targets (66.7 percent), a ridiculous number considering how often he's targeted downfield. Watkins averages 18.7 yards per reception, behind just Martavis Bryant and James Jones among receivers with 30 or more catches. Watkins doesn't see a ton of targets relative to other top options at the WR position, but he makes his impact with what he does see.
All in all, the Bills are simple fantasy team, with really only three guys worth considering.
No-Doubt Weekly Starters: LeSean McCoy
In Your Lineup More Often Than Not: Sammy Watkins
Weekly Decision Required Based on Matchup: Tyrod Taylor
Useful in a Pinch: Robert Woods, Charles Clay, Karlos Williams (when healthy)
I Am Decimated by Injuries: Chris Hogan
(Note: These options are my rankings for the non-obvious starters at each position. Rankings are based on PPR scoring.)
FantasyGuru.com's Week 14 Mid-Level Flex Rankings
Running Back
Wide Receiver
Tight End
13.Shaun Draughn, 49ers
25.Michael Crabtree, Raiders
7.Julius Thomas, Jaguars
14. Todd Gurley, Rams
26.Marvin Jones, Bengals
8.Ben Watson, Saints
15. Darren McFadden, Cowboys
27. DeSean Jackson, Redskins
9. Gary Barnidge, Browns
16. Giovani Bernard, Bengals
28.Amari Cooper, Raiders
10. Austin Seferian-Jenkins, Bucs
17.James Starks, Packers
29.Jordan Matthews, Eagles
11. Jason Witten, Cowboys
18.Latavius Murray, Raiders
30.DeVante Parker, Dolphins
12. Richard Rodgers, Packers
19.Jeremy Hill, Bengals
31. Anquan Boldin, 49ers
13. Coby Fleener, Colts
20.Danny Woodhead, Chargers
32. Allen Hurns, Jaguars
14. Zach Ertz, Eagles
21. Charcandrick West, Chiefs
33. Brandon LaFell, Patriots
15.Antonio Gates, Chargers
22.Theo Riddick, Lions
34.Travis Benjamin, Browns
16.Jacob Tamme, Falcons
23. Ameer Abdullah, Lions
35.Donte Moncrief, Colts
17. Will Tye, Giants
24.Tim Hightower, Saints
36. Cecil Shorts, Texans
18.Eric Ebron, Lions
What's the impact of the Mark Ingram injury, and are there any backfields you're avoiding for the fantasy playoffs?
Earlier this week, the Mark Ingram rotator cuff tear became the biggest news in fantasy football heading into the playoffs. Immediately, everyone scrambled to pick up C.J. Spiller on first instinct… but then reports from multiple beat writers suggested it could actually be vet Tim Hightower who is the guy. It's a perfect example of two things: one, that very often, handcuffing isn't as simple as picking up a backup. Two, that there are also some backfields not worth messing with, if you can avoid it, at this time of the season with everything on the line.
Consider the Saints. First and foremost, they've struggled to run it anyway – Ingram has been excellent, but he has just a single 100-yard game all year. Quite a bit of his damage came in the passing game. And he was playing monster snap shares, over 77% in each of his last two games. The Saints just didn't feel comfortable with any other backs in the game.
That brings us to Spiller and Hightower. It tells you all you need to know about Spiller that we're actually having a conversation/debate as to whether he or Hightower will benefit more for fantasy – in the first year of a multi-year deal, Spiller has just 60 touches in 11 games, and he gained 24.6% of his 324 yards from scrimmage on a single play (an 80-yard overtime TD reception against Dallas, on a major coverage bust). All in all, Spiller has played a miniscule 21% snap share when active this year, certainly far less than the Saints were anticipating when they inked him to a four-year, $18 million contract. In theory, Spiller's snaps have to rise because the Saints won't have a choice. But you have to realize that there's obviously a reason he hasn't been playing despite his large contract (pass pro?), and that factors into ESPN beat writer Mike Triplett's opinion that Hightower will be the early-down guy. Spiller has had theoretical upside for years, but has only ever really taken advantage of it one season in his career.
Hightower has 12 carries this year… 11 of them a few weeks ago when Ingram apparently first tweaked the shoulder that has ended his season. Other than that, he's barely played, with just 19 snaps all season. Prior to this year, Hightower's last carries in the NFL came in 2011, when Todd Gurley was still in high school. Hightower has always been good in pass pro, plus he can catch the ball and move a pile. That actually may make him a better fantasy option than Spiller, as he can handle more of Ingram's work. But he's put nothing meaningful on tape, and it's hard to know exactly what to expect. For fantasy, my call is that Hightower is probably the safer option, and is more likely to come through as a flex, unless Spiller actually hits on that mystical "upside" he's found exactly once in his career. More than likely, it'll be a backfield to avoid for the fantasy playoffs.
So, in no particular order, here are some backfields I'd prefer to just ignore at this stage, if I can help it:
New York Giants – Shane Vereen remains the Giants' snap leader in the backfield, but it's been a completely useless backfield for fantasy. It's a four-man rotation with four generally ineffective players – the Giants haven't had a top-30 PPR RB performance since Week 9 (it was Vereen), and last week, none of their four even ranked in the top 50 among RBs.
Washington – If Matt Jones manages to hang onto the football, he's going to continue to lead this backfield in touches. However, fumbles have been a huge issue, and if he loses one early, he could just outright tank a week for you if you use him and he gets benched.
Houston – Alfred Blue, Jonathan Grimes, and Chris Polk. Three degrees of mediocrity. No thanks.
Tennessee – Antonio Andrews is the No. 32 fantasy RB the last two weeks, and that's without Dexter McCluster involved. It should be a three-man rotation, including rookie David Cobb too. No thanks.
Cleveland – I love Duke Johnson, but it hasn't happened this year without Josh McCown at QB. McCown simply threw him the ball far more than Johnny Manziel has. And no thanks on Isaiah Crowell.
QB: Jameis Winston, Buccaneers – Jameis is playing well, and New Orleans is the matchup if you need a streamer.
RB: Giovani Bernard, Bengals – I like Gio better than Jeremy Hill this week in a potential shootout with the Steelers.
WR: DeVante Parker, Dolphins – He made an incredible play for a TD last week in his first career start, and he gets a very beatable Giant secondary on Monday night.
TE: Delanie Walker, Titans – I'm amazed how many questions I get every week on Walker. One of the NFL's most underrated players, he has six or more catches in seven of his last eight games.
QB: Matt Ryan, Falcons – He's been horrendous, and Carolina is an awful matchup for both him and Julio Jones.
RB: Eddie Lacy, Packers – Lacy could well reestablish himself as the Packers' top back this week, but his off-field issues and inconsistent performance scare me away against an underrated Cowboy defense.
WR: Kamar Aiken, Ravens – He's been very productive, but with a shaky quarterback situation against the Seahawks? No thanks.
TE: Charles Clay, Bills – He had a long TD last week on an interesting play, but the Eagles are generally very good against tight ends.