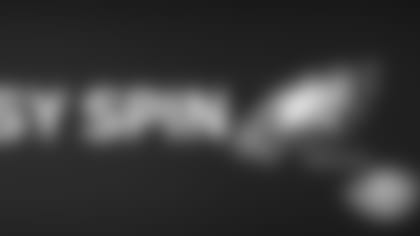 Joe Dolan is the managing editor of FantasyGuru.com and a host for SiriusXM Radio. A former writer for PhiladelphiaEagles.com, Joe still contributes to the site with on-camera segments and written columns. He can be heard hosting "SiriusXM Fantasy Football Gameday" every NFL Sunday from 1-7 PM on Sirius 210, XM 87.
The Cardinals are a tough team for any club to match up with, but it's especially going to be tough for the Eagles this week. Fortunately, the Eagles are getting some stable play from quarterback Sam Bradford, who is starting to look more and more comfortable as he assimilates himself into the Eagles' offense. Bradford has played very well of late, including a really nice showing against the Bills last week in which his performance was better than his final numbers would suggest – he was plagued by several drops, and his lone interception should have been overturned on replay.
Though Bradford's level of play has steadily improved, his fantasy impact has been about nil. The Eagles have a brutal matchup on the perimeter with top corner Patrick Peterson, and slot receiver Jordan Matthews (who is dealing with a back injury) has discussed this week how difficult playing against safety/slot corner Tyrann Mathieu is. In addition to the tough individual matchups, expect the Cardinals to blitz a lot. Bradford has improved against the blitz, and he looked very good when Rex Ryan and the Buffalo Bills sent extra rushers at him last week. Because of the blitz concepts, I expect the Eagles to attack the middle of the field with hot reads, which makes this in my opinion a big Zach Ertz and Darren Sproles game.
Sproles led the Eagles' backfield in snaps in each of the last two weeks. He was also the team's leader in fantasy production. Against Buffalo, he posted 7/41/1 rushing and 2/4 receiving. That came a week after 19 offensive touches against the Patriots, the most of his Eagles tenure. While the Eagles' rotation in this backfield will continue, this could be the third straight week for Sproles to pace in production. The Cardinals are the blitz-happiest team in the NFL, and Sproles can be effective on hot routes for Bradford. He's a reach given the rotation in the backfield, but he's more than defensible as a flex.
As for Ertz, his involvement hasn't been consistent, but he had a touchdown in Week 13, then posted 5/98 receiving on seven targets against the Bills last week. This is a wonderful matchup by the numbers, as the Cardinals have given up over 100 yards receiving to tight ends in two of their last three games, a monster number. Ertz and Brent Celek could be absolutely critical for Bradford as he looks to get the ball out quickly against the Cardinals' many exotic blitz concepts. Both Ertz and Celek have had big numbers against the Cards in recent years, as well. Ertz has 10 catches and two touchdowns against them over the last two seasons, while Celek has scored once on six catches over the same time frame. It's not a coincidence, as the Cardinals' aggressive approach hasn't really changed from old defensive coordinator Todd Bowles to Bowles' protégé, James Bettcher.
Weekly Decision Required Based on Matchup: DeMarco Murray, Darren Sproles, Ryan Mathews, Jordan Matthews, Zach Ertz
Useful in a Pinch: Sam Bradford
I Am Decimated by Injuries: Brent Celek, Josh Huff, Nelson Agholor, Riley Cooper
As for the Cardinals, they're one of the best teams in all of football. Aside from the tight end position, they have no-doubt fantasy starters across the board. It starts under center with Carson Palmer, who has an excellent case for NFL MVP this season. Palmer now has 13 straight games to open the season with 20 or more fantasy points, meaning he has finished no lower than No. 19 among QBs (Week 12) in our site-default scoring system at FantasyGuru.com all year. He finished outside the top 12 all season, and three of those four times he ranked No. 13. He's been the most consistent high-end option at the position, and there's absolutely no reason to bench him in a key game against Philadelphia. The Eagles have given up the most FPG to opposing QBs over the last month, and Palmer has thrown for 300 yards with multiple touchdowns against the Eagles in each of the last two seasons.
No quarterback in the league is more aggressive stretching the field than Palmer, and it makes sense because he has the league's speediest trio of receivers in John Brown, Michael Floyd and J.J. Nelson. And in the underneath area, Palmer has Eagle killer Larry Fitzgerald, around whom the Cardinals' short and intermediate passing games are built. Fitzgerald has scored a ridiculous 11 touchdowns against the Eagles in his career (including playoffs), and his role as kind of a hybrid WR/TE has been very interesting (Fitz is an excellent blocker).
As for the other guys, Floyd has scored a touchdown in five of his last seven games, and has reached 100 yards receiving four times over that span. Brown's dealt with some injuries, but hasn't fallen below 10 FP in a game in which he was active since Week 3. The Eagles are familiar with Brown's ability to burn a secondary, and the rest of the NFL is discovering it as well. Brown has at least 75 receiving yards, a touchdown, or both in each of his last eight games. The thing that makes the Cardinals so good for fantasy is that they're a big-play offense, but are far more consistent in that department than most "big-play" offenses are.
The Cardinals' fantasy dominance has gained another player in recent weeks in rookie running back David Johnson. In two starts, Johnson played 70 percent of the snaps in Week 13 and 81 percent in Week 14. The Cardinals may be playing better football than anyone in the league right now, and DJ has been their best back. It's hard to criticize Bruce Arians for too much these days, but frankly that's something that shouldn't have taken a Chris Johnson injury to realize. On the year, David Johnson is No. 1 among all RBs with 100 or more touches with 1.34 fantasy points per touch. Meanwhile, "CJ2K" is third from the bottom with 0.55 FP/touch. The Cardinals are a better football team with DJ playing RB, and he should be in all lineups for as long as he's starting.
No-Doubt Weekly Starters: Carson Palmer, David Johnson, John Brown
In Your Lineup More Often Than Not: Michael Floyd, Larry Fitzgerald
Useful in a Pinch: Andre Ellington (when healthy), J.J. Nelson
I Am Decimated by Injuries: Any Cardinals tight end
(Note: These options are my rankings for the non-obvious starters at each position. Rankings are based on PPR scoring.)
FantasyGuru.com's Week 15 Mid-Level Flex Rankings
Running Back
Wide Receiver
Tight End
13.Jeremy Hill, Bengals
25. Martavis Bryant, Steelers
7.Gary Barnidge, Browns
14. Tim Hightower, Saints
26.T.Y. Hilton, Colts
8.Travis Kelce, Chiefs
15.Darren McFadden, Cowboys
27.Allen Hurns, Jaguars
9.Zach Ertz, Eagles
16.Charcandrick West, Chiefs
28.Brandon LaFell, Patriots
10.Heath Miller, Steelers
17.Chris Ivory, Jets
29.DeSean Jackson, Redskins
11.Zach Miller, Bears
18.Giovani Bernard, Bengals
30. Michael Crabtree, Raiders
12. Jacob Tamme, Falcons
19.Shaun Draughn, 49ers
31.Tyler Lockett, Seahawks
13. Kyle Rudolph, Vikings
20. James Starks, Packers
32. Dez Bryant, Cowboys
14.Ben Watson, Saints
21. Latavius Murray, Raiders
33.Ted Ginn, Panthers
15. Richard Rodgers, Packers
22.James White, Patriots
34. Kamar Aiken, Ravens
16.Eric Ebron, Lions
23.Frank Gore, Colts
35.Amari Cooper, Raiders
17.Will Tye, Giants
24. Ronnie Hillman, Broncos
36.Willie Snead, Saints
18. Vernon Davis, Broncos
How would you rank the waiver wire options at the running back position this week?
Ugh. The biggest nightmare season for running backs I can remember continues in Week 15, and now it's worse than ever. Last week, T.J. Yeldon, Thomas Rawls, LeGarrette Blount and Jonathan Stewart all suffered injuries, opening the door for some guys you never expected to be fantasy relevant to be in lineups in Week 15. However, not all these guys are worth considering in every situation. I'll attempt to break down each of these backfields, with how I'm viewing the situation from a fantasy perspective.
1. Jaguars – By far, my favorite option of this group is the Jaguars' Denard Robinson. Filling in for an injured Yeldon last week against the Colts, Robinson played 52 percent of the Jags' offensive snaps (nearly all after Yeldon left), and he picked up where Yeldon left off with 14/75/1 rushing and 1/12 receiving in the destruction of Indy. With Yeldon's MCL sprain expected to keep him out at least this week (he's listed as doubtful), Robinson is thrust deep into fantasy relevance with plenty of seasons on the line. At least, the man they call "Shoelace" has some track record as an appealing fill-in – in addition to his performance last week, Robinson flashed in a four-game stretch from Weeks 7 through 10 in 2014, ranking 12th among fantasy RBs in that stretch with 17.7 FPG. He's part of a better Jaguars offense this year, and he gets the benefit of a glorious matchup in Week 15 with the Falcons, who have given up at least 100 yards from scrimmage to RBs in every game this year.
Over their last four games, they've surrendered 7 touchdowns to the RB position, and can be had through the air as well. Of the "fill-in" RBs this week, Robinson is definitely the most appealing – he's got a glorious matchup, plays in a pretty good offense and has just Joe Banyard and Jonas Gray behind him. He's an RB1.
2. Patriots – The Patriots probably have my next-favorite guy in this messy week, with James White (Eagles fans will remember him catching 10 passes in garbage time two weeks ago). Still, White has done very little on the ground, with just 41 yards on 18 carries. His entire impact will come through the air, and the concern is the Patriots won't have to throw it a ton against the Titans this week.
There is absolutely nothing exciting whatsoever about Brandon Bolden, but he should absolutely get a lot of the Patriots' early-down work with LeGarrette Blount (hip) out for the year. Against the Texans last week, Bolden led the Patriots' backfield with a 51 percent snap share, grinding out just 51 yards on 16 carries. He's not a particularly good player, and he's less adept than Blount at being able to create for himself (which is saying something, since Blount isn't good at it either). But New England is a two-TD favorite at home against a Titans team that isn't likely to be ready to come into Foxborough and take down New England. It would be shocking if Bolden didn't get at least double-digit carries in this one, but he has a low ceiling.
3. Panthers – Jonathan Stewart (foot) has already been ruled out, as the Panthers are being extra cautious with their lead back. So here comes a dreaded RBBC for the 13-0 Panthers. To make matters worse, it's a really good matchup against the Giants, so we can't just flat-out say ignore it and move on. The problem is even coach Ron Rivera has no idea what's going on here. He said Wednesday that both Mike Tolbert and Fozzy Whittaker could start, and obviously rookie Cameron Artis-Payne will mix in as well, even though he's been a healthy scratch most of the year.
The good news if you're a Tolbert backer is that he's a versatile back who can handle the short-yardage work, but has also always been more than capable as a receiver. The problem for Tolbert is he hasn't handled 10 or more touches in a game since Week 17 of 2013, nearly two calendar years. Whittaker will get work as well, but Tolbert gets the edge in short yardage, and for what it's worth he out-snapped Whittaker last week (49 to 45 percent). In certain situations, Whittaker will likely cede some work to Artis-Payne, so Tolbert has the most alleys to fantasy relevance this week.
4. Seahawks – It really stinks given how awesome Thomas Rawls was for fantasy, but I would prefer to ignore this backfield entirely despite a glorious matchup with the Browns. Bryce Brown has never been able to stick on a roster, for reasons other than pure talent, much like new/old teammate Christine Michael. But believe it or not, Bryce's track record is longer than Michael's, even though he's had less time in Seattle's offense (total, not on the latest stint). As for vet Fred Jackson, the Seahawks willingly played DuJuan Harris over him last week, and Harris was so bad the Seahawks cut him this week. This matchup with the Browns is very nice, which makes this backfield somewhat appealing, but the potential RBBC could be a nightmare. I just don't have enough information here to feel comfortable starting one of them.
QB: Matthew Stafford, Lions – The Saints' defense burned fantasy owners last week by shutting down Jameis Winston, but I'm going back to the well. I think Stafford's a quality streaming option this week.
RB: Charcandrick West, Chiefs – It looks like Spencer Ware (ribs) will be out or at least limited this week, and West has been incredible this year when handling a full workload, so I'm not scared away by the matchup with the Ravens.
WR: Emmanuel Sanders, Broncos – He's certainly fallen off as Brock Osweiler's level of play has slipped, but the matchup with his former team, the Steelers, is glorious.
TE: Zach Ertz, Eagles – As detailed above, I love Ertz as a fill-in TE option this week.
QB: Eli Manning, Giants – I'm not sitting Odell Beckham despite the matchup with Josh Norman, but that doesn't mean I'd advise starting Eli against the nasty Panthers.
RB: Danny Woodhead, Chargers – This matchup against Miami is good, but the Chargers have been absolutely force-feeding Melvin Gordon touches, so I'm much more in Gordon's corner than usual this week.
WR: Amari Cooper, Raiders – Cooper has slammed into the rookie wall. He had zero catches on eight targets last week, and gets a pretty tough Packers defense this week.
TE: Jason Witten, Cowboys – Matt Cassel is not good, and the last time Witten had 10 or more points in a PPR league came in Week 9. He has zero upside this week against the Jets.