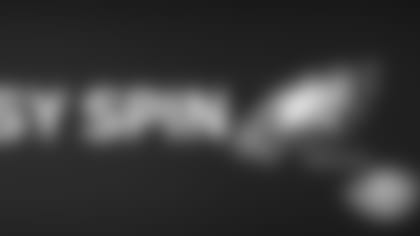 Joe Dolan is the managing editor of FantasyGuru.com and a host for SiriusXM Radio. A former writer for PhiladelphiaEagles.com, Joe still contributes to the site with on-camera segments and written columns. He can be heard hosting "SiriusXM Fantasy Football Gameday" every NFL Sunday from 1-7 PM on Sirius 210, XM 87.
The Eagles used more 2-TE sets against the Saints last week than they have all of this entire year combined. What does that mean for Zach Ertz?
The one thing we don't know about the Eagles moving forward is if their 2-TE-heavy game plan was exclusive to the Saints, or will be something we see much more of going forward. If we apply Occam's Razor to the situation, it's a reasonable conclusion to make that the 12-personnel sets aren't going away. After all, they worked last week. The Eagles ran it well. Brent Celek scored a touchdown, and Zach Ertz made several really nice plays to help out Sam Bradford. I've been waiting for several weeks for one of Bradford's receivers to really step up and make some tough catches for him, and Ertz did that. The Eagles' performance against the Saints was what we expected to see out of this offense before the season started, and perhaps we were foolish to assume there wouldn't be growing pains, perhaps serious ones.
What we saw last Sunday was this offense operating at its highest capacity, and there were even some things that can be cleaned up (ask Bradford about that, and I'm sure he'd agree). Until the Eagles prove otherwise, it looks to me like their 2-TE sets are here to stay, simply because they had so much success with them. Ertz will need to have more than five catches and 60 yards for serious fantasy value, but if these sets keep up, he'll start scoring touchdowns. He's worth a prospective add if you need a tight end.
Is Shane Vereen the Giants' best option in the backfield?
The answer here would be obvious ... if Vereen didn't go without a catch in two consecutive games in Weeks 3 and 4. After that, a ton of fantasy players benched or even outright dropped Vereen last week. So all he did last week was put up 8/86/1 receiving against the 49ers, making several key plays on the Giants' final drive that contributed to a huge victory. Our guess is the Giants will struggle to run it with any sort of consistency against this nasty Eagles front seven, so Vereen will be their most important back of the week.
The Eagles are exploitable a little bit in coverage at linebacker given the injuries, but note that safeties Malcolm Jenkins and Walter Thurmond are so key to counteracting opposing offenses' matchup nightmares. Jenkins, in particular, was great against the Saints' C.J. Spiller last week. Vereen is a very nice PPR flex, and certainly the Giants' running back I'd choose to play above all. His 42 percent snap share on the season is still tops among his counterparts on the team.
Eddie Lacy, Packers – Lacy would be a lot harder to back right now if not for all the history suggesting there's plenty of reason to back him. Lacy and Aaron Rodgers ran into a Rams defense that came to play in Week 5, and if not for Nick Foles playing a horrific game, the Packers would have lost at home. It was just a bad game for the Packers' offense overall, and the Packers had several studs in addition to Lacy who came up small. But there's absolutely nothing to suggest on film that Lacy is any different as a player than he's been in recent years. He's just been hampered by a bad ankle, a bad game and a lack of TDs (the John Kuhn TD in Week 4, when Lacy had nearly 100 yards from scrimmage, was a complete joke). Rodgers is still the best in the NFL, and I want a piece of this offense. Based on the questions I've gotten on Twitter, Lacy is available on the cheap.
Arian Foster, Texans – Foster is a touch machine, and given that, it's very possible he's just not "tradeable" for you. That said, if you stole him on draft day and have great depth at the position, there's good reason to move him for a stud at the wide receiver position. The Texans are a mess and Foster is seemingly an injury waiting to happen (he had two different scares in his last game). He's also averaging 1.9 yards a carry on 27 carries since he's been back and he has not looked good running the ball.
Travis Kelce, Chiefs – I'm sick and tired of Andy Reid, who gets way too cute way too often, seeming like he actively avoids giving his best players the football. Quarterback Alex Smith hasn't helped either, limiting the upside of this offense as a whole. That's included Kelce, who has fallen below 10 fantasy points in PPR scoring in three of his last four games after a monster two-TD day to open 2015. The hope is that Kelce's involvement goes up with the Jamaal Charles injury, as the Chiefs need actual playmakers to touch the ball now. The concern is that the whole operation could go in the toilet. Fans have asked me whether or not to outright drop him. Those questions are ridiculous, but it also highlights the fact that sniping Kelce for pennies is very possible now.
Any Cleveland Brown – Obviously this is on the low-end, but over the last three games Josh McCown is the No. 2 QB in fantasy and has put up sickening numbers (29.6 points per game), thanks to seven total touchdowns. McCown and the Browns coaching staff deserve a lot of credit, but the fun may stop starting now based on matchups – the Browns get Denver, St. Louis, Arizona and Cincinnati over their next four games. We'll find out for sure if McCown and company are the real deal.
Calvin Johnson, Lions – Calvin is the perfect example of a stud who may be 80 percent of what he once was, but the key is he may be available for half of what he'd typically command. While the Lions have been a disaster, their schedule has also been brutal. However, it eases up significantly over the next three weeks – Chicago, Minnesota and Kansas City.
Chris Johnson, Cardinals – I will be the first to admit I was dead wrong on CJ this year, as he's looked far better than I anticipated (this is the best he's played in years). However, selling him now is my favorite strategy. Five weeks of solid play don't make up for four years of mediocre play, and the fact that he's now part of a three-man backfield rotation makes this an easier call. What's more, he still has name value, which always helps a bit on the trade market.
(Note: These options are my rankings for the non-obvious starters at each position. Rankings are based on PPR scoring.)
FantasyGuru.com's Week 6 Mid-Level Flex Rankings
Running Back
Wide Receiver
Tight End
13. Danny Woodhead, Chargers
25.Allen Hurns, Jaguars
7. Gary Barnidge, Browns
14.Frank Gore, Colts
26.Donte Moncrief, Colts
8.Jimmy Graham, Seahawks
15. Chris Ivory, Jets
27.Kamar Aiken, Ravens
9. Delanie Walker, Titans
16.Carlos Hyde, 49ers
28.Golden Tate, Lions
10. Zach Ertz, Eagles
17. Shane Vereen, Giants
29.Sammy Watkins, Bills
11. Larry Donnell, Giants
18.Lamar Miller, Dolphins
30.Pierre Garcon, Redskins
12.Julius Thomas, Jaguars
19.LeGarrette Blount, Patriots
31. Doug Baldwin, Seahakws
13.Coby Fleener, Colts
20.Melvin Gordon, Chargers
32.Torrey Smith, 49ers
14.Charles Clay, Bills
21. Charcandrick West, Chiefs
33.Marquess Wilson, Bears
15. Kyle Rudolph, Vikings
22. Ameer Abdullah, Lions
34. John Brown, Cardinals
16.Richard Rodgers, Packers
23. C.J. Anderson, Broncos
35.Andre Johnson, Colts
17. Jordan Cameron, Dolphins
24. Jeremy Hill, Bengals
36.Travis Benjamin, Browns
18.Derek Carrier, Redskins
QB: Philip Rivers, Chargers – The Chargers will be playing catch-up on the road in Green Bay in this one, so I expect plenty of garbage-time stats for Rivers.
RB: Charcandrick West, Chiefs – In my mind, it's West – not Knile Davis – who will receive the bulk of the work in this backfield with Jamaal Charles hurt, though a committee is to be expected.
WR: Allen Hurns, Jaguars – Seriously, take a look at Hurns' numbers. This is a guy to put in your lineup every week.
TE: Zach Ertz, Eagles – The 2-TE sets from last week were very encouraging, and I think a TD is coming soon for Ertz. It could be this week against a Giants team with a poor secondary, especially at safety.
QB: Cam Newton, Panthers – Cam's been great, but if there's ever a matchup to sit him, it's in Seattle, against a Seahawks team that's contained him in the past.
RB: Rashad Jennings, Giants – Jennings is the Giants' metronome – he just keeps them on schedule. He won't find a ton of running room against the Eagles.
WR: Andre Johnson, Colts – Andre scored twice against his former team last week, but he didn't look any better on film. He looks like a slow tight end.
TE: Heath Miller, Steelers – Assuming it's Michael Vick for the Steelers, you can find a better option than Miller.