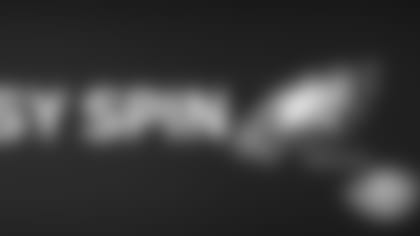 Joe Dolan is the managing editor of FantasyGuru.com and a host for SiriusXM Radio. A former writer for PhiladelphiaEagles.com, Joe still contributes to the site with on-camera segments and written columns. He can be heard hosting "SiriusXM Fantasy Football Gameday" every NFL Sunday from 1-7 PM on Sirius 210, XM 87.
For the season, Sam Bradford's fantasy production hasn't been where we've wanted to see it more often than not, but it's impossible to deny that his level of play has been far better of late than it was early in the season. Last week, Bradford threw for a season-high 361 yards against the Cardinals. It was his third 300-yard game of the season, and his most overall yardage since throwing for 377 yards in Week 15 of 2012.
At the least, if you really need Bradford this week, he's going up against a Washington team that surrendered Bradford's best fantasy game of the season back in Week 4 – 270 yards and 3 touchdowns. Again, Bradford has started to look far more comfortable in the Eagles' offense, and generally he's been incredibly accurate over the last six weeks. There's a lot of slop at the quarterback position this week, so Bradford is more than defensible as a starter if you need one (Drew Brees' injury may force you into a decision), though we obviously have to keep an eye on the weather.
Here's some good news for fantasy players looking to continue a hot streak: Washington's defense has surrendered 50 yards or more to tight ends in five straight games. Zach Ertz has scored in two of his last three games, and his two best receiving yardage games of the season (98 yards and 78 yards) have come over the last two weeks. And for what it's worth, you certainly remember Ertz's 15-catch, 115-yard game on a Saturday night against Washington in Week 16 of last season. If Ertz came through for you in a tough spot last week (perhaps you had Tyler Eifert), you can go back to him this week.
As for the backfield, the run game could be important if this one is a rainy slopfest, but the issue is I'm not sure if Chip Kelly even knows how he's going to deploy these backs come gameday. Ryan Mathews should start again and play around 40 percent of the offensive snaps, but beyond that, who knows? Darren Sproles has now led the Eagles' backfield in snap share in each of the last three games. However, he didn't do much for fantasy players last week against Arizona, posting just 9 yards rushing and 16 yards receiving despite the Eagles trailing the entire game. Nonetheless, there appears to be no real reason to think Sproles' rotation with Mathews will change. As for DeMarco Murray, it'll be interesting to see if the Eagles give him a third-and-short this week.
In Your Lineup More Often than Not: Jordan Matthews
Weekly Decision Required Based on Matchup: Darren Sproles, Ryan Mathews, Zach Ertz, Sam Bradford
Useful in a Pinch: DeMarco Murray
I Am Decimated by Injuries: Brent Celek, Josh Huff, Nelson Agholor, Riley Cooper
As for Washington, Kirk Cousins is being considered as a really strong streamer this week. It's not hard to see why. Keep in mind that Cousins has three rushing touchdowns over his last four games, but don't expect to see that trend continuing. Also of note, as I've pointed out multiple times this year on my Twitter account, Cousins has struggled in his six road games thus far, at least more so than at home. Cousins has averaged 17.5 FPG on the road, as opposed to 25.0 FPG at home, a monster difference. But Cousins' road games include matchups with the Panthers, Patriots and Jets, not exactly the most appealing teams to play on the road.
He could have far more success against Philly – not only did Cousins get the Eagles for 290 yards and two total TDs all the way back in October, but he played perhaps the best game of his career at Philly in 2014, going 30-of-48 for 427 yards with three TDs and an interception (the pick by Malcolm Jenkins ended Washington's chances). With the Eagles' injuries on defense, most notably Byron Maxwell, I would expect Jay Gruden to come out and challenge downfield.
As for the running backs, that's another story. Matt Jones played just 46 percent of Washington's offensive snaps in Week 15, his lowest share since Week 12, and he posted 10/28 rushing and 1/8 receiving against the Bills. Washington's had one of the worst run games in football all year, and at just 3.4 yards per carry, Jones isn't particularly helping. Jones has just one double-digit PPR fantasy performance in his last five games, and just two in his last eight. It truly does appear as if the Jones/Alfred Morris rotation is a game-by-game proposition, which makes either guy a total roll of the dice.
Morris was far more effective than Jones last week, which is why he played more – he handled 53 percent of Washington's offensive snaps and posted 14/84 rushing. However, as good as Morris looked as a runner, he still managed just 8.4 FP. He was not involved in the passing game, and he has just one TD on the year (Week 14). Morris was more effective than Jones against Philly all the way back in Week 4, but is that going to remain true this time around? The problem with Morris is he just has no real upside. Because he doesn't catch the ball, a TD is practically required to get value out of him, and he's scored once all year. Cousins has more rushing TDs than Morris and Jones combined. If you want to take a shot on the matchup, do so, as the Eagles could be missing Bennie Logan and have missed Jordan Hicks badly, but Jones' receiving ability makes him the safer option, in my opinion.
No-Doubt Weekly Starters: Jordan Reed
In Your Lineup More Often Than Not: DeSean Jackson
Weekly Decision Required Based on Matchup: Kirk Cousins
Useful in a Pinch: Matt Jones, Alfred Morris, Pierre Garçon
I Am Decimated by Injuries: Jamison Crowder
(Note: These options are my rankings for the non-obvious starters at each position. Rankings are based on PPR scoring.)
FantasyGuru.com's Week 16 Mid-Level Flex Rankings
Running Back
Wide Receiver
Tight End
13.Charcandrick West, Chiefs
25. Dez Bryant, Cowboys
7.Travis Kelce, Chiefs
14.Chris Ivory, Jets
26. Randall Cobb, Packers
8.Zach Miller, Bears
15.Rashad Jennings, Giants
27. A.J. Green, Bengals
9. Ben Watson, Saints
16.Giovani Bernard, Bengals
28. Larry Fitzgerald, Cardinals
10.Jason Witten, Cowboys
17.Ameer Abdullah, Lions
29.Alshon Jeffery, Bears
11.Gary Barnidge, Browns
18.Bilal Powell, Jets
30.Willie Snead, Saints
12. Richard Rodgers, Packers
19.Frank Gore, Colts
31. Rueben Randle, Giants
13.Zach Ertz, Eagles
20. Antonio Andrews, Titans
32. Michael Floyd, Cardinals
14.Kyle Rudolph, Vikings
21.Eddie Lacy, Packers
33.Tyler Lockett, Seahawks
15.Will Tye, Giants
22. Buck Allen, Ravens
34.Donte Moncrief, Colts
16.Eric Ebron, Lions
23.Ryan Mathews, Eagles
35. Allen Hurns, Jaguars
17.Austin Seferian-Jenkins, Bucs
24. James Starks, Packers
36.Stefon Diggs, Vikings
18. Heath Miller, Steelers
I wanted to differentiate this from the whole "start/sit" thing by making this more about lower-end guys who could be on the waiver wire. Just as an aside, this is probably the worst-ever running back week I can remember. There are so many scrubs projected to play, but also more committees than I can remember at any point. As another aside, I'm not including tight ends here – it's already hard enough to find
QB: Teddy Bridgewater, Vikings vs. Giants – Teddy's been a terrible fantasy asset for most of the year, though he's played very well the last two weeks as the Vikings get closer to clinching a playoff spot. Bridgewater has just four games of 20 or more fantasy points this season, but has reached that plateau in consecutive weeks. That includes his great effort against the Bears last week, when he accounted for five total TDs, the first time he's accounted for as many as three in his NFL career. The Giants are also very generous to opposing QBs.
RB: Charles Sims, Buccaneers at Bears – Sims isn't the greatest fantasy back, but his consistency in terms of snap share (almost always between 35 and 45 percent, give or take a few points) is what makes him appealing this week, a week in which so many backs we have just no clue about will be suiting up in sizeable roles. Sims averages 10 touches per game over the last five weeks, including just over three receptions per game during that span. Over the Bears' last 10 games, they've given up 10 FP to RBs in the passing game alone seven times.
WR: Kamar Aiken, Ravens vs. Steelers – The Ravens' quarterback situation is a mess, as the newly signed Ryan Mallett could actually start this week, but Aiken has been one of the most underappreciated fantasy assets in the entire league. He's had seven consecutive double-digit PPR performances, and in 10 of his last 11 games, all while playing with three different quarterbacks. That includes against 18.7 FP against these Steelers back in Week 4.
QB: A.J. McCarron, Bengals at Broncos – McCarron has a banged-up A.J. Green, may not have Tyler Eifert, didn't do very well last week and now has to take on what is arguably the NFL's best secondary on the road. The Broncos were embarrassed last week by the Steelers, and I'd imagine they want to redeem themselves.
RB: Brandon Bolden, Patriots at Jets – Bolden started at RB for the Patriots last week, but gained just 54 yards on 12 offensive touches. Meanwhile, the Patriots promoted fullback Joey Iosefa from the practice squad, and gave him 14 carries, more than Bolden's 10, in his first career game. Then, this week, the Patriots signed veteran Steven Jackson to compete, signaling they're not entirely happy with their early-down RB situation as it stands now. That means trusting anyone but James White in this difficult matchup at New York is just a foolish proposition.
WR: Kenny Britt, Rams at Seahawks – I actually got questions on Britt this week, mostly because of his long touchdown last week, but ... no. Not against Seattle on the road. I'm not going to get fired up simply because the Rams finally got decent QB play last week.
QB: Blake Bortles, Jaguars – Against the Saints, it's the matchup. Bortles would be boosted a bit if Drew Brees (foot) can play, and the Saints can be expected to score more.
RB: Bilal Powell, Jets – The game flow should set up well against the Patriots for Powell, who has out-snapped Chris Ivory in three of his last five games. He's seen at least five targets in each of those five games.
WR: Golden Tate, Lions – Actually averaging 20.9 FPG over his last four games, and he gets a Niners defense that struggles on the road this week.
TE: Zach Miller, Bears – Miller's pretty much the last man standing in Chicago, as Alshon Jeffery will be banged up even if he plays. Against a beatable secondary, you can do a lot worse than Miller.
QB: Eli Manning, Giants – For 50 minutes, including Eli here last week looked good. Oh well. However, this week he won't have Odell Beckham at Minnesota, a much tougher task.
RB: Jeremy Hill, Bengals – He scored twice last week, but averaged under 2.0 YPC while doing so. I doubt he gets so lucky against the Broncos' nasty defense this week.
WR: James Jones, Packers – He came back into the realm of the living last week, but he should see plenty of Patrick Peterson this week, so you can forget it.
TE: Heath Miller, Steelers – Despite a matchup against a Broncos defense that had been ceding plenty of points to TEs last week, Heath came up small. He gets the Ravens this week, but his performances don't seem to follow much logic.