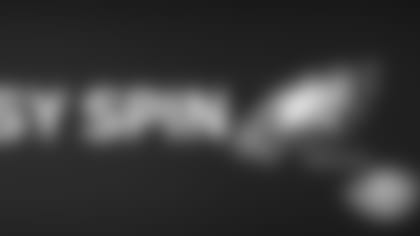 Joe Dolan is the managing editor of FantasyGuru.com and a host for SiriusXM Radio. A former writer for PhiladelphiaEagles.com, Joe still contributes to the site with on-camera segments and written columns. He can be heard hosting "SiriusXM Fantasy Football Gameday" every NFL Sunday from 1-7 PM on Sirius 210, XM 87.
I have to be honest: the Eagles haven't been very good to our fantasy teams of late. Over the last month, they is only one player who ranks in the top 15 at his position in fantasy points per game – running back DeMarco Murray. The lack of consistency on offense is a problem, perhaps the biggest problem, but even when the Eagles are really cooking offensively (as they were for a month-long stretch in the middle of the year), the production gets distributed evenly across the board at the wide receiver and tight end positions.
For all the criticism that has been levied on Sam Bradford this year, it seems he provided some stability to the entire team – things seemed to start falling apart as soon as he was injured against Miami in Week 10. Bradford isn't exactly an appealing fantasy option against a pretty good Patriots defense that's surrendered just one 20-FP QB outing the last five weeks, but my hope is that he provides a level of calmness to a team that's lacked it of late.
As for Murray, he was a top-five back over the previous six weeks heading into Thanksgiving, even as the Eagles were starting to play poorly. Unfortunately, Murray wasn't immune to it in Week 12, carrying just 14 times for 30 yards. The big disappointment for Murray was that he had no targets in the passing game after catching at least two passes in every previous appearance so far this year. And Murray's production has actually dipped with Ryan Mathews missing the last couple of games, in large part because his snaps haven't really gone up. Without Mathews, Kenjon Barner has mixed in for 26 snaps the last two weeks behind Murray and Darren Sproles. The Patriots have given up plenty of production to RBs the last couple weeks, especially against the Broncos last week, a large part of it coming when linebacker Dont'a Hightower (sprained MCL) left. Keep in mind the Patriots' defense is looking pretty healthy, with both Hightower and defensive tackle Dominique Easley (ankle) getting in practice time late in the week, and star linebacker Jamie Collins (illness) will play for the first time in a month.
Bradford and the passing game get back Zach Ertz this week, but it's just one more mouth to feed without anyone really taking command to get a ton of targets – those who started Jordan Matthews on Thanksgiving were particularly thankful for his late touchdown to salvage something for fantasy.
Without further ado, my Eagles confidence tiers:
In Your Lineup More Often Than Not: DeMarco Murray
Weekly Decision Required Based on Matchup: Jordan Matthews, Sam Bradford, Ryan Mathews (when healthy), Zach Ertz
Useful in a Pinch: Darren Sproles
I Am Decimated by Injuries: Brent Celek, Josh Huff, Nelson Agholor, Riley Cooper, Miles Austin
The Patriots have a ton of injuries on offense – this week, they'll be without Rob Gronkowski (knee) and Julian Edelman (foot), and they've already lost Dion Lewis (ACL) for the season. But having Tom Brady makes up for a large part of all that. Brady threw three touchdown passes against the Broncos last week, despite playing against one of the NFL's best defenses without Danny Amendola and without Gronk for a portion late in the game. Brady's furthered his case as the greatest quarterback in NFL history this year, and he's also been the best fantasy QB, ranking No. 1 for the full season with 27.9 FPG.
Obviously, the Eagles have struggled in a big way against opposing quarterbacks, surrendering five touchdown passes in back-to-back games. Brady doesn't have the weaponry of either Jameis Winston or Matthew Stafford this week, but he should get Amendola back and Scott Chandler (Gronk's replacement) saw 11 targets last week.
Where I'm a little unsure is in the backfield. Starter LeGarrette Blount isn't running particularly well right now, averaging 3.5 yards per carry or fewer in three straight games. In a close game in the snow last week, he didn't get much work against Denver, with just nine carries for just 27 yards (granted, it was a tough matchup). Even with Lewis out and James White doing next to nothing even with a big snap share (47 percent last Sunday night, above Blount's 39 percent), Blount just isn't getting the touches I expected he'd get after Lewis' injury. It's clear Bill Belichick views him as merely a game-plan specific player, and not someone who commands touches on a weekly basis. That said, the Eagles have given up over 500 yards from scrimmage to running backs over the past two weeks. Blount is a boom-or-bust flex, with no real in between, but he's a viable risk to take this week with the matchup.
Patriots confidence tiers:
No-Doubt Weekly Starters: Tom Brady, Rob Gronkowski (when healthy), Julian Edelman (when healthy)
In Your Lineup More Often Than Not: Danny Amendola (with Edelman out), Scott Chandler (with Gronk out)
Weekly Decision Required Based on Matchup: LeGarrette Blount, Brandon LaFell
Useful in a Pinch: James White
I Am Decimated by Injuries: Brandon Bolden, Keshawn Martin
Rob Gronkowski is out and Cincinnati's Tyler Eifert is doubtful. How would you rank some fill-in tight end options off the waiver wire?
1. Scott Chandler, Patriots – Had 11 targets last week, many even before Gronk got hurt. I have Chandler in my top five at TE this week.
2. Jacob Tamme, Falcons – Still available on a lot of wires, Tamme had 10 catches for 103 yards and a score in his last game against the Bucs this year.
3. Kyle Rudolph, Vikings – Rudolph had seven catches last week, and believe it or not, the Seahawks surrender nearly 17 FPG to TEs over the last month.
4. Luke Willson, Seahawks – He now takes over for the injured Jimmy Graham, and Vikings safety Harrison Smith may not be 100 percent even if he does play.
5. Vance McDonald, 49ers – Garrett Celek is injured, and McDonald had six catches for 71 yards and a score against the Cardinals last week. He seems to have some juice with Blaine Gabbert.
6. Crockett Gillmore, Ravens – I like Gillmore, but he had only three catches for 20 yards with Matt Schaub last week.
7. Will Tye, Giants – Larry Donnell is still out, and Tye had six catches last week.
(Note: These options are my rankings for the non-obvious starters at each position. Rankings are based on PPR scoring.)
FantasyGuru.com's Week 13 Mid-Level Flex Rankings
Running Back
Wide Receiver
Tight End
13. Todd Gurley, Rams
25. Michael Crabtree, Raiders
7.Antonio Gates, Chargers
14.Chris Ivory, Jets
26. Doug Baldwin, Seahawks
8.Jacob Tamme, Falcons
15.DeMarco Murray, Eagles
27.Vincent Jackson, Buccaneers
9.Kyle Rudolph, Vikings
16. T.J. Yeldon, Jaguars
28. Stevie Johnson, Chargers
10.Martellus Bennett, Bears
17.Matt Forte, Bears
29. Brandin Cooks, Saints
11. Gary Barnidge, Browns
18.Shaun Draughn, 49ers
30. Kamar Aiken, Ravens
12.Ben Watson, Saints
19. C.J. Anderson, Broncos
31.Sammy Watkins, Bills
13. Jason Witten, Cowboys
20. Lamar Miller, Dolphins
32.Marvin Jones, Bengals
14.Luke Willson, Seahawks
21.Frank Gore, Colts
33. Jordan Matthews, Eagles
15.Vance McDonald, 49ers
22.Giovani Bernard, Bengals
34. Travis Benjamin, Browns
16.Crockett Gillmore, Ravens
23.Jeremy Hill, Bengals
35.Anquan Boldin, 49ers
 
24.Danny Woodhead, Chargers
36.Tavon Austin, Rams
 
QB: Jay Cutler, Bears – People don't seem to realize just how well Cutler is playing, and he should have both Alshon Jeffery and Martellus Bennett in a positive home matchup with the 49ers.
RB: David Johnson, Cardinals – An explosive playmaker, Johnson has seven touchdowns on 54 offensive touches this year. He should get the start with Chris Johnson and Andre Ellington injured.
WR: Brandon LaFell, Patriots – LaFell is going to see a ton of targets this week against the Eagles.
TE: Julius Thomas, Jaguars – He scored against the Titans two weeks ago, had a huge game last week and the Titans give up over 20 FPG to tight ends over the last month.
QB: Tyrod Taylor, Bills – He had a nice game last week, but the Texans defense is balling right now.
RB: Antonio Andrews, Titans – The definition of "just a guy," I expect Andrews to start losing carries to David Cobb as soon as this week against the Jags.
WR: Stefon Diggs, Vikings – I've been getting a ton of questions about Diggs this week.
TE: Owen Daniels, Broncos – It's near impossible to find a TE you can't at least make some arguments for given the injuries at the position, but Daniels is losing snaps to Vernon Davis.