When Asante Samuel saw Falcons quarterback Matt Ryan drop back to throw a fade route to receiver Roddy White in the third quarter of Sunday's game against the Eagles, he couldn't help but crack a grin.
Samuel was on the sideline with a quad injury and "backup" Lito Sheppard was playing in his stead. Three plays earlier, Sheppard was called for a pass interference penalty that gave Atlanta a first-and-goal at the Eagles' 4-yard line.
The Falcons, thanks to a defensive holding penalty, now had the ball one yard from the goal trailing by 10 points. When Ryan lobbed the ball in Sheppard's direction, Samuel could have predicted the outcome as if he'd seen it before.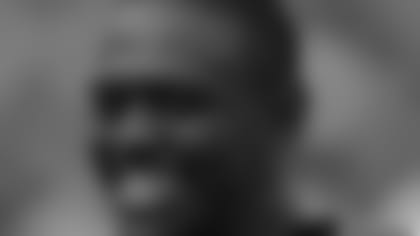 CB Lito Sheppard
Sheppard intercepted Ryan five yards deep in the end zone, effectively thwarting Atlanta's drive which more than made up for his earlier gaffe.
"It was awesome," Samuel said. "I am so happy for him. It was a heck of a play. He actually did the same thing at practice. A fade was thrown on him to Hank Baskett. Lito turned around the same exact way and picked it. I told him that I was glad I came out on that, because I would not have made that play."
It isn't any secret that playing physical isn't exactly Samuel's forte. But that's exactly what helped Sheppard secure the momentum-changing pick.
"Well, I was in good leverage and I got a good jam on him," Sheppard said. "When I got the jam on him I took a peek at the quarterback. He kind of lobbed it up there so it gave me enough time to turn around and react to it.
"It's your line-of-scrimmage jam. If you can get in good position in the beginning and see the ball thrown that makes it a lot easier to play those fade routes."
Reid said he was proud of how Sheppard rebounded after the pass interference penalty.
"We talk about the interception, the play before that he had the pass interference that put us in that position," head coach Andy Reid said. "But rather than hang his head or pout about that, he geared it up and came back in there and made a big play. That's what competition is all about. Those are the things you look for. I was proud of him for that."
The Eagles have been steadfast in their stance that they have three starting cornerbacks on the team that are interchangeable. That was never more evident than it was against the Falcons.
Just before the Eagles starting defense was announced, Sheldon Brown looked over his shoulder and saw Sheppard standing with the non-starters. Brown went over, grabbed his longtime friend and they ran out on the field together, as starters.
"It was one of those things," Sheppard said. "We're all in this together. I truly feel like I'm a starter and he's been starting; he knows he's the starter. We just wanted to add some excitement."
It was certainly exciting, but it also made quite a statement.
"All three of us are playmakers," Samuel said. "Two of us have been to the Pro Bowl. We are all playmakers. We just go out there and play good ball."
Reid also complimented Sheppard on his ability to put the off-field issues on the backburner when it comes time to play ball. The signing of Samuel in the offseason created a logjam of sorts at cornerback and since Samuel and Sheppard played the same position, Sheppard was the odd man out. But to his credit Sheppard hasn't let that inhibit the way he's performed on the field.
"Lito's handled this whole thing the right way," Reid said. "I think Lito has been very professional about it and he's been very team-oriented about it out there and he's played very hard.
"He wants to play, there's no doubt about that. He's a competitive guy. But he's going to do what he feels is right for the team or what he's asked to do. And then he just does it to the best of his ability. He's been great with that."