Zach Ertz is not in town for long. Because Stanford's graduation isn't until June 16, NFL rules prohibit the second-round tight end from participating in any offseason activities, aside from this weekend's rookie camp, until after that graduation date. So for Ertz's first few days on an NFL practice field take on added meaning.
"It's going to be tough at first," Ertz said Friday. "I think all the reps that I'm going to miss are going to be tough, but I'm going to get in the playbook as much as I can ... all the stuff that I've gotten over the next three days I'll be learning that as much as I can. At the end of the day, there's nothing I can really do about it."
Ertz isn't complaining though, he understands the intent of the rule.
"At the end of the day, we went to college to graduate," said Ertz, "so I think at the end of the day we all have to get our degrees."
Ertz isn't the only rookie whose offseason participation will be hamstrung by his school's graduation date. Undrafted rookie running back Miguel Maysonet doesn't have it too tough as Stony Brook's commencement is later this week, so he'll return to the NovaCare Complex next Sunday after only five days off. But seventh-round cornerback Jordan Poyer is on the same schedule as Ertz, staring down the barrel of a month-long layoff following Sunday's conclusion of the rookie camp.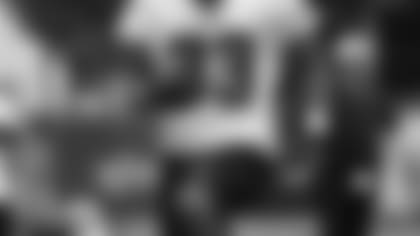 That makes this weekend "definitely very important," Poyer said, "just being able to show these coaches what I'm able to do on and off the field as far as being on time and everything, showing that I'm a responsible player. It's very important just to get in rhythm, get the schemes down of what we're running and being able to handle myself as a professional."
A versatile player in the secondary, Poyer said that he's expecting to focus on both inside and outside cornerback roles while also keeping a distant eye on safety, his original college position. His attitude and aptitude for learning schemes will then be put to the test.
"I think coming in here this weekend, it's not a plus not being able to be out here with the team and practice with them, but I believe that when I come back I'll be just as ready," said Poyer. "I'll be a little bit behind as far as what they've installed but I think I can pick up defenses real quick and we'll go from there. We'll see how it happens."
Both Boyer and Ertz will stay in touch with their respective position coaches during the layoff and Poyer said that he'll work with his college position coach, long-time NFL assistant Rod Perry, to stay in shape and study the scheme. Poyer also has a model for his situation in Kurt Coleman, a 2010 seventh-round pick who was in the same situation during his rookie spring. Coleman earned his way onto the roster as a rookie and eventually became a key contributor in the Eagles secondary.
"At the end of the day, I feel that I'm a good enough football player to make a team," Poyer said. "All I wanted was an opportunity when it comes down to it, so I'm excited to be here. I'm excited to have this opportunity and I'm excited to play for coach Kelly."