When the New York Giants invaded Green Bay last season to face the Packers in the NFC Championship game, they had 11 rookies on the active roster. Not only did the Giants defeat Brett Favre and the Packers, they went on to upset the previously undefeated New England Patriots in the Super Bowl.
While the Eagles don't have 11 rookies on their active roster this season, the new guys have been making more of an impact sooner rather than later. Part of that has been out of necessity, but part of it is because of how well the Eagles' recent crop of draft picks have been performing.
Receiver DeSean Jackson is a legitimate Rookie of the Year candidate. He goes into the bye week second to only New Orleans running back Reggie Bush in punt return yards and that's including Bush's recent breakout game against Minnesota where returned two punts for touchdowns. Jackson has also leads all rookies with 433 receiving yards and an average of 14.9 yards per catch.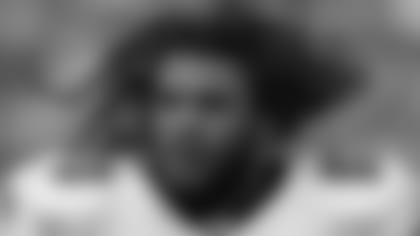 DT Trevor Laws hasn't received the hype but has been effective nonetheless
Jackson, a second-round selection, has also shown flashes of his inexperience. Against Dallas, he's prematurely celebrated a sure touchdown before crossing the goal line and had what veterans would call a ""bump-in-the-road game"" against the Bears where he ran the wrong way on a route that resulted in an interception and also fumbled a punt.
But he's also shown that he can rebound from adversity after notching a game-high 98 yards receiving against San Francisco.
Defensive lineman Trevor Laws, also a second-round pick, hasn't garnered the same spotlight as Jackson, but he's played in all six games thus far this season, recording four tackles while backing up fellow defensive tackles Brodrick Bunkley and Mike Patterson.
Safety Quintin Demps,a fourth-round speedster, has made his presence felt on special teams. His career-high 63-yard kickoff return against the 49ers last week helped set up a touchdown and he returned six kicks for a career-best 153 yards against the Cowboys.
In all, each of Reid's 10 draft picks are still on the team, which isn't a bad haul. Consider the 2005 draft: Patterson went seven weeks between starts, receiver Reggie Brown didn't start regularly until Week 9, guard Todd Herremans started just four games, defensive end Trent Cole didn't earn his first start until Week 11 while safety Sean Considine and linebacker Matt McCoy didn't start once.
For as good as he is, 2006 first-round pick Brodrick Bunkley didn't start during his rookie year and 2007 third-round pick Stewart Bradley earned just one start last season.
Neither Lito Sheppard nor Sheldon Brown, two of the top four choices in the 2002 draft, started their rookie campaigns. L.J. Smith started five games his rookie year in 2003, Brian Westbrook had three starts in 2002 and former safety Michael Lewis, who now plays for San Francisco, had six starts (including two in the postseason) for the Eagles in 2002.
The fact that Jackson, Demps and Laws are contributing as much as they are this season is a testament to their talent. Obviously, it's not easy getting on the field as a rookie for the Eagles.