As Chairman and CEO Jeffrey Lurie just announced in a press conference, Donovan McNabb will be inducted into the Eagles Hall of Fame and have his No. 5 jersey officially retired by the team on September 19 in front of fans at Lincoln Financial Field in a nationally televised game against the Kansas City Chiefs.
"Donovan McNabb was a franchise-changing quarterback for the Eagles and helped raise the bar of success for this franchise during his 11-year tenure with the team," said Lurie. "On the field, the numbers that Donovan posted during his time in an Eagles uniform speak for themselves. He is the franchise leader in nearly every major passing category and is the all-time winningest quarterback in Eagles history. His unique ability to make plays through the air and with his legs made him one of the most dynamic players this city has ever seen. Donovan was the face and the focal point of so many of our great Eagles teams and he helped make this franchise a contender each and every year that he was here.
"The number '5' has become synonymous with one of the greatest eras of Eagles football," added Lurie, "And ensuring that no one else will ever wear Donovan's number, we honor one of the greatest playmakers to ever wear an Eagles uniform."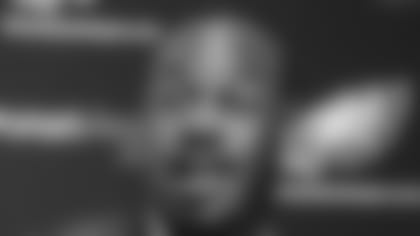 "As a person, Donovan is also an all-time great," said President Don Smolenski. "He treated everyone in the organization with care and respect. We all shared so many great moments with him over the years and it is an honor to be able to recognize him with our fans on September 19."
One of the most accomplished passers in NFL history, McNabb is at the top of nearly every passing category in the Eagles' all-time annals. The franchise's all-time leader in pass attempts (4,746), completions (2,801), yards (32,873) and touchdowns (216), he became one of just four players in NFL history to amass 30,000 passing yards, 200 touchdown passes, 3,000 rushing yards and 20 rushing touchdowns in his career, joining Pro Football Hall of Famers John Elway, Fran Tarkenton and Steve Young. Despite throwing the ball more than any other signal caller in team history, McNabb ranks fourth in NFL history in interception percentage, throwing a pick on only 2.25 percent of all passes.
"As a general manager, you are always on the lookout for a player like Donovan," said General Manager Howie Roseman. "He was a guy who poured everything he had into becoming the best player that he could possibly be. You could count on Donovan to bring it, day-in and day-out, no matter what the circumstances were.
"The game against Arizona in 2002, when he led us to a win despite playing with a broken ankle, is something I will never forget. He represented this franchise and this city with class," added Roseman.
A six-time Pro Bowl selection, McNabb, 37, served as the field general during one of the most successful eras of Eagles football, leading the team to five NFC East division championships, five NFC Championship Games, including four consecutive conference championship appearances from 2002-05, and an appearance in Super Bowl XXXIX. The winningest quarterback in team history, he was a constant presence under center in Philadelphia, appearing in more games (148) in an Eagles uniform than any other quarterback in team history. As a result of his play, he was selected as the starting quarterback on the Eagles' 75th anniversary team in a vote by the fans.
Forever remembered as the second overall pick in the 1999 NFL Draft, McNabb took the reins of the franchise late in his rookie season, starting six of the final seven contests in 1999, while becoming the first Eagles rookie draft pick to start at quarterback since John Reeves in 1972. In 2000, McNabb accounted for 74.6 percent of the team's total net yards (third in the NFL) and quickly staked his claim as one of the brightest young stars in the league, earning the first of five consecutive Pro Bowl berths while finishing second in NFL MVP voting. With McNabb under center, the Eagles would win four consecutive division titles from 2001-04, culminating in an appearance in Super Bowl XXXIX where he threw for 357 yards on 30-of-58 passing.
In 2008, McNabb further cemented his place in Eagles history as he established single-season franchise records in passing yardage (3,916), completions (345) and attempts (571) while surpassing Ron Jaworski as the team's all-time leader in touchdown passes, passing yards and attempts. The following season, McNabb would be selected to his sixth Pro Bowl in what was his final season with the Eagles.
Entering the 2013 season, McNabb ranks among the NFL's top 25 quarterbacks all time in wins (12th), career passing yardage (17th), career passing touchdowns (22nd), attempts (14th), completions (14th), passer rating (24th) and interception percentage (4th). McNabb also set an NFL record in 2004 with 24 consecutive completions. In addition, he is one of only three players in NFL history with over 35,000 passing yards and 3,000 rushing yards, along with Hall of Famers John Elway and Fran Tarkenton.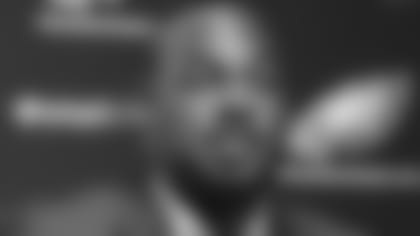 One of the most decorated athletes in the history of Syracuse University, McNabb was honored as the Big East Conference's Offensive Player of the Decade for the 1990s and was named the conference's Player of the Year an unprecedented three times from 1996-98. He established school and conference records for touchdown passes (77), passing yards (8,389), total offensive yards (9,950) and total offensive plays (1,403) in addition to total touchdowns (96).
During his tenure in Philadelphia, McNabb became one of the most vibrant and recognizable players in professional sports. His success on the field, his personality, leadership skills, sense of humor, work ethic and attitude all added up to give Philadelphia one of the best-rounded athletes in sports. From the moment he arrived in Philadelphia, McNabb fully immersed himself in the city, regularly donating his time and efforts to charitable organizations in and around the region. His work included donating Eagles tickets to area high school student-athletes for their achievements both on the field and in the classroom, holding the "All-Star Kids Football Clinic" which welcomed 350 10-to-14-year-olds to a football camp at the NovaCare Complex and dressing up as Santa Claus each year before Christmas to deliver toys to kids in the area.
McNabb's biggest mark in the community stemmed from the creation of the Donovan McNabb Foundation, which helped raise awareness of diabetes and improve the lives of those who suffer from diabetes through his role as a national spokesman for the American Diabetes Association. In 2006, the McNabb family was honored by the ADA for their contribution to the fight against diabetes.
Following his playing career, McNabb began to showcase his charismatic personality as a member of the media, holding stints with ESPN and NFL Network before branching into radio. His current endeavor, Under Center with McNabb & Malone, is a nationally syndicated sports radio show that airs Monday through Friday from 3 pm – 7 pm on NBC Sports Radio.
A native of Chicago, Ill., McNabb and his wife Raquel were college sweethearts and have four children: daughter, Alexis, daughter, Sariah, son, Donovan, Jr., and son, Devin James.