The Eagles acquired some reinforcements for the secondary on Wednesday:
• Eagles promote DB Elijah Riley from the practice squad
The rookie free agent out of Army played in two games as a practice squad call-up earlier this season in the games against Pittsburgh and Baltimore. He was on the field for 30 special teams snaps and two on defense in those contests. The 5-11, 214-pound Riley was a team captain for the Black Knights in 2019. In his four-year career at Army, Riley accumulated 201 tackles, seven interceptions, and 6.5 sacks.
• Eagles sign S Blake Countess to the practice squad
If the name sounds familiar, Countess was a sixth-round pick of the Eagles in 2016 out of Auburn. He returned in the 2019 offseason, but was waived with an injury settlement during Training Camp. He signed with the New York Jets where he played six games last season.
The 5-10, 191-pound Countess signed with the Rams shortly after being released by the Eagles at the end of his rookie Training Camp. In three seasons with the Rams, Countess played in 37 games (4 starts) and amassed 39 tackles, two interceptions, and one sack on defense.
In 2018, Countess led the Rams with five special teams tackles and was also the primary kickoff returner averaging 24.6 yards per return. Countess has scored two touchdowns in his NFL career, both off blocked punts. His first one came against the Eagles in 2017. In Week 3 of the 2018 campaign, Countess earned NFC Special Teams Player of the Week honors for recovering a blocked punt in the end zone against the Chargers.
A graduate transfer at Auburn, Countess posted 71 tackles in his senior season. In three years at Michigan, Countess started 30 games and was a two-time All-Big Ten selection.
• Eagles place S Rodney McLeod on Injured Reserve
A mere formality, McLeod tore his ACL in Sunday's win over the Saints. Said Defensive Coordinator Jim Schwartz of McLeod: "I would say this about Rodney, No. 1, he's proved that he can comeback from an injury like this. And it's such a gut punch when a respected player like Rodney, and who is a very productive leader for us, has had a really outstanding year; when you lose him for the game, but you also find out that you lose him for the season, everybody feels that. Increases the urgency for the guys that have to replace him. They have to step up to be able to fill those gaps, not just on a one-game basis but for a rest-of-the-week basis.
"If I know Rodney, and he's done this before when he was injured, he stays really involved with the team. He keeps his leadership up. He did that last time. He was always active on the sidelines. He was active during practice. He was active during meetings. He found a way to contribute, even though it wasn't going to be physically on the field. That's the kind of guy he is. That's the kind of leader he is. That's why he's been such an important part of our defense over the last five years here."
• Here's who the Eagles have on the active roster and the practice squad in the secondary:
Cornerback: Michael Jacquet (missed Sunday's game with a hamstring injury), Avonte Maddox (out with a knee injury), Nickell Robey-Coleman, Kevon Seymour, Darius Slay (concussion), Lavert Hill (practice squad), Jameson Houston (practice squad)
Safety: Grayland Arnold (missed Sunday's game with a hamstring injury), Marcus Epps, Rudy Ford (missed Sunday's game with a hamstring injury), Jalen Mills, Elijah Riley, K'Von Wallace, Blake Countess (practice squad)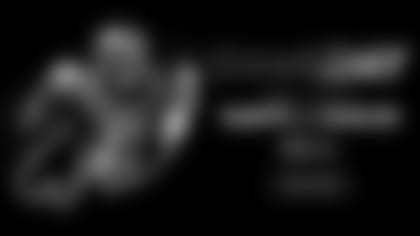 Man of the People
Rodney McLeod is the Eagles' nominee for the Walter Payton NFL Man of the Year Award. He writes why 2020 inspired him to do even more work in the community.