The Philadelphia Eagles have entered into a landmark, first-of-its-kind partnership with Ocean Conservancy and The Ocean Foundation to offset all team travel from 2020 through seagrass and mangrove restoration efforts in Puerto Rico. As part of Team Ocean, this partnership merges the Eagles' robust Go Green program with Ocean Conservancy's work in the world of sports, going back to their role as Ocean Partner for the Miami Super Bowl Host Committee in 2019.
"The Eagles set the benchmark for professional teams in the U.S. leveraging their resources to protect the environment," said George Leonard, Chief Scientist, Ocean Conservancy. "We couldn't be happier they are joining Team Ocean with this work. We believe this will be a benefit to the ocean, to the community in and around Jobos Bay, Puerto Rico, and a valuable addition to the Eagles' robust environmental portfolio. Eagles fans can be proud that their team is setting the example on this critical, global issue."
The Ocean Foundation, a partner organization of Ocean Conservancy, will handle the planning and implementation of seagrass and mangrove restoration in The Jobos Bay National Estuarine Research Reserve (JBNERR), a federally protected estuary located in the municipalities of Salinas and Guayama in Puerto Rico. The 1,140-hectare reserve is an intertidal tropical ecosystem dominated by seagrass meadows, coral reefs, and mangrove forests and provides sanctuary to endangered species including the brown pelican, peregrine falcon, hawksbill sea turtle, green sea turtle, several species of shark, and the West Indian manatee.
The Eagles offset their carbon footprint in 2020, which included air and bus travel to eight road games, by a total of 385.46 tCO2e. The calculations were made by The Ocean Foundation using the travel details from the Eagles 2020 itinerary. The funding for this project is broken down the following way:
• 80% - Labor and supply restoration efforts
• 10% - Public education (workshops and trainings to build local scientific capacity)
• 10% - Administration and infrastructure
Ocean Conservancy created the Blue Playbook in 2019 as a guide for pro sports teams and leagues to take on ocean-facing actions. Investing in blue carbon restoration projects is recommended under the Carbon Pollution Pillar and is an area the Eagles have been proactively invested in.
"Our sustainability journey began with a few recycling bins in the office back in 2003 and has since grown into a multi-curriculum program that is now focused on aggressive action to protect our planet, and this includes the ocean," said Norman Vossschulte, Director of Fan Experience, Philadelphia Eagles. "This next chapter with Ocean Conservancy is an exciting beginning as we face the climate crisis. We met with Ocean Conservancy in 2019 to discuss ocean-related efforts, and in the time since, have been inspired by their scientists and experts on the value of protecting our ocean. Whether you are on the Delaware River, down at the Jersey Shore, or on the other side of the planet, a healthy ocean is vital to all of us."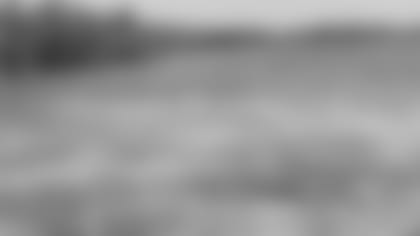 A look at the Jobos Bay Reserve, a federally protected estuary located in the municipalities of Salinas and Guayama in Puerto Rico.
"Working with Ocean Conservancy on their travel offsets over the past three years has reinforced the dedication and creativity they bring to this work and this latest dive into the world of sports and with the Eagles is more proof," said Mark J. Spalding, President, The Ocean Foundation. "We've been working in Jobos Bay for two years and feel like this project with the Eagles and Ocean Conservancy will bring tangible results to the ocean and also serve as inspiration for more teams to look at using their sustainability platforms for the ocean."
Seagrass meadows, mangrove forests, and salt marshes are often the first line of defense for coastal communities. They occupy 0.1% of the seafloor, yet are responsible for 11% of the organic carbon buried in the ocean, and help mitigate the effects of ocean acidification as well as protect against storm surges and hurricanes by dissipating wave energy and can help reduce flooding and harm to coastal infrastructure. By capturing carbon dioxide and storing it in the biomass of seagrass, salt marshes, and mangrove species, the amount of excess carbon in the air is reduced, thereby lessening greenhouse gas contribution to climate change.
For every $1 invested in coastal restoration projects and restoration jobs, $15 in net economic benefit is created from reviving, expanding, or increasing the health of seagrass meadows, mangrove forests, and salt marshes.
The Eagles' Go Green program has been internationally recognized for its commitment to sustainability and eco-friendly measures. In recent years, the team has earned LEED Gold status by the U.S. Green Building Council, an ISO 20121 international certification, and a GBAC (Global Biorisk Advisory Council) STAR accreditation. As part of this progressive approach to serve as proud environmental stewards in Philadelphia and beyond, the team's award-winning Go Green program has contributed to the Eagles running a zero-waste operation fueled by 100% clean energy.