Led by SWOOP, Marie Nee and Terrence Speights received a standing ovation as they walked into the NovaCare Complex cafeteria.
You may be asking, why did they receive a standing ovation?
The two fans became viral sensations when they were featured in a sideline surprise video posted to the Eagles' social media platforms.
Before they went viral, Marie and Terrence were hardcore fans who would regularly attend games together.
The former colleagues worked together at a hotel and casino in Atlantic City, New Jersey, and bonded over their love for the Eagles.
Little did they know their lives would change when they attended the October 22nd Dolphins vs. Eagles game at Lincoln Financial Field. While walking through Pepsi Plaza, they came across an Eagles social media admin, who reached her hand out with an envelope waiting for their response.
Marie finally took the envelope as Terrence uttered, "You won the grand prize."
Once they touched the sideline, "the real Garden of Eden" as Terrence referred to it, the rest was history.
"People who have not contacted me in years reached out to tell me that they saw me on TV and Instagram," Terrence said. "I did not think it was that big of a deal, but once I saw how many views the video had I knew it was a huge deal."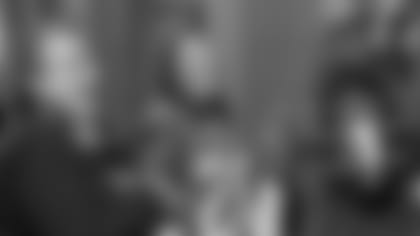 The Eagles invited the pair, along with Marie's daughter Cynthia whom Marie called in the video, for a tour of the NovaCare Complex on Wednesday, November 1.
Terrence walked into the lobby wearing gigantic, Midnight Green Mardi Gras beads, a staple of his outfit when he goes to games
The trend started when Terrence attended the 2006 NFC Divisional Round Playoff game in New Orleans. The Camden, New Jersey, native noticed Saints fans wearing beads and wanted a pair for himself. Terrence went to a store on Bourbon Street and made a purchase he would never regret.
Now on his second pair, which he bought eight years ago in a package of six, Terrence is always blinged out for every game.
The trio were treated to lunch before their tour started and were able to meet President Don Smolenski, Executive Vice President and General Manager Howie Roseman, and the Voice of the Eagles Merrill Reese.
The group sat in on Nick Sirianni's weekly press conference. Before the head coach took questions from reporters, he noticed the celebrities in the audience.
"Hi, you are the ones that got those tickets," Coach Sirianni said. "I saw that, nice to see you all."
That was not their only time meeting Sirianni. The third-year head coach surprised Marie, Terrence, and Cynthia after his press conference. Right away, Marie embraced Sirianni with a big hug.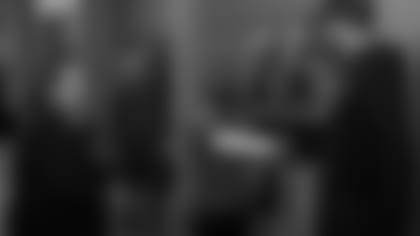 On their way to the locker room, they ran into numerous players, many of whom saw the viral video and recognized the two.
At first, it was one of the newest members of the team, wide receiver Julio Jones. Marie, who is a huge fan of the 13-year veteran and has wanted him to be an Eagle since his early days as a Falcon, stopped him in his tracks to hug him.
Marie told Julio, "You made my day with your touchdown."
Moments later, wide receiver A.J. Brown walked around the corner, bumping into the tour group.
A.J., who saw the video on Instagram, referred to Marie and Terrence as "great souls."
At the same time as Marie and Terrence arrived outside the locker room, Britain Covey was exiting. The wide receiver instantly recognized the viral sensations, eager to meet them.
"I am beyond having fun," Cynthia said. "There is no word to describe it."
The end goal of getting to the locker room was for a surprise that involved Marie's favorite player.
Marie rang the doorbell to the equipment office and said, "Trick-or-treat."
Defensive end Brandon Graham swung the door open to screaming and dropped jaws from Marie and Terrence.
"We just wanted to make them feel as special as they are," Graham said. "You love to make somebody's day like that, I really enjoyed the moment."
Graham provided the three with their own customized jerseys, signed by 14 players on the team including quarterback Jalen Hurts and center Jason Kelce.
The equipment team also gave them goodie bags filled with hats, T-shirts, and more Eagles paraphernalia.
"This is like Christmas morning," Marie said.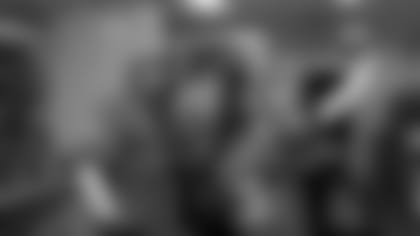 After pictures and a heartfelt conversation with BG, the tour continued, but not for long. Safety Reed Blankenship stopped Marie and Terrence, saying, "I am meeting celebrities today."
When the tour resumed, the group stopped by the Eagles' indoor training field and went back to the lobby to take photos with the Lombardi Trophy and championship rings.
"I am a real gladiator," shouted Terrence, as he took a picture with all four championship rings on display in the trophy case at the NovaCare Complex.
Eagles Insider Dave Spadaro, who led the tour, took Marie, Terrence, and Cynthia into position meeting rooms and the players' gym.
With the tour ending, two more surprises were awaiting the trio.
First, safety Brian Dawkins, who has his No. 20 jersey retired by the Eagles, talked with them on a video call. Cynthia, rocking a Dawkins jersey, was the most excited to see the Eagles' legend. Terrence, also a huge Weapon X fan, had a picture of B-Dawk on the lock and home screens of his phone.
Then, Marie, Terrence, and Cynthia ended their day in the Eagles Entertainment studio where Eagles Hall of Fame quarterback Ron Jaworski was waiting on a Microsoft Teams call.
Marie and Terrence reminisced about becoming fans in the late '70s, when Jaws was under center for the Eagles.
This was the experience of a lifetime for the three fans.
"I am going to find a place to hide, so I can stay here forever," Terrence said. "This is the best day of my life."
"This was unforgettable, the best experience ever," Cynthia said.
"That was so great," Marie said. "This was such an honor."
When asked what was a better experience, the sideline or the tour, Marie swiftly replied with, "Both." 
From accepting a blank envelope to becoming viral sensations, Marie and Terrence won the "grand prize." – Written by Owen Boyle
Viral sensations Marie Nee and Terrence Speights, who were the subjects of an Eagles social media video, visited the NovaCare Complex for a tour and a day full of surprises on Wednesday.