In an effort to help maintain a sufficient blood supply and to avoid a potential shortage during these uncertain times, the Philadelphia Eagles and the American Red Cross, with the support of Budweiser, hosted its second community blood drive at Lincoln Financial Field on Thursday, May 21. The blood drive collected 90 pints of blood, which has the potential to help up to 270 patients.
The first Eagles Community Blood Drive, held on April 16, collected 74 pints of blood, which has the potential to help up to 222 patients.
The need to sustain a stable blood supply for patients with life-threatening conditions is critical at this time. The need for blood remains constant throughout the year, as volunteer donors serve as the only blood source for individuals relying on transfusions.
"Despite the challenges we've faced as a society over the past couple of months, the American Red Cross has courageously carried on with its life-saving mission of providing compassionate care for those in need," said Jeffrey Lurie, Philadelphia Eagles Chairman and CEO.
"We are grateful to have the opportunity, once again, to offer our assistance to the Red Cross so that a sufficient blood supply could be maintained for weeks to come. The swift and immediate response to this 'call to action' by our community clearly demonstrates the generosity that we have for one another. Yesterday was a symbol of that goodwill thanks to everyone who showed up to support the Red Cross' transformational work."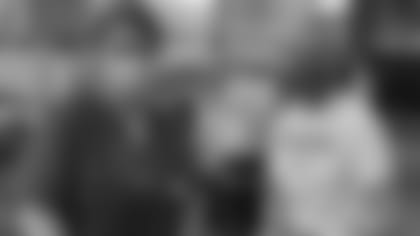 Eagles President Don Smolenski donated blood Thursday at Lincoln Financial Field.
According to the Red Cross, the need for blood in the U.S. occurs every two seconds and with every blood donation, up to three lives can be saved. Approximately 36,000 units of red blood cells are needed every day in the U.S. and roughly 40 percent of our nation's blood and blood components – collected from volunteer donors – are provided by the Red Cross.
"We're grateful to the Philadelphia Eagles and Budweiser for continuing to support our efforts to collect life-saving blood during this pandemic," said Guy Triano, CEO, Red Cross Southeastern Pennsylvania Region. "Our generous supporters and blood donors are helping to ensure that hospital patients across the region continue to have access to vital treatments. Together, we will get through this uncertain time."
To ensure the health and safety of all volunteer donors and Red Cross staff, and in accordance with guidance from medical experts, Thursday's blood drive observed proper mitigation and "social distancing" protocol. The size of Lincoln Financial Field and the operational set-up ensured that these safety measures were being followed so that the greatest number of donors could be accommodated in a safe and secure environment.
As part of a larger $1 million contribution to help combat the impact of COVID-19 in the City of Philadelphia, Lurie and the Eagles donated $250,000 to the American Red Cross of Southeastern PA Region last month through the National Football League's Draft-A-Thon. Draft-A-Thon, a fundraising component of the 2020 NFL Draft, raised much-needed funds for the COVID-19 relief efforts of six national non-profit organizations. The team's donation contributed to the Red Cross' effort to maintain a sufficient blood supply, avoid a potential shortage and supported Convalescent Plasma efforts.