When preparing for a Week 1 regular-season game, there's always a bit of guesswork that goes into formulating the game plan. In reality, all you really have to go off of is last season's film, especially if the two teams played each other. Luckily, the Eagles faced the Washington Redskins twice in 2016, so there's some familiarity there, even with the new faces on the other sideline.
Head coach Jay Gruden runs the show on offense. Yes, he lost offensive coordinator Sean McVay to the Los Angeles Rams. Washington became the first team in NFL history to lose two 1,000-yard receivers in DeSean Jackson and Pierre Garçon. With that three-headed monster leaving the nation's capital, everyone wants to know how different this offense will look in 2017? My guess is that it will look pretty similar schematically with Gruden's fingerprints all over it.
Gruden's offense is a very efficient one. They finished in the top five on third down a year ago and finished No. 2 in the entire league in receptions of 20-plus yards. It was a big-play offense that attacked defenses at every level of the field from a wide variety of looks and formations. Washington used a high variance in receiver distribution and location last year. In simpler terms, the Redskins took their best pieces on offense and moved them all around the field to find ways to create favorable matchups against the defense. The best way to do that is with a 3x1 set.
A 3x1 set, what some may call trips, takes three pass catchers and puts them to one side of the field, leaving one all by himself to the opposite side (hence, 3x1). What Washington does out of these sets is what makes it tough to defend. The receivers on each side of the field are never the same, and their coaching staff does a great job of creating opportunities for moving their best players around to find a mismatch. One of the biggest benefactors in 2016 was slot receiver Jamison Crowder.
On the first play against Green Bay, Crowder is lined up as the No. 2 man on the three-receiver side, directly next to versatile tight end Jordan Reed, who is lined up at No. 3. Before the snap of the ball, Crowder appears to be matched up against safety Morgan Burnett, with Reed matched up against linebacker J.T. Thomas.
At the snap, both receivers switch places, with Crowder running across the field on a deep over route. He's not matched up on Thomas, an athletic linebacker but a linebacker nonetheless. Crowder runs right by him for a 53-yard catch and a near-touchdown.
This is another 3x1 set from the Redskins a couple of weeks later against Arizona. This time, Crowder is the No. 3 receiver to the trips side. Another athletic tight end, Vernon Davis, is lined up next to Crowder as the No. 2 receiver. This is basically the same route combination as before, except the two receivers have flipped places. Davis and Crowder execute a "switch" release and attack the vertical part of the field.
Davis runs right across the middle on an over route, occupying the dropping linebacker. The safety to that side of the field, D.J. Swearinger (now a Redskins starter), is distracted by that same route. Crowder, matched up on a slot corner, leaks down the seam and the defender looks confused. He doesn't run with Crowder and gives up a 26-yard touchdown.
With players like Crowder, Reed, Davis, and dynamic running back Chris Thompson, Washington has a lot of weapons at its disposal to use in the middle of the field at all three levels in the passing game. These 3x1 sets are a big reason why they're able to get into space, but it's not JUST about the three-receiver side. The backside receiver is also a factor in these formations.
Many people refer to this backside receiver as the X-iso, an X receiver up on the line of scrimmage isolated by himself to one side. This player needs to be able to win a one-on-one matchup in one way, shape, or form. Whether it's with his speed to run right by a defender (think DeSean Jackson), with his crafty route-running skills (like a Pierre Garçon), or with pure size to go up and win at the catch point (such as what Alshon Jeffery can do), he has to find a way to win. The Redskins have a few players who can win one-on-one, and they put those receivers in position to make plays in these 3x1 sets.
Here's an example with Jordan Reed last year against Dallas. Washington motions late to a 3x1 set, leaving Reed on the back side against star defensive back Byron Jones. Reed's combination of size and athleticism allows him to win off the ball and get vertical. He uses his frame to box out Jones and look this throw in over his shoulder for a 33-yard gain. They don't just do this with Reed at the tight end position, however, because Vernon Davis is still very capable of making plays in the deep passing game. Niles Paul, a receiver when he came into the league, can attack downfield as well.
One player I expect to be used often as the "X-iso" is Terrelle Pryor, a free agent signed away this offseason from the Cleveland Browns. Pryor has very good size and overall athleticism. He's still coming along in his second year playing the position, but he's got the physical tools to take over any down. He's not as naturally explosive as Jackson, and not nearly as refined as Garçon, but he wins in different ways and will be counted on to do that in the structure of this Washington passing game. Here's a shot from this summer of Pryor winning in the middle of the field on a simple high-low concept at the bottom of the screen out of a 3x1 set. I think we'll see Pryor lined up in that role this Sunday.
All five of the plays shown came on third down. Again, they finished fifth in the league on third down in 2016, something that requires a combination of both good play calling and execution.
One thing that every team does when preparing for their early-season opponents is go back and look at the games they played against each other last year. You can bet that the Eagles' staff took both matchups against Washington into account from a year ago when they put together the game plan for Sunday. One thing that the Redskins used against the Eagles, and most of their opponents, a year ago was wheel routes, which were incorporated in lots of different ways.
This is from the Week 6 matchup last year. Washington is in the red zone, and the Eagles are in man coverage on first-and-10. Safety Malcolm Jenkins is matched up on Crowder in the slot. Washington is sending Crowder on a wheel route to the outside, forcing Jenkins to work through four bodies on the run to defend a vertical route, which is no easy task. Crowder, at 5-8, 185 pounds, slips by Jenkins for a 16-yard touchdown in the red zone. You wouldn't think of him as a red zone threat, but he is a factor in that area of the field because of Washington's route concepts.
Getting their tight ends out into space with the use of wheel routes is prevalent in this scheme as well. On the first shot against Minnesota, Gruden uses play-action to suck in the defense, and boot-action to the right to get everyone moving that direction. This is actually a throwback play, a pass intended to work against the flow of the defense and hit Davis on a wheel route for a big gain. It works to perfection for a 38-yard pickup. On the second play against the Eagles, Davis beats Jenkins on a wheel route to the bottom of the screen. He's getting up there in years, but Davis can still absolutely run and should not be discounted in this matchup.
Tight ends are a big part of the Redskins' offensive attack. They use a lot of multiple-tight end sets, whether they're in 12 personnel (two tight ends) or 13 personnel (three tight ends), and utilize their personnel in a number of ways. They come out in a heavy set with three tight ends in-line with their hands on the ground at the line of scrimmage as in the example against Minnesota. But they'll also try to spread you out, as they did against Pittsburgh last year.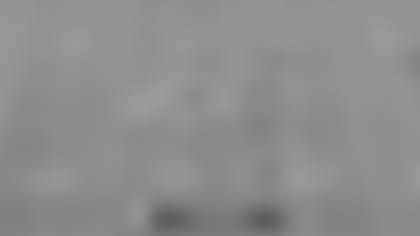 When you have the athletic options at the position like Washington does, you can come onto the field in 13 personnel and force the opposing defense to come out in their base defense. When you spread that defense out, you may get a matchup that you like, whether it's an unathletic linebacker in space against Reed or Davis, it's an area Washington is not afraid to explore.
Opposing defenses also have to account for the players in the Washington backfield. Robert Kelley won't be mistaken for LaDainian Tomlinson as a receiver, but Chris Thompson is one of the best pure third-down backs in the game because of his athleticism, abilities as a pass catcher, and toughness in pass protection. Here he runs, you guessed it, a wheel route out of the backfield.
Even the rookie, Samaje Perine, can be used on this vertical concept. He was underrated for his receiving ability coming out of Oklahoma this spring.
Thompson is a pure mismatch out of the backfield on most linebackers, and when he's got a head of speed he's tough to catch up to on vertical routes. His quickness in and out of breaks is what makes him even tougher to defend.
Thompson beats the linebacker on a pivot route, selling the inside route break, and busting outside for a near touchdown. He's quick, explosive, and tough. Thompson isn't a full-time player in that offense but he's certainly a player who must be accounted for every week in the game plan.
Running backs are a part of the passing game in Washington, but not just in the dropback and quick games. The screen game is very important in this offense, as well.
To have a good screen game, you need a few things. The design of the play obviously goes a long way, and Washington has some really well-designed screens, but it also has the perfect way to complement them. With an honest run game, a slew of versatile pass catchers who can create yards after the catch, and an athletic offensive line that can get out on the perimeter and create running lanes, the Redskins have a lot to work with.
I did a really deep breakdown on the Washington run game last year, and I expect it to look very similar this year. Former third-round pick Matt Jones is out, and Kelley is the starter with Thompson as the third-down back. I expect rookie fourth-round pick Samaje Perine, however, to take over as the starter sooner rather than later. He's got the physical makeup of a three-down back with his instincts, balance, and ability to make people miss. I think he will be a really dangerous player for that offense. I don't know if he'll make a huge impact this Sunday, but keep an eye out in the future for Perine.
Fran Duffy is the producer of "Eagles Game Plan" which can be seen on Saturdays during the season. Be sure to also check out the "Eagle Eye In The Sky" podcast on the Philadelphia Eagles podcast channel on iTunes. Prior to joining the Eagles in 2011, Duffy was the head video coordinator for the Temple University Football team under former head coach Al Golden. In that role, he spent thousands of hours shooting, logging and assisting with the breakdown of the All-22 film from the team's games, practices and opponents.