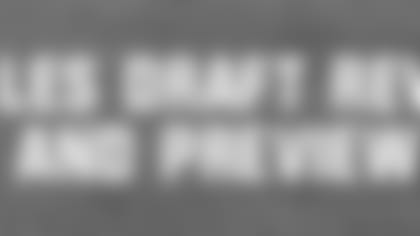 OVERVIEW**
Brian Westbrook has silenced his critics before and he will have to do so again in 2009.
Even though he missed two games due to injuries, Westbrook was fourth in the NFC with a career-high 14 total touchdowns in 2008 and came just 64 yards shy of his third consecutive 1,000-yard season.
Early in his career, Westbrook was deemed too small to be an every-down back. But since taking over the starting job on a full-time basis in 2004, Westbrook is second in the league in yards from scrimmage behind only San Diego's LaDainian Tomlinson. Since 2003, Westbrook has proved to be the best receiver among all NFL running backs with 392 catches for 3,523 yards and 28 scores.
Westbrook has already etched his name in the Eagles' record books and is on the verge of shattering the records for rushing yards and total touchdowns.
The question is how much tread is left on Westbrook's tires. While he was slowed down by a nagging knee injury that required a cleanout procedure in the off-season, head coach Andy Reid and team president Joe Banner have both publicly declared that Westbrook will be back and better than ever in 2009.
The bigger question is who will share the load with Westbrook? Long-time vet Correll Buckhalter inked a four-year deal with the Denver Broncos at the start of free agency. Buckhalter averaged nearly 5.0 yards per carry and had a career-high 26 catches in 2008.
Lorenzo Booker was acquired last year on draft day when the Eagles sent a fourth-round pick to the Miami Dolphins for the former Florida State star. Booker appeared to have all the tools to be a similar player to Westbrook - he's fast, a good route runner and can catch the ball out of the backfield. But the Eagles couldn't find a role for Booker as his performance in the mini-camps didn't carry over once the pads went on in training camp. In 10 games, Booker had just 20 carries for 53 yards and six receptions.
The Eagles claimed Eldra Buckley off of waivers this off-season from the San Diego Chargers. Buckley has a similar build to Westbrook (5-9, 207 pounds), but limited experience. Buckley signed with the Chargers as a rookie free agent in 2007 and spent the last two seasons on the practice squad behind the aforementioned Tomlinson and Darren Sproles.
REVIEW
A discussion about the Eagles running backs that were drafted during head coach Andy Reid's tenure must start with the one who was not selected - Ricky Williams. The Heisman Trophy winner was the player coveted by Eagles fans during the 1999 draft. Of course, we all know whom the Eagles chose.
In 2001, the Eagles found a gem in the fourth round with Correll Buckhalter out of Nebraska. Buckhalter wasn't even the feature back at Nebraska. One of the hardest-working Eagles, Buckhalter carved out a nice career becoming one of the longest-tenured members of the team despite losing three seasons to knee injuries. At 30 years old, Buckhalter still has some promise because he wasn't subjected to a significant amount of punishment on the field. And don't forget how Buckhalter's career began, he set the franchise rookie record for rushing with 586 yards.
The next year the Eagles believed they had found a nice change-of-pace back in Brian Westbrook in the third round out of nearby Villanova. With Buckhalter and Duce Staley on board, Westbrook wasn't expected to be the featured back. Deemed too small and injury prone to be a full-time back, Westbrook took the league by storm first as a dynamic punt returner then as an all-purpose back who was named All-Pro after the 2007 season. In terms of production and value, Westbrook was the steal of the draft.
The Eagles have not needed to invest a lot in the position since with Westbrook's success. You could argue that of the three running backs to be drafted since Westbrook the one with the most success was Bruce Perry, a seventh-round pick in 2004 out of Maryland. Perry appeared to have found a niche as a kickoff returner during the 2005 season after J.R. Reed was injured.
Ryan Moats, a third-round selection out of Louisiana Tech in 2005, showed flashes as a rookie during a season marred by the number of injuries to starters. But Moats was never able to capitalize on that early success and was released last year. The Eagles used another third-round pick on Tony Hunt out of Penn State in 2007. Hunt was expected to complement Westbrook as a big, bruising back. After a lackluster rookie season, the Eagles gave him a shot as the fullback last year before releasing him early in the 2008 campaign.
PREVIEW
The running back position has to be addressed in the 2009 draft. Westbrook is expected to bounce back in 2009, but there is still no clear cut answer as the backup. And the history of running backs that are 30 and older doesn't favor Westbrook. So even if the Eagles don't select a feature back for this season, their draft history shows that they will take a guy that they can groom who will be ready in two or three years. There are plenty of quality backs who will be available in the first and second round of this year's draft - Chris Wells, Knowshon Moreno, Donald Brown, LeShon McCoy, Rashad Jennings and Shonn Greene just to name a few. Of course, the Eagles have proved with Buckhalter and Westbrook that you don't need to use an early draft pick to find a quality back. The Eagles have the most draft picks of any team in the league, including two in the first round. They can do whatever they please.