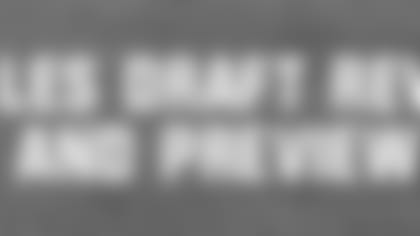 OVERVIEW
This unit, which produced 30 of the team's 48 sacks last season, is one of the team's strengths.
Pro Bowl end Trent Cole has quickly made a name for himself. He finished second on the team with nine sacks in 2008 and is a focal point for opposing offensive coordinators who are countering his speed with double teams.
Veteran Darren Howard is coming off his best season as an Eagle, leading the team with 10 sacks while providing a pass rush both outside and inside.
The speedy and relentless Juqua Parker has developed into a nice player in his four seasons in Philadelphia. Parker always seems to be around the football and delivers big plays at crucial times. Parker's five sacks in 2008 ranked third on the team.
Chris Clemons, who emerged as a situational pass rusher in Oakland, was added a year ago to provide more punch to the pass rush. Clemons came on late in the season and chipped in four sacks during the second half of the season. He has produced 12 sacks over the last two seasons.
Victor Abiamiri is a promising young end who has had to overcome some injuries during his first two seasons in the league. Abiamiri, who can play both inside and outside, logged his first two sacks a season ago.
Bryan Smith spent his rookie year as a spectator, but should get a chance to prove himself in 2009.
REVIEWAndy Reid believes it all starts up front and he has used the draft to help arm defensive coordinator Jim Johnson with "fastballs" he can throw at opposing quarterbacks.
A fifth-round pick in 2005, Cole has blossomed into one of the premier young edge rushers in the game. The former University of Cincinnati product has registered 34.5 sacks during his four seasons in Philadelphia.
The team also has high hopes for a pair of ends added in the draft over the last two years. Abiamiri, a second-round pick in 2007, has shown flashes when given his opportunities, while Smith, a third-round pick in 2008, was a two-time All-America selection out of Division I-AA McNeese State who was also named the Southland Conference Defensive Player of the Year.
Reid's early drafts yielded the likes of Derrick Burgesss (3rd rd., 2001), Raheem Brock (7th rd., 2002), Jerome McDougle (1st rd., 2003) and Jamaal Green (4th rd., 2003).
Burgess overcame a series of injuries and was a key contributor during the team's Super Bowl run in 2004. The next season, Burgess signed a lucrative free-agent deal with the Raiders. Brock never played a game for Philadelphia. He turned down a contract offer here and landed in Indianapolis, where he developed into a key player for the Colts defense. McDougle and Green, stars collegiately at the University of Miami, never lived up to expectations. McDougle was snake-bitten by injuries for much of his career in Philadelphia.
PREVIEW
While defensive end is not considered a position of "need" for this team, Reid and Co. are always willing to add a quality player, someone who can push others and add competition and depth at the position. Certainly, the team needs to find a consistent pass-rushing threat opposite Cole. Do Reid and GM Tom Heckert believe that player is currently on the roster? We'll find out April 25th and 26th.