The Eagles' rookies have had a lot on their respective plates this weekend, as they took part in Rookie Minicamp.
They've all had to adapt to new teammates, new coaches, new playbooks, and – for the majority of them – a new city.
With so much coming at them at once, there hasn't been a lot of time to sit back and soak in the fact that they've fulfilled a childhood dream of being on an NFL roster.
Each player made sacrifices along the way to make their football fantasy a reality. However, they were not alone when it came to making those sacrifices. There were numerous people who made their own sacrifices along the way to help the players live out what they dreamed about on so many nights.
But no one made more sacrifices than their respective mothers. From literally the day these young men were born, their mothers set themselves aside for the betterment of their sons, which makes it fitting that Rookie Minicamp takes place over the course of Mother's Day weekend, as it is a moment for the moms to receive much-deserved acclaim for what their sons accomplished.
The Eagles' draft picks, in particular, expressed their love for their mothers with heartfelt messages.
"I love you so much until the end of the earth," tackle Andre Dillard said. "Words can't describe how much I love you and how much I appreciate you."
Dillard's mother, Jennifer, was there when he struggled through his first football practice back when he was in eighth grade. She was also there when Dillard was taken in the first round of the 2019 NFL Draft.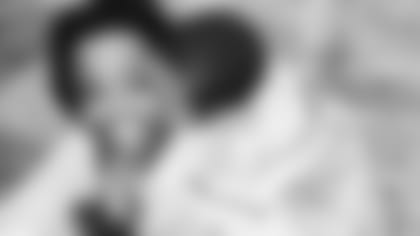 Running back Miles Sanders' mother Marlene (photo above) has been with her son every step of the way as well, especially when it came to his decision to forgo his senior season at Penn State to declare for the NFL Draft.
Marlene gave her blessing, but only under the condition that Miles eventually go back to Penn State to finish his studies and earn his degree.
"You did a lot for me and look where I am now," Miles said about his mother. "I'm living my dream because of you. Thank you, mom."
Wide receiver J.J. Arcega-Whiteside's mother, Valorie Whiteside, passed her athletic genes down to her son as she was a professional basketball player, but it came with a lot of traveling along the way.
Arcega-Whiteside was a multi-sports star growing up, lettering in both basketball and track and field in high school. What that meant for Valorie was traveling from one end of the country to the other to see her son participate in basketball tournaments, baseball games, and track and field events.
"Thank you for all of the sacrifices you made – driving me all over the country for AAU tournaments, standing outside in the heat and sweating while I played football, baseball, soccer, whatever sport it was," the second-round pick said.
Quarterback Clayton Thorson is one of five children his mother Shauna had to wrangle, which needless to say, came with its unique share of challenges.
"Thank you for all you've done for me and all of our siblings in our ever-growing family," he said.
The old cliché is that it takes a village to raise a child, and there is no better personification of that saying than professional football players. Whether it's transporting them back and forth to practice, traveling across time zones to see them play in person, or providing encouraging words during a setback, there are so many people involved in getting these young men to the highest level of the profession.
But no one deserves more credit, more praise than mom.