On Friday, we provided the latest buzz on draft prospects on the offensive side of the football. What about the defense? Never fear because we once again consulted our panel of NFL Draft insiders to get the latest on some of the most intriguing players in the 2013 NFL Draft as we are now less than two weeks away from draft weekend ...
Defensive End: Texas' Alex Okafor
With the idea that the Eagles will be running a hybrid defensive front in 2013, one would believe that they will add at least one or two versatile defenders to play along the defensive line. One player who seems to fit the bill there is former Texas Longhorn Alex Okafor, who has been a big-time contributor at the University of Texas for the better part of the last three years. Where does Okafor best fit at the next level? Would he be a fit in Philadelphia? To bring you the answers to that question, we asked Optimum Scouting's Alex Brown ...
"A lot was expected of Alex Okafor when he stepped on campus at the University of Texas, as an ESPNU Top 150 prospect and consensus 5-star recruit. In order to earn reps as a freshman, Okafor actually kicked inside to the 3-technique position, playing at defensive tackle for a majority of his first two seasons on campus. While this stunted his growth slightly as an outside pass rusher, it prepared him for the physical side of playing the strong side defensive end position in terms of hand usage and strength at the point of attack. Okafor isn't an elite pass rusher and will always be 'the other guy,' but that isn't to say he's without value and worth.
"While first step explosiveness is evident, Okafor's high pad level mitigates his upfield speed. Okafor does not put stress on opposing tackles to cover the corner, but can overtake the outside shoulder with hand usage and counter moves. Okafor is very good at getting an inside fit on the blocker. He works his hands efficiently to gain control of the chest plate and put his opponent on skates. Converting first step burst to power in his pass rush, Okafor can press an outside rush before planting and tracking back to the inside.
"Okafor is at his best when given additional space from the blocker off the line of scrimmage. He needs room to build up to top speed as he lacks elite acceleration. While most view Okafor as a 4-3 end only, he has considerable experience playing from a stand up 3-4 rush linebacker position from and remains a legitimate draft target for the Eagles should he slide into the fourth round. As a 4-3 end prospect, I gave Okafor a day two (Rounds 2 and 3) grade, so it remains to be seen whether or not the Eagles will even be in a position to select him."
Defensive Tackle: Missouri's Sheldon Richardson
With most of the defensive tackle discussion circulating around Florida's Sharrif Floyd and Utah's Star Lotulelei, Sheldon Richardson from Missouri has been the man on the outside looking in. Rest assured though, this Fletcher Cox-clone is no slouch. His natural athleticism and relentless motor will land him in the top half of the first round on draft day. Could he possibly be the target of the Eagles if they decide to trade down? Is he worth a Top 10 selection? To bring you the answer to those questions, we invited Rotoworld's Josh Norris to the conversation to see how Richardson would fit in Philadelphia ...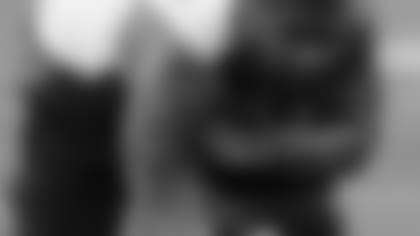 "I think Richardson would form an interesting pairing with Fletcher Cox in the middle in Philadelphia. I think there are some similarities between the two, with both obviously being very athletic, penetrating 3-technique-type defensive tackles. I don't believe Richardson played as much defensive end as Cox did at Mississippi State in 2011, but they're similar talents. Now, obviously Richardson runs the line very well and gets up field and actually was on the field quite often.
"He played a good number of snaps and consistently seemed to have a great motor. Now every prospect has that one game where they don't look their best. Richardson's was against Larry Warford and Kentucky. He was absolutely dominated by the very strong, powerful offensive guard, who will likely be a second-round pick and a very good starting guard in the league. That worries me. He was jolted a lot at first contact, driven back 3 or 4 yards initially. He was able to counter and rush back upfield, but you really want to see that instant power and toughness off the line of scrimmage and Richardson struggled there against Warford.
"I think as far as the Eagles are concerned it comes down to fit. If they want two guys who can get upfield at that position, instead of one that's maybe more of a run defender, then Richardson makes a ton of sense. I expect Richardson to go as early as 14th overall to the Carolina Panthers, so a trade would be in the cards if Richardson were to end up in Philadelphia."
Linebacker: Georgia's Alec Ogletree
In a linebacker class with a number of dynamic playmakers, Georgia's Alec Ogletree stands out with his elite burst and athleticism. The former safety was often seen flying around the field from sideline to sideline in Athens in 2012, and was one of the most explosive defenders in the SEC. With Ogletree, however, there may be more to his draft stock than what he puts on tape. For more on that, we bring in Draft Countdown's Scott Wright ...
"On talent alone Ogletree grades out like a Top 10 overall pick due to his athleticism, speed, range and ability to play either inside or outside. In fact, Ogletree might be the most well-rounded 'backer in this class. However, character concerns cloud his draft stock. Ogletree was suspended twice in college - once after being arrested for theft and again for failing a drug test  - then was arrested again in February shortly before the Scouting Combine for driving under the influence. Just how much these off-the-field issues will ultimately affect Ogletree remains to be seen, but it appears as though he'll still come off the board at some point in the middle of the first round."
Cornerback: Mississippi State's Darius Slay
Entering the 2012 season, a Mississippi State cornerback was considered one of the top players at his position with incredibly high upside due to his combination of size and athletic ability. Eight months ago, one would've assumed the player being discussed was Johnthan Banks, but now you could also include fellow Bulldog Darius Slay into that mix as well. In fact, Slay may prove to be drafted ahead of Banks when it's all said and done. Slay had an incredible performance at the Scouting Combine in February to follow up a very impressive 2012 campaign that put scouts and NFL teams on notice. Where could Slay get drafted in two weeks? What does he bring to the table as a prospect? For more we bring in one of the pre-eminent talent evaluators in the media, Dane Brugler from CBS Sports ...
"Slay originally signed with Mississippi State out of high school, but didn't qualify academically. He spent two seasons at the junior college level before finally joining the Bulldogs in 2011. He beat out incumbent starting cornerback Corey Broomfield to line up opposite Banks in 2012 and led the SEC in interceptions with five. Slay never gives up on plays, even when beat, and plays with the aggressive all-in, feast-or-famine approach that can make him the hero or goat. He is still developing his feel and discipline on the outside, but Slay is athletically gifted with the confidence to be a starting NFL corner and grades as a Top 50 pick."
Safety: South Carolina's D.J. Swearinger
In what is considered by many to be the deepest safety class in years, there are a number of players who could start immediately in 2013. One of those prospects is South Carolina's D.J. Swearinger, an imposing physical presence on the back end who has played every position in the secondary and was the undeniable tone setter for the Gamecocks in each of the past two seasons. Where will Swearinger get drafted? What are his shortcomings? To give us the skinny on Swearinger, we bring in Real GM's Jeff Risdon ...
"Swearinger is an appealing option for teams looking for a physical presence at safety in the second or early third round. Swearinger is a big-time hitter who exudes and embraces violence. He loves to hit and is a good run defender, though he tends to just hit instead of going for the sure tackle. Few safeties bring his force or willingness to lay the lumber in the box, and he can also intimidate in the passing game with his bone-jarring ways.
"Most safeties who are that physical against the run tend to struggle in coverage, but Swearinger is not a liability. He doesn't have great range and can lose awareness at times, but he has shown he has some man and short-area zone skills. He is not a ballhawk, however, with just six interceptions and 15 passes defended in three seasons. His excellent leadership and presence is negated somewhat by his alarming propensity to commit dumb penalties, witness his three consecutive 15-yard flags in the Arkansas game.
"Also, his variance from game to game is troubling. Swearinger had some games (Georgia, Vanderbilt) where he looked like the best safety in this draft, but others (Tennessee, Clemson) where he made way too many mistakes. Get a rudder on his emotions and put him in a predominantly zone cover scheme and Swearinger can quickly become a good starting safety in the NFL. He could come off the board anywhere in the 40-to-70 range, most likely near the top of that spread."