Anticipation is mounting with the 2013 NFL Draft now less than two weeks away. We are getting closer to finding out who the Eagles will be taking with their first Top 5 pick in nearly 15 years with the No. 4 overall selection. To help bring us some clarity on some of the draft's more newsworthy prospects this week, we bring in our panel of national draft insiders once again to keep you up to date ...
Quarterback: Miami of Ohio's Zac Dysert
One quarterback who has quietly flown under the radar for the most part throughout the postseason draft process is Zac Dysert from Miami (Ohio). A four-year starter who flourished with the Red Hawks, Dysert has all the tools you want in a starting NFL quarterback. He didn't quite get the exposure others may have playing in a smaller conference, but our NFL Insider Adam Caplan tells us that teams are starting to take notice as coaches become more involved in the evaluation process ...
"At the Senior Bowl throughout the week of practice, I didn't think Dysert threw with much timing or anticipation and held onto the ball a bit too long. But when you watch the tape, you can see he does a much better job getting the ball out and letting his receivers go get it. What's interesting is you could have said the same type of thing about Nick Foles a year ago when he came out of Arizona. Foles' tape was much better than what he showed at those practices down in Mobile.
"Back to Dysert, teams like what they see. Size-wise, he's just under 6-3 and just around 225-230 pounds. He's got good arm strength and gets the ball out quickly. He knows where he's going with the football. The big knock throughout this spring has been his hamstring injury. That's why he didn't work out at the Combine. He couldn't participate fully in the team's Pro Day and will hold his own personal Pro Day this coming Monday, April 15. The bottom line is, as teams continue to watch more of him on tape, the more they like him."
Running Back: Oregon's Kenjon Barner
With the departure of Dion Lewis, a spot has opened up in the Eagles backfield for a reserve player who can play in subpackages. That type of role could be absolutely ideal for former Oregon running back Kenjon Barner, who was an incredibly productive player for Chip Kelly in Eugene over the last few seasons. For more on Barner and how he projects to the next level, we bring in a man who has watched a ton of the Ducks' tape since Kelly was hired in Philadelphia, NFL Films Senior Producer Greg Cosell ...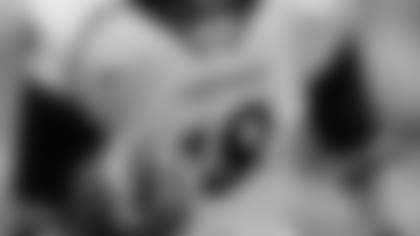 "Barner has extensive experience in the zone-read run game out of the shotgun. He's a fluid one-cut, downhill zone runner with excellent short area burst. There's a gliding element to his running, and he has deceptive speed. I think Barner has quick feet and lateral agility as well as short-area quickness to change direction in a heart beat. He's very smooth and efficient at finding and creating space in confined areas.
"A small, quick start-and-stop change of direction back with explosive traits, Barner needs space to be effective, as he's not a strong or physical runner. He showed patience and vision in the zone run game, pressing the hole effectively and consistently. What stood out to me on film was the different kind of runs he ran, as he has extensive experience in multiple run concepts that will increase his value at the next level."
Wide Receiver: Tennessee Tech's Da'Rick Rogers
This group of wide receivers in the 2013 NFL Draft is chock full of talented prospects. One player who seems to be a forgotten man by some is Tennessee Tech's Da'Rick Rogers, a dynamic threat who starred in Knoxville for the University of Tennessee before being dismissed for disciplinary reasons. An explosive athlete with soft hands and plenty of good tape on his resume, Rogers could be one of the more intriguing players in the class. How high could he be selected? Where is his best fit? We asked that very question to Draft Breakdown's Ryan Lownes ...
"Rogers is a big, strong physical receiver and one of the most explosive athletes at the position on tape. I think he probably fits anywhere from the late second- to the early fourth-round range depending on how he interviews and how teams evaluate his maturity level at this point in his career. I believe he'll have to go to a team with a strong organization already in place.
"I've seen him compared to the Atlanta Falcons' Julio Jones a lot, and I don't quite see that type of speed or acceleration from Rogers. I see something more similar to former Carolina Panthers and Chicago Bears receiver Muhsin Muhammad. Rogers looks the part at 6-2.5, 217 pounds, with a real muscular build. I think he's tough. He makes a lot of catches in traffic. He gets a consistent release off the line and is actually very sudden for his size."
Tight End: Cincinnati's Travis Kelce
One prospect at the tight end position who is consistently connected to the Eagles is Cincinnati's Travis Kelce. The fit makes a lot of sense for most draft analysts because of the potential want for additional firepower at the position combined with the presence of his older brother, Jason, on the roster. A physical presence as both a blocker and a receiver, Kelce is a complete prospect who could stand for some refinement of his technique, but otherwise has everything you look for on the field ... or does he? Our NFL Draft Insider Tony Pauline tells us why we shouldn't be so quick to assume Kelce will be a second-day selection ...
"Tight end Travis Kelce of Cincinnati wowed scouts during his Pro Day workout last week. The 255-pound Kelce posted times as fast as 4.62 in the 40-yard dash and caught the ball well during position drills. That automatically makes Kelce a Top 50 pick, right? Wrong! Kelce was a bit of an enigma on the college field as he was a strong, athletic tight end who only occasionally dominated opponents. Despite his speed, he never truly presented himself as a downfield threat. Despite his size, Kelce never presented himself as a dominant blocker. He possesses the physical skills and football abilities to start in the NFL, but does Kelce have the mental makeup to be a consistent No. 1 tight end at the next level? That's something being debated in war rooms across the league at the present time, but the ultimate answer won't come until the 2013 season gets underway."
Offensive Line: Oregon's Kyle Long
We've already analyzed one former Oregon Duck in this piece, so why not another? As Mel Kiper noted this week in his conference call with the national media, one player who could be a good fit in Philadelphia as early as the second round is Kyle Long. He has the bloodlines and athleticism to make an impact at the next level, but what does the tape say? For that, we asked former Eagles college scout and current Ourlads draft analyst Dan Shonka ...
"Long started five games at Oregon last fall and 10 games at Saddleback Community College in 2011. He has the size, athletic ability, aggressiveness and bloodlines for an NFL lineman. His Dad, Howie, is a Hall of Fame defensive tackle and his brother, Chris, is a star defensive end for the St. Louis Rams. Long rotated at left guard for the Ducks for the majority of last season. He started out as a defensive end and moved to the offensive line. He's fundamentally off as a pass protector and as a run blocker. Long plays high and back on his heels. He's a high-risk, high-reward player with obvious limited experience. Long is a developmental guard or tackle who is still learning how to play the game. I expect that he will get drafted somewhere in the second or third round."