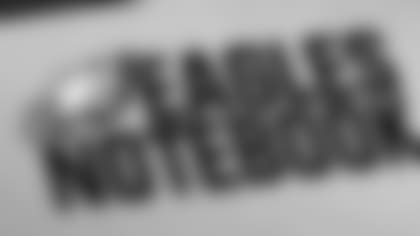 Eagles Advance to NFC Championship ...The Eagles are advancing to the NFC Championship game for the fifth time since 1999, Andy Reid's first year as a head coach. During that 10-year span, only the New England Patriots (5) have accrued as many appearances in the conference title game. Pittsburgh has four and no other team has appeared more than twice ... The Eagles have earned five championship game appearances in an eight-year span, becoming the first NFC team to do so since the San Francisco 49ers appeared in five (1990, 1992-94, 1997) from 1990-1997.
Big Red Reaches Double Digits ...Andy Reid became the 14th coach in NFL history to register 10 playoff wins, joining Tom Landry (20), Don Shula (19), Joe Gibbs (17), Chuck Noll (16), Bill Belichick (15), Mike Holmgren (13), Bill Cowher (12), Dan Reeves (11), Bill Parcells (11), Marv Levy (11), Bud Grant (10), George Seifert (10), and Bill Walsh (10) ... Of those 14 coaches with double-digit postseason wins, only Belichick (.789), Walsh (.714), Gibbs (.708), Noll (.667), and Seifert (.667) have amassed a higher winning percentage in the postseason than Reid's .625 (10-6).
Green Akers is Red Hot ...By connecting on all three of his field goal attempts Sunday, K David Akers set an NFL postseason record with 18 consecutive field goals made. He passed former Eagle Gary Anderson (16). His last miss in the postseason came on 1/11/04 vs. Green Bay ... With 28 career postseason field goals, he trails Adam Vinatieri (42) and Gary Anderson (32) for the NFL's postseason record. Akers has connected on 28 of 32 career postseason attempts, including 8 of 9 from beyond 40 yards.
Postseason Picks ...CB Asante Samuel recorded his 7th career postseason interception (and his second in as many games this season), tying for fifth place in NFL history behind Charlie Watters, Bill Simpson and Ronnie Lott, who each have nine. Among active players, Samuel is tied with former Patriots teammate Rodney Harrison for the league lead. Samuel also has an NFL postseason record with 317 career interception return yards.
Run DMc ...QB Donovan McNabb scored his fourth career postseason rushing touchdown, tying Kordell Stewart for fifth place among NFL quarterbacks since 1970. Steve Young (8) leads the league during that span and is trailed by John Elway (6), Steve McNair (6) and Otto Graham (5) ... McNabb also completed 22 of 40 passes for 217 yards and his 20th career postseason touchdown. McNabb now has has 3,147 career passing yards in the postseason, becoming the 11th quarterback since 1970 to reach 3,000 yards.
4th Down Shutdown ...The Eagles defense stuffed the Giants on two fourth quarter fourth downs, holding them to 1 for 3 on the game. In the Eagles two wins against the Giants this season, they held New York to 1 for 6 on fourth downs.
Defensive Nuggets ...The Eagles did not allow a red zone touchdown on three Giants possessions, holding them to just 11 points for the game ... The Eagles forced three Giants turnovers, including S Quintin Mikell's first career postseason interception ... The Eagles held the Giants to 3-13 (23.1%) on third down conversions.
Offensive Quick Hits ...The Eagles did not allow a sack during the three games against the Giants this season ... RB Brian Westbrook rushed for 36 yards, and now has 546 in his postseason career, surpassing Wilbert Montgomery (518) to become the franchise leader in that category ... WR DeSean Jackson led the team with four receptions and 81 yards ... TE Brent Celek caught his first career postseason touchdown.
Postseason Experience Stacking Up ...QB Donovan McNabb played in his 14th career playoff game, tying Koy Detmer for fifth place in team history. The Eagles now have five active players on the team's top five list of most playoff games played in team history: Brian Dawkins (17), David Akers (16), Jon Runyan (16), Tra Thomas (16), Donovan McNabb (14), and Koy Detmer (14).