Take a good look at Sunday's NFC Championship Game matchup. Look at the teams meeting, look at the standings, look at the seeding and look at the venue. And it's OK to say it out loud.
Heading into this postseason, a Philadelphia-Arizona matchup for all the marbles in the conference seemed about as likely as a Dallas-St. Louis matchup: impossible. But the Eagles and the Cardinals got hot at the right time. As a result, the Cardinals will become the first No. 4 seed to host a conference championship game. And the No. 6 Eagles, who needed major help just to sneak into the playoffs, will be their hungry opponents.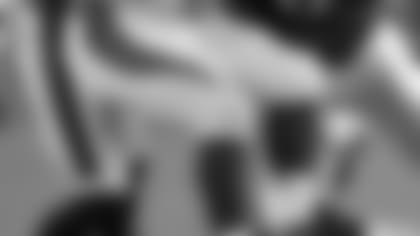 The Eagles swallowed up the Cardinals in their Thanksgiving matchup
The funny thing, though, is it may be more surprising to see the Cardinals here, a team that has had a playoff spot all but locked up since about Week 8 and has suffered multiple embarrassing defeats since that point, including a four-touchdown loss to the Eagles on Thanksgiving.
So what changed for the Cards?
"I think we were a pretty confident group most of the year," quarterback Kurt Warner said. "I think a lot of us were a little beat up mentally and physically."
The big issue, Warner said, could have been the amount of travel stacked up against the Cards this season. In September, they made back-to-back East Coast trips, at Buffalo and at the Jets, both losses. In November, they had to travel to Philadelphia on a short week after losing to the Giants at home. It was, for lack of a better term, a tough road to travel to get to this point.
Still, that didn't necessarily mean that the Cardinals were absolved of their sins after Week 17. Arizona head coach Ken Whisenhunt was relatively straightforward – he was worried, after the Cardinals' 47-7 loss at New England on Dec. 21, that they wouldn't "get it righted" heading into postseason action.
Well, his worries weren't necessary. The Cardinals have come out on fire, and the result is their first trip to the NFC Championship Game in team history. An aggressive defense and a more balanced offensive attack, among other things, helped the Cardinals beat two favored teams so far.
Now, they'll have to beat a third to advance to the franchise's first Super Bowl.
"I had seen our team, at times this year, play like the team that's been in the playoffs," Whisenhunt said. "The thing that we lacked was consistency."
But consistency is what the Cardinals picked up, Whisehunt said, when they met Seattle in Week 17. Though Arizona had already clinched the NFC's fourth seed, Whisenhunt said a win was vital in establishing confidence for the postseason.
Now, they're running with it.
"I think the intensity of a playoff game, it helps you focus as a team," Whisenhunt said. "And it came at a good time for us."