It is one of the great names in Eagles history. Not necessarily the biggest, but one of the best. It rolled off the tongue so nicely, especially for a struggling football team.
Wynn, who passed away last Wednesday, was a defensive end the Eagles drafted in 1973. They selected him in the seventh round, the 159th player chosen overall. General manager Jim Murray did not study any film on Wynn. He just saw his name on their draft board and knew he liked it.
"With the record we've had," Murray said, "how could we not draft a guy named Will Wynn? I feel better just saying it - Will Wynn."
Those were bleak times for the Eagles. They were riding a streak of six consecutive losing seasons and they hit bottom in 1972 when they won just two games and lost 11, including a 62-10 drubbing by the New York Giants. But the Eagles were trying for a fresh start in 1973 with a new coaching staff headed up by Mike McCormack and a reshaped roster led by quarterback Roman Gabriel, who was acquired in a trade with the Los Angeles Rams.
The team helped itself considerably in the draft that year adding tackle Jerry Sisemore, tight end Charle Young, center Guy Morriss, safety Randy Logan and cornerback Joe (Big Bird) Lavender, all of whom would earn starting positions in their first season. Will Wynn was part of that same draft and while he wasn't as well known as some of the other players, he soon made a name for himself on defense.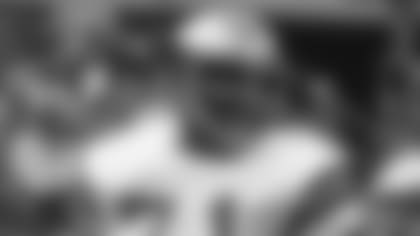 Wynn was 6-4 and 245 pounds with good speed. He played at a small school, Tennessee State, so he wasn't on every team's radar which accounts for why he slipped to the seventh round. He arrived at Training Camp with very little fanfare, but he caught the coaches' eye in a hurry. Wynn had a knack for rushing the passer, one of many areas in which the Eagles were deficient in 1972.
He stood out in one-on-one drills, regularly beating the veteran tackles.
"I like what I see in that big kid," defensive coordinator Walt Michaels said, referring to Wynn. "He's quick and he's hungry. He has the attitude I'm looking for."
Michaels liked Wynn enough to push a former first-round pick, Richard Harris, inside to defensive tackle to make room for Wynn at right end. Wynn started most of the season on a line with veteran Gerry Philbin, a former Jet, at left end and Gary Pettigrew and Harris at tackle. The Eagles still weren't great - they started the season 0-3-1 - but they played most of their opponents tough and the rookies, including Wynn, brought an energy that was lacking in previous seasons.
In Week 7, the Dallas Cowboys came to the Vet (which was only in its third season) with an 11-game winning streak over the Eagles. Most of the game weren't even close. On their previous five trips to Philadelphia, the Cowboys had outscored the Eagles, 170-41. But on this day the Eagles put forth an inspired effort and handed the Cowboys their worst defeat of the season, 30-16.
Wynn was the defensive star of the game, sacking Dallas quarterback Roger Staubach three times. On one of the sacks, Wynn lifted Staubach off the ground and body-slammed him to the turf. Needless to say, the Vet Stadium crowd loved it. What made the performance even more impressive was that the rookie Wynn was beating a Pro Bowl left tackle, Ralph Neely.
"We couldn't seem to handle him," Dallas head coach Tom Landry said. "He was in our backfield all day."
That game probably was the highlight of Wynn's career in Philadelphia. He played four seasons with the Eagles (1973-76) and one season with Washington (1977). He had eight fumble recoveries as an Eagle and returned two of them for touchdowns.
"He was one of the fastest defensive linemen I've ever seen and he played the game hard," said Harold Carmichael, who was Wynn's teammate with the Eagles and now serves as the team's director of player programs. "He was just a great guy. He loved living in Philadelphia and being part of the community. The fans loved him and he loved them. It's a big loss."
Wynn was born in Apex, N.C., and attended high school in Newport News, Va., but he chose to make his home in Philadelphia. He stayed here after his playing career ended and regularly attended Eagles Alumni events. My lasting memories of Wynn were his big smile and the orange Cadillac he wheeled in and out of the Vet Stadium parking lot.
He died of heart failure at Einstein Medical Center in Philadelphia. He was 64. He is survived by his wife Tina and their five children.
An award-winning writer and producer, Ray Didinger was inducted into the Pro Football Hall of Fame in 1995. He has also won six Emmy Awards for his work as a writer and producer at NFL Films. The five-time Pennsylvania Sportswriter of the Year is a writer and analyst for Comcast SportsNet. Didinger will provide Eagles fans a unique historical perspective on the team throughout the season for PhiladelphiaEagles.com.