Over 50 years later, "The Hit" still resonates.
The people who were there still talk about it. Those who saw it on TV still shudder at the memory. It was the beauty and the beast of pro football captured in one unforgettable image, one play that defines two legends.
Chuck Bednarik and Frank Gifford collided dozens of times in the course of their Hall of Fame careers. But it was the one encounter on November 20, 1960, at Yankee Stadium that still echoes through the game. Almost every day, Bednarik said he is asked about "The Hit."
Surely, he must be tired of it by now.
"Are you kidding? I never get tired of it," Bednarik said. "For Frank, it's probably a different story."
"The Hit" came on a critical play late in a game which the Eagles led 17-10. The Giants were driving toward a potential tying score when Gifford, their star halfback, ran a slant pattern across the middle. He caught the ball, but was immediately leveled by Bednarik, a 6-foot-3, 235-pound linebacker, coming full speed in the opposite direction.
The 6-foot-1 Gifford, who played at 185 pounds, was slammed backwards violently onto the frozen turf where he lay unconscious, his arms and legs limp. As he hit the ground, the ball rolled loose and Chuck Weber dove on the fumble to seal the victory that vaulted the Eagles to the Eastern Division title and eventually the world championship.
When Bednarik saw Weber recover the fumble, he did a fist-pumping victory dance over the motionless Gifford. To this day, Bednarik swears he didn't see Gifford at his feet. He was, he claimed, simply reacting to the win which was now assured.
"I was saying, 'This (expletive) game is over,'" Bednarik said. "I wasn't directing it at Frank or anybody else. I was elated we won. If people think I was gloating over Frank, they're full of you-know-what."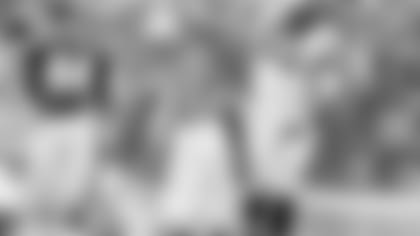 Gifford suffered a severe concussion on the play. He sat out the remainder of the 1960 season and all of the following season before returning to the Giants in 1962. Gifford has always insisted he has no hard feelings toward Bednarik.
"It was a good, clean hit," Gifford said. "It wasn't an elbow or a clothesline shot. He hit me in the chest and my head snapped when I hit the ground. I was out cold when they carried me off. I woke up in the locker room and had no idea what happened."
Whenever the Eagles and Giants renew their rivalry, as they will again Sunday at Lincoln Financial Field, old-school Philly fans reflect on that play. What made it particularly remarkable was that Bednarik was playing both ways - center on offense, linebacker on defense - as he did for much of the 1960 season. He was 35 years old, playing every down and he still had the strength to KO Gifford in the final two minutes of the game.
There was an unmistakable symbolism to the play. Here was Bednarik with his flattened nose, the working stiff from the steel mills of Bethlehem, Pa., taking out Gifford, the golden boy from Southern California who modeled clothes and made movies when he wasn't playing football. The contrast between the grit and the glamour is another reason why the play is so memorable. Concrete Charlie hung it on the handsome prince right there in his own palace.
"It's like the New York press wanted me to apologize for hitting Gifford," Bednarik said. "They came to me after the game and said, 'Did you know Frank is hurt?' I said I didn't know but it was a clean shot and that's part of the game. They carried Frank off on a stretcher but I was in another world. I was busy celebrating the win. I played to win and so did Frank, that's why we're in the Hall of Fame. You don't hear him whining about it. He says I hit him with a clean shot and that's the truth.
"If that was Kyle Rote or Alex Webster or any other Giant, it would have been forgotten long ago. But Frank's (TV) visibility kept it alive. (Howard) Cosell talked about it for 10 years on Monday Night Football. Every time there was a hard hit, Cosell would say, 'Just like when Chuck Bednarik blindsided you, Giff, at Yankee Stadium.' I'd sit there on my couch and say, 'Blindside my fanny.' It was a good shot, head on.
"I sent a basket of flowers and a letter to Frank in the hospital," Bednarik said. "I told him I'd pray for him. I'm a good Catholic but I'm also a football player. When I was on the field, I knocked the hell out of people, but that's the name of the game."
An award-winning writer and producer, Ray Didinger was inducted into the Pro Football Hall of Fame in 1995. He has also won six Emmy Awards for his work as a writer and producer at NFL Films. The five-time Pennsylvania Sportswriter of the Year is a writer and analyst for Comcast SportsNet. Didinger will provide Eagles fans a unique historical perspective on the team throughout the season for PhiladelphiaEagles.com. You can read all of his Eagles History columns here.